Consulting Firm Files Complaint Over McDonald's Corp.'s Sale of China Stake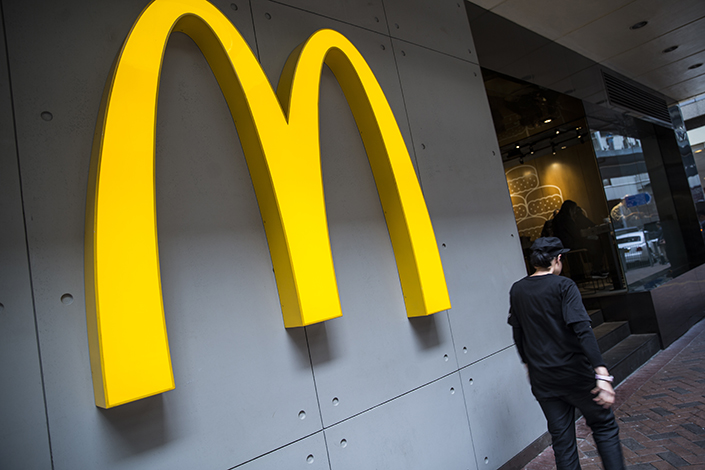 A Chinese labor advocacy group has filed a complaint against McDonald's Corp.'s planned sale of its stores in China, saying workers are likely to see worse conditions under new ownership. Photo: Visual China
(Beijing) — A Chinese consulting firm has filed complaints to government authorities over McDonald's sale of its China operations, arguing that the deal might affect the interests of existing franchises.
McDonald's last month announced plans to sell 80% of its stake in its China operations, plus 20-year franchise rights, to state-backed Citic Ltd. and Citic Capital, and U.S. private equity fund Carlyle Group.
The deal is being reviewed by the Anti-Monopoly Bureau of China's Ministry of Commerce (MOFCOM), a spokesperson for McDonald's told Caixin.
But the transaction caught the attention of Beijing-based consultancy Hejun Vanguard Group, whose CEO, Li Su, filed complaints on Wednesday to MOFCOM's Anti-Monopoly Bureau and Commercial Franchise Supervision Office, calling for investigations into McDonald's, which Li said charged franchisees higher royalties and expanded haphazardly.
The fast-food chain imposed royalty rates as high as 6% in China, while the average in the global market was only 3%, as in the case of Yum Group's KFC and Pizza Hut, according to a memo in the complaint file obtained by Caixin.
Li told Caixin that his team had collected the information from media reports.
The royalty rate of both McDonald's and KFC was 6%, according to reports in the Southern Daily and CBNweekly in 2010 and 2014, citing unnamed sources.
Related parties of franchise operations have never revealed details of the agreements, and the rate — quoted as 6% in many media reports — was not accurate, the McDonald's spokesperson said.
McDonald's is also expected to further increase royalties received in China over the next 20 years under its franchise-rights transfer agreement, according to the memo, which will "eventually lead to serious problems in service standards and food quality, potentially hurting consumers," Li argued.
It also failed to timely and accurately register the geographical distribution of all its franchised stores within China with MOFCOM, which violated Chinese franchise laws, according to the memo.
But McDonald's said the company had maintained sufficient communication with its franchisees and would ensure the transaction will not affect their interests, the spokesperson told Caixin.
Li said that his legal representative has asked him to be prepared for potential interviews that MOFCOM might demand in near future.
Li's company, Hejun, was behind several controversial deals regarding well-known multinational corporates that sought to expand in China, including its complaints to MOFCOM in 2008 that blocked The Coco-Cola Co.'s acquisition of local China Huiyuan Juice Group Ltd., and action against Apple Inc. in 2012 that forced the U.S. firm to pay $60 million to a Chinese company to use the iPad trademark in the country.
The complaints this time might result in further scrutiny from MOFCOM and delay the progress of the deal, a lawyer handling cross-border mergers and acquisitions cases told Caixin.
Contact reporter Coco Feng (renkefeng@caixin.com)
Share this article
Open WeChat and scan the QR code