As China Restricts Funding, Die-Hard Environmentalist Persists
Jin Jiaman visits a project site in Myanmar. Photo: Global Environmental Institute
After more than a decade working for the government, Jin Jiaman came to a realization that changed the direction of her career protecting the environment.
"Nongovernmental organizations (NGOs) can do what the government can't," she told Caixin in a recent interview.
With that thought in mind, Jin would go on to quit her job with an institute under the Ministry of Environmental Protection and later found the Global Environmental Institute (GEI) in 2004.
China has a powerful government, but the government's failure to manage the country's environmental problems left Chinese environmental NGOs with a lot of room to operate, Jin told Caixin.
GEI focuses on the issues of biodiversity, climate change, and multilateral trade's impact on the environment. For example, the NGO is studying the Sino-African timber trade, working on building a low-carbon town in Sri Lanka, and thinking about how to deal with the aftermath of the U.S. withdrawal from the Paris Agreement on climate change.
However, GEI might soon have trouble keeping the lights on as China's new law on foreign NGOs, which took effect in January, has made some foreign donors re-consider their funding to Chinese organizations.
The following are excerpts of Caixin's interview with Jin, GEI's founder and executive director.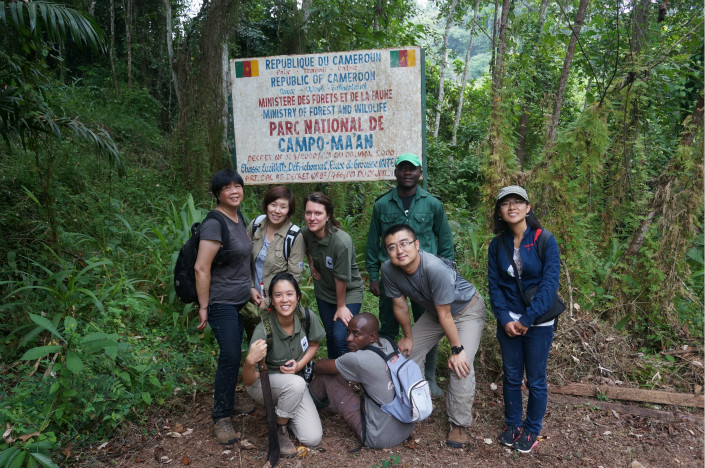 Jin Jiaman visits a forest in Cameroon with members of her project team. Photo: Global Environmental Institute
Caixin: Why did you quit the government-backed institute and found GEI?
Jin: In the early 1990s, the government, together with the institutes under it, handled most of the work on environmental protection. I was with the Chinese Research Academy of Environmental Sciences (under the Ministry of Environmental Protection). The reason why I founded GEI was that I realized there are things that an NGO can do that the government can't. In China, the government is rather powerful, which leaves others weak. After years of government efforts to study and protect the environment, things had only gotten worse. That's because there is something missing from their methods. They lack third-party voices. The best NGOs in China are involved in environmental issues because there is a huge space for us to operate in. And the authorities have supported our work because we have touched many areas that the government can't reach.
Could you share some of your more interesting work of late?
We have studied the timber trade between China and four African countries: Uganda, Cameroon, Mozambique, and the Democratic Republic of the Congo. We found that there are discrepancies between the customs data on Chinese imports and the African countries' exports. (Editor's note: For example, the volume of timber imported by China from Mozambique was more than twice the amount that African country exported between 2007 and 2013, according to data that GEI collected.) We are investigating the possible reasons for this, including whether it is a sign of an illegal timber trade.
Jin Jiaman poses for a photo with officials from China and Cameroon. Photo: Global Environmental Institute
Have you come to any conclusions?
The rise in Chinese imports mostly comes from sawed wood. Customs lets the timber in as long as it comes with legal documents from the exporter. They are not very capable of identifying endangered wood species banned by the CITES (Convention on International Trade in Endangered Species of Wild Fauna and Flora), especially when the wood is sawed or made into furniture. We are thinking about training customs (officials) to know more about timber and be better able to classify it.
China has rolled out many infrastructure projects in Africa. How do African people view these investments?
We have just been to Cameroon for a meeting between the two countries. Chinese companies have invested in many infrastructure projects, such as railways, highways and ports. The African people welcome such deeds. But they said during the meeting in Cameroon that they wished that the Chinese side would contribute more to the communities. We are drafting a memorandum to push forward cooperation in communities to improve the livelihood of the locals.
GEI has worked with several foreign NGOs. What advantages do you feel they have over the domestic organizations?
NGOs in other countries are more powerful. In Cameroon and Cambodia, for example, NGOs can obtain the rights to manage and invest in conservation zones. These organizations are more professional and have more expertise. The government acts only as a supervisor. These countries have a longer history with NGOs because they were once the colonies of Western countries, which cultivated this kind of culture.
Has China's new Law on the Administration of Activities of Overseas Nongovernmental Organizations on the Mainland of China affected GEI's work?
The new law went into effect in January. So far, we've had to suspend cooperation with several old partners that haven't managed to register (with the public security authorities).
(Editor's note: Registration requires an enormous amount of paperwork. More importantly, an NGO also needs to find an official government agency to agree to be its supervisor, which takes a lot of time.)
Most of our money has come from foreign donations. But because many of them are unregistered, they have stopped donating. (Editor's note: In 2015, 88.5% of GEI's donations came from foreign foundations, organizations and corporations, according to GEI's annual report.) We last took in donations at the end of 2016. That money can last through this year, but the budget will start getting tight starting next year.
We are now diversifying our funding sources, such as by reaching out to domestic foundations and companies.
In June, U.S. President Donald Trump announced that the United States will end all participation in the 2015 Paris Agreement on climate change. What are the consequences and what does GEI plan to do in response?
The decision has led to the loss of two things: a leading power in combating climate change and its financial support. Now everyone expects China to contribute more, but the country wishes to team up with others as well. GEI is thinking of encouraging the private sector in the U.S. to set up a climate fund to make up for what the government has done wrong.
A previous version of this story overstated the financial troubles GEI is facing because of difficulties getting donations from foreign donors.
Caixin Hot Pot is a regular feature that introduces you to the colorful array of players in today's China – from the leaders of top U.S. companies doing business here to the migrant woman selling noodles from a pushcart.
Share this article
Open WeChat and scan the QR code