Finding a Cure for an Ill Drug-Pricing System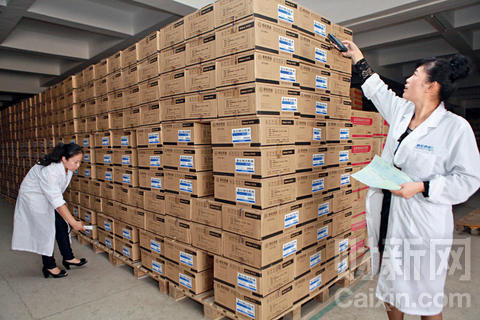 (Beijing) – A late November plan issued by the country's top economic planner marks a step toward China's long-anticipated reform to liberalize medicine prices, a step some believe to be crucial to improving the entire health care system.
The National Development and Reform Commission on November 25 sent a draft reform plan on medicine prices to industry associations so they could comment.
Under the plan, the government will ease its control on medicine prices and let them be decided by tenders, in order to form a market-oriented pricing system. Starting January 1, 2015, the government will stop setting retail price caps and factory prices for drugs.
The draft plan comes shortly after Xu Kunlin, head of the NDRC's anti-monopoly bureau, was named the commission's price department head on November 21. Xu, who is known as a reformist, has vowed in several public statements to push forward price reforms after his appointment.
These have been viewed by the medical industry as signals for the long awaited start for price reform. An NDRC official said the administration will take a top-down approach to issuing measures.
Pricing Problems
Government controls on medicine prices were strengthened in 2000 following a guideline by the State Development Planning Commission, the predecessor of the NDRC, to set up a government management system for prices in order to address violations and the paying of kickbacks in medicine procurement.
The next year, the Law on Pharmaceutical Administration was issued, which stipulated that drugs that fell in the catalogue of national basic medical insurance be priced by the government, while others can follow market demand.
That year, a total of 1,500 kinds of drugs were under government price control. In 2005, the control expanded to 2,400 types.
In the following years, the country has established three types of pricing mechanisms for drugs given to patients. About 100 kinds of special medicines are wholly priced by the government and supplied to designated groups of people for free. Then there are another 2,600 drugs priced under a government retail price cap, which account for 22 percent of the medicine types on the market. The majority of medicines are priced by pharmaceutical companies.
Government control over medicine prices is divided between central and local governments. The NDRC is in charge of setting prices for prescription drugs within the insurance catalogue, and provincial government price departments can set the charges for over-the-counter medicines. Local governments also have the right to add or eliminate 15 percent of drugs in the catalogue.
Around 1,900 kinds of drugs are priced under the control of the NDRC while another 800 types are supervised by provincial authorities.
Meanwhile, provincial health authorities have set up special agencies to represent local public hospitals in price negotiations with pharmaceutical companies for medicine procurement.
However, such practices have had little effect on problems in the medical sector. Hospitals are not directly involved in price-setting, but doctors still have a say over prescriptions. Thus, it has become common practice for pharmaceutical companies to bribe doctors and hospitals in order to promote the use of their products.
Another problem is that cheap and effective medicines in high demand are often out of stock, and patients continue to complain about high prices. The NDRC has issued dozens of policies to curb price increases, only to have those policies countered by pharmaceutical companies rebranding their medicines.
The NDRC official said a vicious cycle has developed in which the commission responds to public complaints over prices by issuing cuts, and pharmaceutical firms simply remove the old drugs from the market. The medicines are then rebranded or changed a little, and then rolled out at even higher prices.
Drug pricing and bidding procedures have become a hotbed for corruption. As of October, five senior officials at the NDRC's price department have been detained for graft, including two former price department heads – Cao Changqing and Liu Zhenqiu. All five face probes related to their oversight of medicine price management.
"The NDRC is under great pressure," said the commission official. "It has wanted to totally withdraw from medicine pricing and explore a market-oriented pricing mechanism."
In 2013, the NDRC proposed a "benchmark price" model for future medicine price reform. Under the model, a benchmark price will be set according to a medicine's production costs, previous prices and the payment capacity of the social security network.
Pharmaceutical firms will be able to price drugs independently while patients will have more choices for medicines covered by the medical insurance, but insurance will reimburse the patients based on the benchmark price.
Failing to Cut High Prices
The plan to liberalize medicine prices was revealed at an October 27 NDRC meeting on price regulations. The commission said that by the end of 2014, price controls on blood products, contraceptives and pain medications will be eased. Plans to liberalize prices for drugs under the medical insurance catalogue will be submitted to the State Council in November and be implemented in 2015.
"The NDRC's plan gained support from higher authorities and the speed of the reforms exceeded expectations," said the NDRC official.
On November 17, Premier Li Keqiang said at a cabinet meeting that overall price reform should be accelerated, highlighting the medical sector in particular. Li said while medical treatment and service charges are quite low in most public hospitals, drug prices are too high.
Some local governments have started to take action. On October 22, the eastern province of Jiangxi announced eased controls on medicine prices, including complete marketization of prices for 601 kinds of over-the-counter drugs that were previously controlled by provincial authorities.
On November 10, the Guangdong public health regulator also issued a document that revised medicine price regulations to reduce administrative intervention. So far, the southern province has marketized prices for nearly 7,000 drugs that were previously under the supervision of the provincial government or the NDRC.
The NDRC official said "the idea is clear now. The price regulators will withdraw and the medical insurance departments will work out a reimbursement standard which will be a barometer for the market price setting. But the question now is how to set the standards and who will pay for the part exceeding the standard?"
Limited Impact
NDRC officials said earlier that due to strong competition for most kinds of drugs, price liberalization will not lead to price rises. Several industry sources said that the reform will have limited impact on drug prices and firms.
Xu Ming, vice chairman of China Chamber of Commerce of Medicines & Health Products Importers & Exporters, said that the health authority-led medicine bidding system will remain a key part in determining retail prices.
Shi Lichen, a partner of ALLPKU Management Consultants Ltd., said the setting of prices will continue to be influenced by government departments, including the NDRC, the National Health and Family Planning Commission, the China Food and Drug Administration and the State Administration for Industry and Commerce.
An executive at a pharmaceutical company in the central province of Hubei expressed skepticism. "Personally I don't think it can be truly liberalized in this way. There is such a huge medicine bidding system operated by the health authorities. What effect will these measures have? It will be difficult to truly ease controls."
But there are also optimists. Liu Guoen, director of Peking University China Center for Health Economic Research, said with freed price controls, insurance companies can negotiate with pharmaceutical companies to lower prices.
A pharmaceutical company executive who was unwilling to give his name said that "the prices will definitely drop as pharmaceutical companies have to be engaged in negotiations with multiple departments." He expected price declines for some over-priced drugs, but for high-quality or patented medicines, a large price cut could be harmful.
"It will hurt innovation and people will no longer be willing to spend big on research," he said. "It is harmful to pharmaceutical companies and the market."
A sales manager at China Resources Sanjiu Medical & Pharmaceutical Co. expected stronger competition over prices after the reforms, especially for smaller players. Generic drug producers may cut prices to better compete with imported drugs, he said.
The Corruption Risk
Zhu Hengpeng, a public policy expert at the Chinese Academy of Social Sciences, said that it has been proved broad that more government measures regarding medicine prices will not necessarily lead to lower prices, rather it usually causes distortions in resource allocation and the market.
The NDRC has announced more than 30 policies to curb prices over the past decade, but the effects have been limited. Instead, some cheap but effective drugs have been squeezed out of the market.
Zhuang Yiqiang, vice secretary general of Chinese Hospital Association, said that liberalizing medicine prices should be done systemically and carefully. Since patients mostly rely on doctors suggestions for drugs, it is important to make sure that doctors make the right recommendation Zhuang said. Cutting the link between the hospital and pharmaceutical companies remains a key issue.
With liberalized drug prices, some in the medical industry expressed concerns about potential corruption in hospital medicine procurement bidding.
"With freed prices, hospitals can choose drug suppliers and purchasing amounts based on their prices," said a drug company sales manager. "It may create room for pharmaceutical companies to bribe hospitals, and hospitals may also use the discretion to seek kickbacks."
Fu Hongpeng, a researcher at the health commission, said the fundamental issue is to reform the public hospital system. He said unless progress is made to cut reliance on medicine sales and adjust the assessment system for hospitals and doctors, a simple reform of drug prices may lead to greater corruption and higher prices.
Fu called for a coordinated operation among public health departments, medical insurance agencies and regulators.
(Rewritten by Han Wei)
You've accessed an article available only to subscribers
VIEW OPTIONS
Share this article
Open WeChat and scan the QR code

14:11

Aug 03 18:29

Aug 03 16:27

Aug 03 14:01

Aug 03 13:36

Jul 31 19:01

Jul 31 18:05

Jul 31 17:55

Jul 31 17:10

Jul 31 14:47

Jul 30 19:35

Jul 30 18:56

Jul 30 17:59

Jul 30 17:11

Jul 30 16:01
GALLERY