China's New Economy Picked Up in June
June's MasterCard Caixin BBD New Economy Index reading came in at 30.8, indicating that the New Economy accounted for 30.8 percent of overall economic input activities in June. This month's reading observed a 70 basis point increase from May and marked the third highest mark for the NEI since August of 2015 (Chart 1).
Primary Inputs: Capital Investment Drives NEI
NEI included labor, capital and technology inputs that account for 40 percent, 35 percent and 25 percent weight respectively. Among the primary inputs, the uptick in the June NEI reading came mainly from a capital investment rebound, as both technology investment and labor input index fell slightly (Chart 2). The labor input first went above 30 in March but since then has seen a continual slide from the high of 31.4 in March to this month's 29.0 reading. The capital input has seen relatively more fluctuation in the last few months, falling markedly from 36.5 in March to 26.6 in April. The last two months have seen a rebound to June's 32.2. The technology input has receded from April's record high of 33.5 to 31.7 this month, which remains the third highest reading.
Percentage changes in labor, capital, and technology this month were -0.7, 3.2, and -0.5 percentage points respectively. After accounting for the weightings, the sum of changes resulted in the 0.7 percentage point increase in NEI (Chart 3).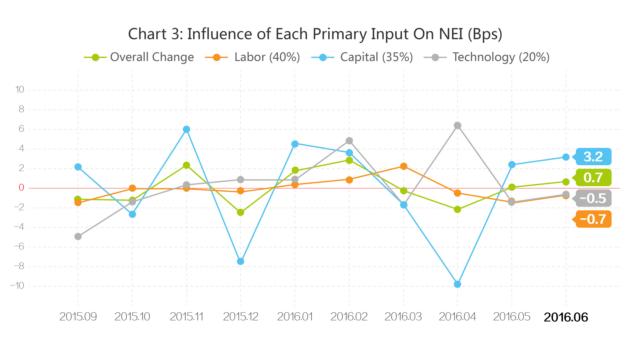 Looking at the sub sectors, the New IT industry contributed the most to NEI growth, 10.6 percentage points, followed by 4.9 percentage points in Advanced Materials, and 4.3 percentage points in New Energy (Chart 4).
New Economy Employment
China's average monthly entry-level salary advertised in the New Economy fell to RMB 8,336. This number has seen relatively high volatility since February 2016 (Chart 5). As the New Economy figure is mainly a composite of advertised entry-level salaries from job listing websites such as 51job.com and zhaopin.com, we have also analyzed job listings from publicly listed companies as a frame of reference. Compared to listed companies, New Economy sector entry-level wages have risen faster, with the trend becoming more apparent in 2016.
Hiring in New Economy sectors accounted for 27.8 percent of total hiring in June, a very slight decrease of 0.1 percentage point from the previous month. Total compensation in New Economy sectors also fell slightly from 31.5 percent to 30.1 percent. Meanwhile, New Economy sector entry salary premium declined relative to the overall economy salaries, now at just 8 percent more than economy-wide counterparts (Chart 6).
From August 2015 to June 2016, New Economy labor demand increased steadily from 5.4 million to 11.5 million (Chart 7), although there were short-term drawdowns after Chinese New Year and also in April and May. The New Economy's share of total demand for labor increased slightly, rising from 26.8 percent in August 2015 to 27.6 percent in April 2016, but down slightly to 27.2 percent in June.
Urban Population Flows
Starting this month, the NEI has begun to track changes in urban population flows using domestic air travel traffic between China's largest 205 airports as a proxy for net population movement between China's urban centers. The tracking methodology has been adjusted for international travel that would otherwise skew flow results.
This month's results show that in June 128 out of the 205 airports in our tracking basket saw a net population increase, while 77 airports saw net outflows. The cities of Beijing, Wuhan, and Guangzhou had observed the largest net population inflows closely followed by Jinan, Changsha, and Nanjing (Chart 8).
New Economy City Rankings
For total new economy input, Shanghai, Shenzhen, Beijing, Hangzhou, and Chengdu placed in the top five. Guangzhou has notably seen a recession of new economy activity in the past two months and declined in rankings (Chart 9).
Rankings are based on a moving average of the percentile rank of sub-indicators for the city in the past 6 months.
For the city NEI rankings, or effectively the ratio of new economy input to total economic input in each city, Shanghai topped the list with roughly a third of the city's economic input from new economy sectors. Beijing, Shenzhen, Hangzhou, and Fuzhou rounded out the top five, all with more than 30 percent input from the new economy.
You've accessed an article available only to subscribers
VIEW OPTIONS
Share this article
Open WeChat and scan the QR code

10:50

04:50

04:14

Jun 25 19:43

Jun 25 18:06

Jun 25 18:29

Jun 25 17:50

Jun 25 15:15

Jun 25 14:57

Jun 25 12:26

Jun 25 03:37

Jun 25 03:35

Jun 25 03:46

Jun 24 18:06

Jun 24 18:37
GALLERY