Quick Take: China Auto Association Predicts 3% Increase in 2018 Sales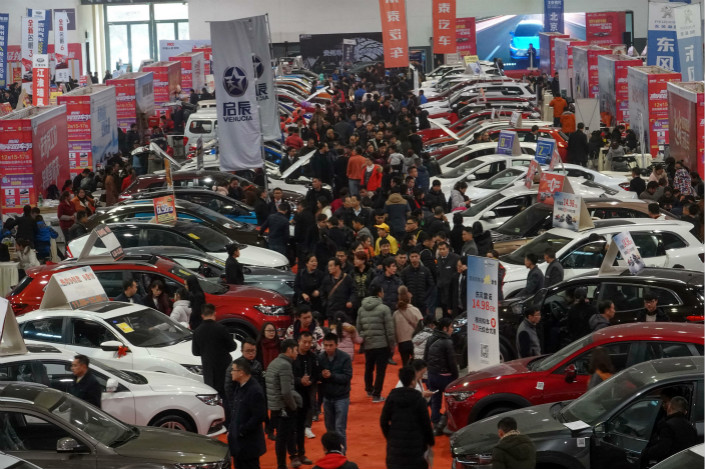 Photo: Visual China
China sold nearly 29 million vehicles last year, and the sector is expected to see a 3% increase in 2018, the country's leading industry association said.
Total sales of 28.88 million units in 2017 is a 3% rise from 2016, the latest figures released by the China Association of Automobile Manufacturers (CAAM) show.
That increase missed the 5% target set by the association last year. Total sales of new-energy vehicles climbed 53.3% to 777,000 units, which also fell short of CAAM's expectation.
The association said reduction of a tax benefit for car purchases, combined with changing policies for new-energy vehicles, hurt the industry's prospects.
"Passenger cars — which account for 85.6% of total car sales — posted only a 1.4% increase, the slowest growth since 2008," CAAM said in a report on Thursday.
China has tapped the brakes on subsidies for new-energy vehicles, and policymaker sources recently told Caixin that the subsidy program will be further slashed this year, with a complete phase-out by 2020.
State-owned Shanghai Automotive Industry Corp. sold the most vehicles in the country last year — 2.8 million units — trailed by Changan Automobile Co. Ltd. and Dongfeng Motor, which sold 1.7 million and 1.5 million units, respectively.
Passenger-car sales by domestic automakers rose 3.02% to 10.84 million units, which accounted for 43.88% of the 24.72 million total units sold. Foreign firms accounted for about 56% of sales.
China's 2017 auto exports rose 25.8% to 891,000 units, the first rise after four consecutive years of declines, according to CAAM.
A previous version of this story gave an incorrect figure for the percentage increase in total vehicle sales in China from 2016 to 2017.
Contact reporter Mo Yelin (yelinmo@caixin.com)

You've accessed an article available only to subscribers
Try 4 weeks for $0.99
SUBSCRIBE
Share this article
Open WeChat and scan the QR code