Police Barged Into My Room While I Was Covering the Fujian Chemical Spill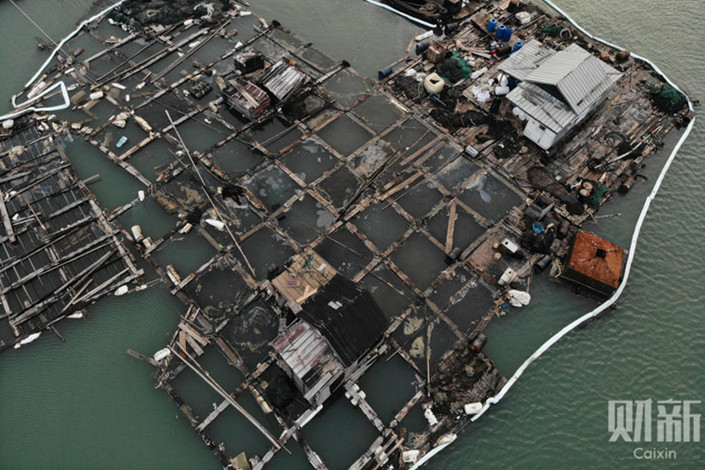 Although the seawater water near Xiaocuo village has been cleaned up, all the fish that had been farmed at the village are no longer edible. Photo: Zhou Chen/Caixin
As a science and environment reporter, I have rarely been threatened while conducting interviews.
But in the past two years, with the Chinese public's awareness of environmental issues growing and anti-pollution efforts being elevated to top-level policy, environmental incidents have become a major issue for government officials, and I have now experienced firsthand how lawless and unscrupulous official power can be when it is abused.
On Nov. 4, a petrochemical leak occurred in the city of Quanzhou, in Fujian province. I quickly rushed to the scene to conduct interviews. On Nov. 11, at a makeshift reception hall by a ferry terminal in Quanzhou, I watched the local mayor listen to villagers' appeals. The mayor declined my interview request, saying he was "very busy." People wearing law enforcement body-cameras stopped me from taking photos, saying that interview requests had to go through the local publicity department, and could not be conducted on my own initiative.
After this, a local mother-daughter pair took me by ferry to their family's fish-farming rafts to see the dead fish that were floating there. The personnel who had stopped me from taking photos followed me all the way there, taking their own boat and occasionally using their phones to take photos of me. When the personnel were questioned, their leader said, "We're also here to see the situation, and take photos of the landscape."
Later, I contacted an official from the Quangang district publicity department, and sent him questions I intended to ask in an interview. He said he had to bring many reporters to the affected areas every day, and had to coordinate interviews with villagers, officials and experts. "Why don't you come stay over here? We'll even take care of your meals," he said. I declined.
That evening, this official contacted me again. He said the district publicity director was in the lobby of my hotel and wanted to have a chat with me. When I said I had other plans, he responded, "So you're scared to network with our leader!"
I told him I was leaving Quangang district the next day, and he repeatedly said he wanted to send me off. He said a CCTV reporter was also leaving the next day, and asked if I wanted to go together. I declined his offer.
I planned to go to bed early that night, since the article I was working on had already been published. I thought my work on this assignment was done. Little did I know that a real-life version of the TV drama cliche of police nabbing suspects in hotel rooms would soon play out in my room, starring me, a female reporter.
I was looking at my phone in bed at around 11:30 p.m. when I heard someone swipe a key-card on my door and walk into my room. Four men in police uniforms suddenly appeared before my bed. Their leader, a bald officer holding the key card in his hand, said they were from the police station and ordered me to show my identity card. I had no choice but to comply, rifling through my bags for my identification card while dressed in my pajamas.
Afterwards, the bald man asked his colleagues to search the bathroom and window ledge to see if anyone was hiding there. After they found nothing, he told me, "We're only conducting a routine check, and we're also checking other rooms."
Then, they told me to watch out for my own safety. They didn't show me any documents proving that the public security organs had authorized the search, which they're required to do under Chinese law.
After the men left, I sat in a frightened daze for some time. How could they have charged into a hotel room registered as occupied by a law-abiding citizen? (Editor's note: Hotels in China are required by law to register all guests' identity information with the authorities.)
I soon received a call from hotel reception apologizing for the disruption. When I asked her for details, the receptionist said the police officers had ordered reception to give them the key-card for my room specifically. They had not inspected any other rooms.
Editor's note: A member of the Quanzhou Public Security Bureau has confirmed that officers from the Shanhe Police Station in Quanzhou inspected Zhou Chen's hotel room on Nov. 11, and that they are currently looking into the matter, Chinese-language newspaper Beijing News reported Monday.
Translated by Teng Jing Xuan (jingxuanteng@caixin.com)
Read more: More Tales Emerge of Local Officials Following Chinese Journalists
Share this article
Open WeChat and scan the QR code