Q&A: Huawei Chairman Meets the Press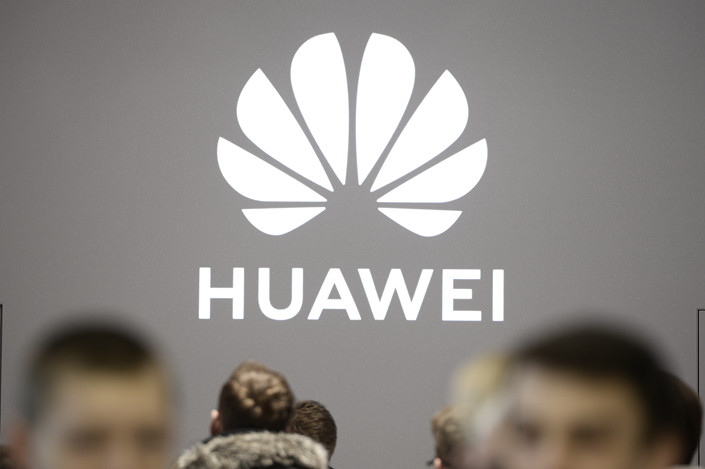 Poland's first Huawei store in Warsaw on Dec. 15, 2018. Photo: VCG
As China's leading global technology brand face problems across the globe, the usually low-key Huawei Technologies Co. Ltd. has opened up to a handful of foreign media outlets.
The telecom giant's Chief Financial Officer Meng Wanzhou was arrested in Canada on Dec. 1 on charges related to violations of U.S. sanctions, further straining tensions between Beijing and Washington. That came shortly after several countries banned Huawei from supplying 5G network equipment to domestic mobile carriers, with many observers pointing to security concerns over the company's alleged ties to the Chinese military and Communist Party.
At a rare briefing held Tuesday at its new headquarters in Dongguan, South China, Huawei's Rotating Chairman Ken Hu spoke for two hours with reporters from outlets including CNN, Fortune, the Financial Times and Mobile World Live, although he refused to discuss the specifics of Meng's case.
"The fact (is) that we have never taken any requests from any governments to damage the business or networks of our customers or other countries," Hu said. "For any concern, the best way is to let the fact speak for itself. The fact is that over the last thirty years, there's been no major cybersecurity incident; there's been no cybersecurity threat."
Below is the interview transcript posted on Huawei's website, which has been edited for length for publication.
Given the allegations and the fear that's being pushed across many governments, what specific actions does Huawei plan to take in the near term or the medium term to alleviate some of that pressure?
Ken Hu: We realize that the industry we're in is undergoing faster technological transition periods. Technologies are becoming increasingly complicated. Networks are becoming more open. As a result of this, we definitely notice the increasing interest and care from network operators and regulators and also the general public about the industry. We think this is just normal.
Huawei's business has been growing very fast. Our revenue will exceed $100 billion very soon. We're doing business in 170 countries in the world. About half of the Fortune 500 companies are using Huawei products. The majority of the top telecom operators have deployed Huawei's equipment. Our smartphones are being used by hundreds of millions of consumers worldwide.
Given our scale, our size, and our presence, we definitely need to take it very seriously when we look at the concerns or interests expressed by governments, by society, and by the general public.
In that context, we are keenly aware that it is simply something we must be doing to have proactive, transparent and constructive dialogues and conversations with the governments, with local communities and with our customers.
At the same time, given certain specific concerns, we have been communicating with the governments around the world around the independence of Huawei's operations. The fact (is) that we have never taken any requests from any governments to damage the business or networks of our customers or other countries.
As I mentioned earlier, for any concern, the best way is to let the fact speak for itself. The fact is that over the last thirty years, there's been no major cybersecurity incident; there's been no cybersecurity threat; and there's been no evidence showing that Huawei is damaging cybersecurity. And we'll continue to take proactive communication engagement and also open collaboration so more and more people will be able to realize this.
So one of the issues that various governments have raised concerning Huawei and the potential security threat is the national intelligence law which was passed last year which would compel any industry or company to cooperate with China's national intelligence work. Now, it's fine to say that Huawei has never been asked by our government to infiltrate or otherwise spy on a network but if the Chinese government would come to Huawei and ask it to, what legal grounds would Huawei have to refuse such a request?
First, on December 10th, the spokesperson of the Ministry of Foreign Affairs of China in a press conference formally clarified that no law in China requires companies to install mandatory backdoors.
Of course, just like the U.S. and Australia, China also has certain legal requirements for counter terrorism or cybersecurity objectives. China also specially emphasizes that all government institutions or agencies must enforce the law according to the law. There are clear definitions.
For Huawei, our approach is to address these issues in strict accordance to the law. In the past, we haven't received any requests to provide improper information. In the future, we will also follow in strict accordance to the law in dealing with similar situations. When we talk about according to the law, the law has clear stipulations around the terms of reference for related agencies.
I'm going to have two quick follow ups on things people may have mentioned. One is, I know you cannot comment on the case of Ms. Meng, because it is a legal case, but specifically on the impact. For yourself and other senior executives, what's the impact? Are you limiting or changing your travels, or are you avoiding certain countries, for example? What about the impact on Huawei employee morale?
The other is about the U.S.'s potential moves. Because we started to see some moves by governments or operators in the U.S. and its allies like France, the U.K., or even Japan, to block the use of Huawei equipment in their core 5G networks. Are you worried about this trend? Do you think that's geopolitical issue no matter what you say or do?
On your first question: There is no impact on our travel plans. Yesterday, I was still on the plane, at this point in time.
Regarding the second question, the latest developments on 5G in different countries. I just came back from Europe yesterday. I want to share with you some of my observations.
Before that I would like to correct you a little bit. There is no official decision from either France or Japan saying they would ban Huawei from 5G. What we are seeing right now, instead, is that more and more governments and operators in more and more countries are engaged in very proactive discussions with Huawei with 5G.
Huawei has been awarded 25 commercial contracts on 5G. That number is bigger than that of any competitor in the industry. At the same time, we are in a significantly leading position on 5G no matter when we look at the leadership or maturity of our technologies.
At the same time, we also see concerns of various natures of different countries on 5G. For those concerns, we think most of those are very legitimate concerns that are based on technology. Those are the concerns that we believe could be well clarified and mitigated through our collaboration with telecom operators and through joint engagement and communication with governments.
In very rare cases, certain countries, when it comes to 5G technology selection, took an irresponsible approach, which is not at all based on facts, banning certain companies from market participation.
We think decisions like this should be very serious and very professional. There must be evidence or proof to support these decisions. If there is no evidence, I think any decision of this nature would not win the test of time. We believe discussions around 5G security should return to technology discussions and should be based on objective assessment of companies.
Security concerns can only be addressed through technical discussions. Security discussions need to involve all stakeholders. On 5G technology selection, we think any government decision should be serious and professional and what's very important is that there must be proof and evidence.
If you have proof and evidence, it should be made public, maybe not to the general public, not to Huawei. But at the very least, it should be made known to telecom operators, because it's telecom operators who are going to buy from Huawei.
We think for our industry and for society at large, security challenges will be real for a long time. And these can only be addressed and mitigated through open communication and collaboration. And Huawei is committed to be a part of this process.
Contact reporter Jason Tan (jasontan@caixin.com)
You've accessed an article available only to subscribers
VIEW OPTIONS
Share this article
Open WeChat and scan the QR code