Update: China Ditches Caps on Foreign Institutional Investor Programs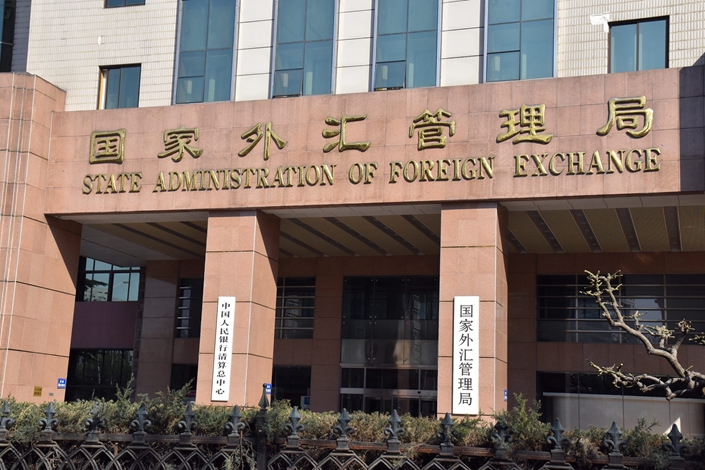 The State Administration of Foreign Exchange in Beijing on March 24. Photo: VCG
China has decided to remove the caps on how much overseas investors can invest in the country through certain programs, in a move to further open up the country's financial markets.
The State Administration of Foreign Exchange (SAFE) said in a statement (link in Chinese) Tuesday that the State Council, China's cabinet, has approved a policy to remove the quotas for both the Qualified Foreign Institutional Investor (QFII) and RMB Qualified Foreign Institutional Investor (RQFII) programs.
SAFE spokeswoman Wang Chunying said Tuesday (link in Chinese) that scrapping the caps is in line with the state's policy to continue to reform the financial markets and better meet the needs of overseas investors.
Currently, SAFE is filing an application to the State Council to scrap related administrative permission requirements, and the cabinet will formally announce the changes later, according to the statement.
China has already eased restrictions on outward remittance of funds — or money that foreign investors send out of the country. Since 2018, China has ended the lock-up period on the principal of investments made through the QFII and RQFII programs and has abolished the monthly limit on outbound remittances.
In addition, Wang said that the RQFII program, which allows overseas institutions to invest in Chinese securities using the offshore yuan, will now be open to overseas institutional investors that meet certain requirements. Before this, the program was only available to those from certain countries or regions on a pilot basis.
Since the launch of the QFII program in 2002 and the start of the RQFII program in 2011, more than 400 institutional investors from 31 countries and regions have invested in China's financial markets through the programs, according to the SAFE statement.
However, the current quotas for the programs generally appear to be sufficient. In January, SAFE raised the quota for the QFII program to $300 billion from $150 billion. For the RQFII program, the total quota so far totals 1.99 trillion yuan ($280 billion) for its 20 pilot countries and regions. As of the end of August, the total approved investment reached nearly $111.4 billion for institutions applying through QFII, while that of RQFII totaled 693.3 billion yuan, much less than the allowed quotas, SAFE data showed.
"Although the January 2019 doubling of the QFII quota is a welcome change, elimination of the quota scheme is the natural course as China's capital markets embrace globalization," the Asia Securities Industry and Financial Markets Association said in a June report.
For overseas institutional investors that put money into the Chinese mainland's stock markets, the available channels are QFII and the Shanghai-Hong Kong and Shenzhen-Hong Kong stock connects, a source from a major international asset management company told Caixin. As China's A-shares are increasingly included in major international stock indexes, the abolition of the QFII and RQFII quota caps will meet the needs of index funds looking to invest in the Chinese stock market, said the source.
Contact reporter Timmy Shen (hongmingshen@caixin.com, Twitter: @timmyhmshen)
You've accessed an article available only to subscribers
VIEW OPTIONS
Share this article
Open WeChat and scan the QR code

China Stories: The Rural Hardship Behind the Mine Murders That Shocked China