Photo Essay: After Tiger Show Crackdown, Can Circuses Change Their Stripes?
The last day of performances over China's national day holiday at the Qingzhou scenic area in Shandong province on Oct. 7. There were only a handful of people in the 600-seat theater. Photo: Chen Liang/Caixin
In September, an escaped Siberian tiger was captured by police in Henan province. The big cat had fled from an unregistered circus troupe performing its first public show in the province.
In neighboring Anhui province, Yin Fuli expressed his dismay while watching the video of the tiger's escape. Yin, a manager of troupes registered to China's 7th-largest circus organization founded in his hometown of Yongqiao, knows that instances like this will only hurt his already-struggling business.
The Yongqiao Circus was founded during the Qing Dynasty in the Yongqiao district of Suzhou city in the north of China's Anhui province. Today, it has 200 affiliated troupes which employ up to 200,000 people at any one time. In 2006, it was designated by the central government as China's first and only "circus town."
However, new government rules on the use of animals in performances in 2017 — and calls for even stricter measures — have made life tough for China's circus troupes, especially the Yongqiao troupes that specialize in animal performances. Indeed, many places have curbed such performances, especially those involving tigers. According to Suzhou's local forestry department there are thousands of tigers in the area, and tigers "waiting for work" have become a headache for both the authorities and circuses.
Yin was frustrated that the tiger had escaped. However, he admitted that managing the tigers' transportation and performances is tricky. Yin keeps 12 tigers at his house and 10 at his neighbor's home. One tiger needs to eat at least two barrels of chicken – costing about 460 yuan (about $65) — every day to simply survive.
Golden week depression
The first week of October is known as "golden week," as the country gets a week off work to celebrate the founding of the People's Republic of China. This has usually been Yongqiao's peak week. In the past, troupes could earn hundreds of thousands of yuan in a single week, but this year profits barely scraped past 100,000 yuan.
Four of Yin's troupes signed performance contracts for the holidays, but things didn't go smoothly. Yin's partner Ma Haiying took a troupe to a scenic spot in Qingzhou, Shandong province, but made only 100,000 yuan. Yin's son-in-law A Liang planned to perform in Tai'an, Shandong, but the show was banned suddenly. Yin's son A Long had to withdraw from Henan's Zhoukou city and transfer to a rural county for performances. Yin himself barely made a profit in Jinan, capital of Shandong. Ma concluded that "where there is money to be made, performances are not allowed; where performances are allowed there is no money to be made."
Ma was hesitant to sign a performance contract with the scenic zone in Qingzhou. The management team were not optimistic about the circus's prospects there and claimed that there was "no good business" in the area. But the restrictions on large-scale performances during this year's golden week holiday were stricter than before, and Ma felt she had no other options. She decided to try her luck.
On top of that, the Qingzhou scenic area's management had said that if the cooperation went smoothly, the circus could perhaps sign a long-term deal. Due to tightening policies around public zoos, Yin's once-nomadic troupes have been forced to find fixed venues, which can only be located in designated scenic areas or private zoos. So Yin and his family raised money to build a 600-seat theater at the scenic spot.
But attendance was often poor, with sometimes only 10 tickets being sold. Some people who didn't want to buy a ticket to one of the two daily performances lifted the tent flap to peek inside. "The greatest reward for the performers is an audience," Ma said. But she warned her troupe that no matter how few audience members there are, they must perform well. "We can't give the scenic spot management an excuse to deduct any money," she said.
The tigers in the land of circuses
Yongqiao's circus tradition was revived in the 1980s and grew well for many years, developing from monkeys doing handstands on sheep to tricks with tigers and lions.
Zhang Yongheng, the secretary-general of the Yongqiao Circus Association in Anhui, does not believe that the circus tradition is abusive to animals. But he suggested in a development plan that the association could connect animal protection organizations and government departments with circuses, making it a bridge for communication.
Shi Wei, the head of the wildlife protection department at the local forestry bureau, said that the Siberian tiger performances have been economically beneficial and have also boosted the Siberian tiger population. Yongqiao Circus obtained a tiger breeding license in the 1990s, a program which bore fruit after the year 2000. However, after restrictions were put on tiger performances, the difficulty of supporting the tigers has increased dramatically. The local government and the forestry department called for the release of the performance tigers, but still no specific measures have been discussed, Caixin learned.
The tiger "prison break" this year has continued to shake the circus industry. Yin fears that animal performances will be banned in the future. If that day comes, where will the animals go?
The ground is uneven in the tent at the scenic area in Qingzhou, so it takes a long time for larger props to be moved and set. Kong Wei, the circus clown, comes out to entertain the audience. He walks around balancing a balloon on his nose, drawing applause from the audience. Photo: Chen Liang/Caixin
The animal trainers stay up late to play cards and have snacks. Photo: Chen Liang/Caixin
At the end of the shows in Qingzhou, the performers take a group photo. Only the trainer is a regular performer with the circus, since it is cheaper to hire performers on short-term contracts. Photo: Chen Liang/Caixin
A Shan is Ma Haiying's adopted son who takes care of animals and helps out backstage. When Ma is short on performers, A Shan helps out there too. Photo: Chen Liang/Caixin
Kong Wei, the clown, was the head of a Ningxia Hui autonomous region-based acrobatics troupe 40 years ago. Photo: Chen Liang/Caixin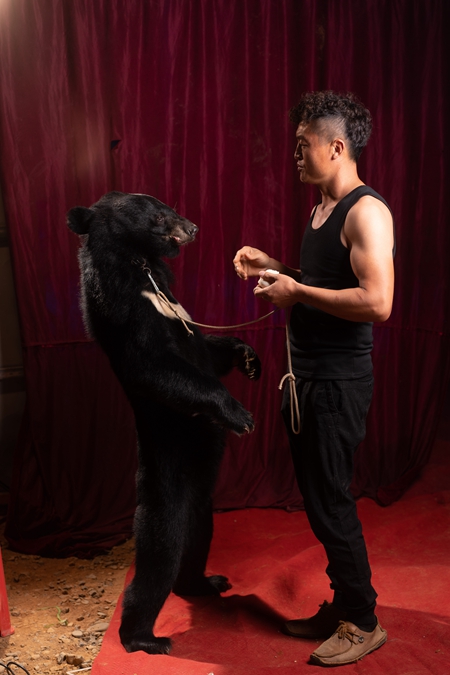 Sun Gang is an animal trainer who has been with the circus for more than 20 years. He is one of Yin Fuli's oldest apprentices. Photo: Chen Liang/Caixin
Ma Haiying, the manager for the Qingzhou performances, is in charge of selling lightsabers when the performance starts. "Children, wave the lightsabers in your hands so that the clown can see you and bring you presents!" she says. Photo: Chen Liang/Caixin
The Siberian tiger and African lions sit under the command of trainer Sun Gang. Yin Fuli says that the key is to use the tiger's instincts and extend the baton to its face, which causes the tiger to stretch out its claws towards the stick. Photo: Chen Liang/Caixin
The workers at the circus take a break in the tent. At the end of the show, the tables and tool boxes that are boarded shut become their beds. Photo: Chen Liang/Caixin
Contact translator Ren Qiuyu (qiuyuren@caixin.com)
You've accessed an article available only to subscribers
VIEW OPTIONS
Share this article
Open WeChat and scan the QR code