Exclusive: Everbright Securities Picks New President in Wake of Executive Shakeup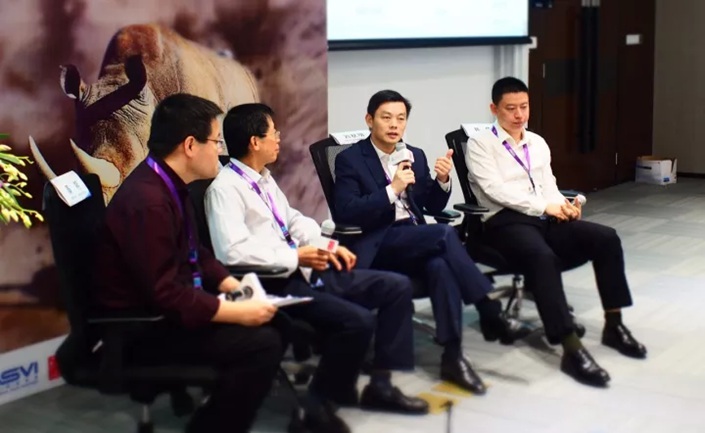 Liu Qiuming, then chairman of China Minsheng Investment Capital Co. Ltd., speaks at an event in 2017. Photo: CMIG Capital
Everbright Securities Co. Ltd. has chosen the chairman of China Minsheng Investment Capital Co. Ltd. to be its next president, Caixin has learned, as the state-owned firm continues to fill positions vacated during a purge of top management this year.
The choice of Liu Qiuming is Everbright Securities' latest move to recover from the fallout from its botched takeover of a British media company, which left it with a number of leadership vacancies and multiple ongoing legal battles with its former investment partners.
Liu is now both chairman and president of China Minsheng Investment Capital, a subsidiary of the privately owned China Minsheng Investment Group Corp. Ltd. He is expected to take over from Zhou Jiannan, who stepped down in early October after Everbright Securities' chairman, chief risk officer and chief compliance officer resigned earlier this year.
Liu was chosen after Hong Kong- and Shanghai-listed Everbright Securities launched an open recruitment campaign (link in Chinese) last month to fill the executive positions vacated after the purge.
In 2016, an Everbright Securities subsidiary joined a consortium that bought a 65% stake in MP & Silva Holding SA. But the investment soured as the U.K.-based sports-media company lost key contracts, saw its main dealmakers leave for rival companies, and was finally declared bankrupt in 2018. The case reflected a common trend at the time in which Chinese companies scrambled to acquire overseas businesses only for many of them to subsequently turn out to be duds.
Although the Everbright Securities subsidiary made a minority investment of 60 million yuan ($8.5 million) in the acquisition, it ended up owing about 3.5 billion yuan to two partners in the consortium due to leveraged arrangements. That cost the company. As of the end of June, Everbright Securities had made nearly 1.7 billion yuan of provisions against its estimated liabilities related to the acquisition, according to an August exchange filing.
In July, Yan Jun, who has been an executive of its parent company China Everbright Group Ltd., took over as Everbright Securities' chairman. The former chairman, Xue Feng, stepped down in April in the wake of the British media company deal, though he was asked to stay on to help deal with the resulting mess. The securities regulator in Shanghai has held Xue responsible (link in Chinese) for internal control failure.
While making the deal, China Merchants Bank Co. Ltd. and Shanghai Huarui Bank Co. Ltd., as investment partners, had put around 3.2 billion yuan into the initial purchase. To support the deal, Everbright Capital, a wholly owned subsidiary of Everbright Securities, gave them a "Letter of Makeup of Shortfall," which meant that when the partners failed to exit the investment as planned, Everbright was liable to pay the pair 3.5 billion yuan, covering the principal investment and accrued interest. "It was insane to leverage such a big deal with 60 million yuan," an industry veteran has told Caixin.
Read more
In Depth: How a Bungled British Deal Left Everbright on the Hook for $522 Million
While its former investment partners are looking for cash from Everbright Capital, the firm is in turn looking for compensation from another player in the deal, Baofeng Group Co. Ltd. Shenzhen-listed Baofeng — which teamed up with Everbright Capital to raise the cash for the deal and made the stake purchase — had promised to purchase MP & Silva shares from the other investors in the consortium within 18 months of the takeover deal's closure. However, Baofeng didn't live up to this pledge. Its founder and chairman, Feng Xin, has been detained by police on suspicion of "giving bribes to nonstate functionaries" since July, according to exchange filings (link in Chinese).
Contact reporter Guo Yingzhe (yingzheguo@caixin.com) and editor Michael Bellart (michaelbellart@caixin.com)
Caixin Global has officially launched Caixin CEIC Mobile, a mobile-only version of a world-class platform for macroeconomic and microeconomic data.
From now on, all users can enjoy a one-month free trial on the Caixin App through December 2019. If you're using our App, click here. If you haven't downloaded the App, click here.
You've accessed an article available only to subscribers
VIEW OPTIONS
Share this article
Open WeChat and scan the QR code

China Stories: Strict Rules at Home Push Chinese Metaverse Entrepreneurs, Investors Overseas