In Depth: Why There Will Be No Quick Cure for Trade After the Pandemic
China's foreign trade value declined 9.6% in the first two months this year because of the outbreak. Photo: VCG
The merchants and traders of Yiwu, the world's busiest small-commodity business hub in eastern China, have a sobering message on the outlook for global trade: There will be no quick recovery from the economic devastation of the Covid-19 pandemic, and the fallout may be more severe than from the 2008 financial crisis.
On Feb. 20, as China's epidemic showed signs of easing and authorities encouraged a resumption of business, the operator of Yiwu's largest wholesale market invited traders from around the world to return and offered to pay for their flights.
"As long as foreign traders were here, they would bring orders and generate demand," said Wei Gang, deputy general manager of Zhejiang China Commodities City Group Co., the operator of the Yiwu market. Information from vendors abroad suggested the outbreak would escalate outside China, threatening world trade, and Yiwu was hoping to get business cranked back up before that happened, Wei said.
But Feb. 20 was also the day that northern Italy's Lombardy region confirmed its first Covid-19 patient, setting off explosive growth of cases there and beyond. Since then, the global epicenter of the outbreak shifted away from China to Europe and the U.S. As of Saturday, the disease has seized a foothold in 181 countries and regions, infecting more than 1.1 million people, according to Johns Hopkins University data.
Consequently, Yiwu was unable to avoid the rolling shockwave of the global pandemic as international trade froze up amid travel bans and business closures. Since March, foreign orders plunged while requests for cancellations or delays swamped Yiwu's merchants, which sell everything from lighters to straws to Christmas decorations to shoppers around the world. Some said they now fear greater setbacks than in the financial crisis a dozen years ago.
As China picks up the pace to revive business at home, the worsening pandemic abroad is undercutting recovery efforts in a measure of how interconnected global commerce has become. Although the country's economic indicators suggested a rebound of business activity in March, a barometer of new orders remained in contractionary territory following the steepest drop on record in February. The gauge for new export orders remained below pre-pandemic levels.
Read more
Caixin's coverage of the new coronavirus
China faces a 30% decline in external demand in the next one to two quarters because of the pandemic, said Lu Ting, chief China economist at Nomura International Ltd. in Hong Kong. Gao Shanwen, chief economist at Essence Securities, warned of a sharp drop in external demand in the second quarter that could be more devastating than the financial crisis.
"Europe is just like Hubei about a month ago when it was hit worst by the outbreak," said an executive of a Guangzhou trading company. "Covid-19 is causing damage everywhere." For global traders, there is almost nowhere to hedge the risk, the executive said.
Chinese factories are experiencing profound shifts in global demand as restrictions to slow the spread of the virus keep hundreds of millions of people at home. Makers of textiles, shoes and consumer electronics are among those getting hammered. Partially offsetting the bad news for them is rising demand for home exercise equipment, home entertainment systems, freezers and pharmaceutical ingredients. But even for industries that stand to benefit from changing demand, global supply chains and shipping networks have been disrupted.
"The biggest potential risk is uncertainty, especially about the outbreak's outlook in Europe and the U.S.," said Wang Dawei, an official of the United Nations Conference on Trade and Development. Even after the pandemic wanes globally, there will be continued uncertainties for the recovery of global trade, Wang said.
Riding the tidal wave
Chinese exporters experienced the initial shockwave of the Covid-19 outbreak during the first two months this year as business nationwide ground to a halt. Government data showed that China's total export value in dollar terms plunged 17.2% in January and February from a year earlier.
In late February, hopes rose that trading would revive and losses could be recouped as the outbreak waned and factories reopened. But in mid-March, China's Ministry of Commerce said exports faced mounting uncertainties reflecting declines in external demand. Two weeks later, Xin Guobin, vice minister in the Ministry of Industry and Information Technology (MIIT), warned that China's foreign trade might further slow this year as the virus spread worldwide.
Since March 20, a Yiwu stationery manufacturer has received requests from customers in Europe, the U.S., the Mideast and Southeast Asia to postpone deliveries for at least a month. Some can't even provide a projected new delivery date because of unknown schedules for customs closings at the destination, the owner of the plant told Caixin.
In a survey by the China Cotton Textile Association, some member companies reported 50% order declines from Europe and the U.S. by late March. The pandemic's impact on Chinese clothing exporters may last four to six months, the association predicted.
Liu Jianbo, general manager of Yaqi Garments Co., told Caixin that the industry expected a business recovery in March and April after sales froze in the first two months. But the rebound has yet to come.
Yaqi is among thousands of clothing manufacturers and exporters in the town of Dalang in Dongguan, Guangdong province. Known as China's textile hub, companies in Dalang exported 1.2 billion sweaters worth more than 60 billion yuan ($8.5 billion) in 2018. More than half of them went to Europe, the U.S., Japan and South Korea.
This year, foreign orders to Dalang clothing exporters for the autumn season may drop by half, Liu said. For companies relying on exports, "the damage is fatal," he said.
Factory owners in Putian, China's largest shoe manufacturing center in Fujian province, also worry about surviving the pandemic.
"Small companies with limited cash flow may stay afloat for less than half a month, and the largest ones can make it no longer than six months," one shoe manufacturing executive said. "The impact on the entire economy will show up in 2021," he said. His company has received no new orders since resuming operations Feb. 25 and dismissed 40% of its employees, he said.
Manufacturers of consumer electronics such as cellphones are also feeling the pinch. As of March 30, 95% of China's electronics industry resumed operations, official data showed. But the business outlook remains grim with sliding sales and uncertainties ahead.
"The mobile phone industry relies heavily on global supply chains," said Shan Min, an executive of Alibaba Group's international trade business. "It is now facing supply shortages and surging costs" because of disruptions related to the pandemic.
At the same time, sales of home exercise equipment such as trampolines, yoga mats and dumbbells have surged multifold, according to a China executive of French sports brand Decathlon SA.
Makers of home entertainment devices, cookware and freezers also see rising demand worldwide as more people are forced to spend more time at home, Alibaba's Shan said.
Suppliers of pharmaceutical ingredients experienced a price surge as customers worldwide work to find a cure for the new disease. With more than 1,500 manufacturers and 3 million tons of annual exports, China is the world's largest producer and exporter of pharmaceutical materials.
Jiangxi Fushine Pharmaceutical Co., a supplier of ingredients for antibiotics, projected March 20 that first quarter net profit would rise 50% to 70%. Tianfeng Securities said many pharmaceutical ingredients companies have run at full capacity amid surging demand globally, especially for antibiotic drugs to help Covid-19 patients.
But the pandemic also created problems even for medicine suppliers as it disrupted global supply chains and logistics. MIIT's Xin said pharmaceutical ingredients suppliers are increasingly squeezed by a lack of global transportation capacity and surging costs.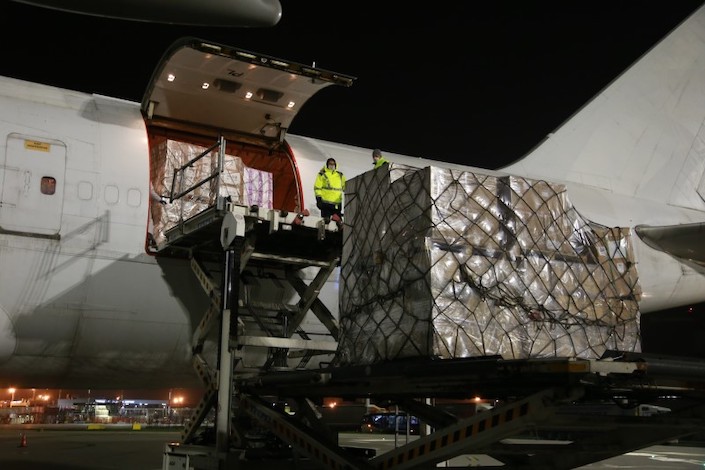 The pandemic led to a decline in air freight capacity and pushed up costs. Photo: VCG
Mounting difficulties
Exporters that want to send products from Shanghai to Australia found that the average transit time for cargo ships to Brisbane is now 27 days instead of 12 as Australian authorities require a quarantine period for foreign ships.
In addition, exporters are confronting a dramatic reduction of international transport capacity and surging freight costs as countries seal borders or restrict international travel to stop the spread of the virus.
Shipping industry consultancy Maritime Strategies International (MSI) said global efforts to contain the virus would lead to a contraction of container shipping in 2020 that could be more severe than in the 2008 financial crisis.
MSI predicted that shipping volume on routes linking Asia and Europe would drop 17.8% from last year with traffic between Asia and America plunging 13% to 15%.
Many Chinese exporters are trying to move business online or shift their focus to the domestic market. But such changes won't be easy. The setbacks from the pandemic will cause a major overhaul to China's export industry that will force out weaker players as after the financial crisis, Alibaba's Shan said.
Some are concerned that the pandemic will kill many exporters and accelerate a process that shifts manufacturing away from China. To maintain China's export industry strength, central and local governments have rolled out policies such as offering tax rebates and cutting fees.
It is important to help exporters survive the crunch so that China can maintain its share of the global market, said Bai Ming, an analyst at the Ministry of Commerce.
Import targets
The pandemic is also hindering China's imports with the slowing of domestic business, raising questions whether the country can meet import goals under last year's phase one trade deal with the U.S. China agreed to buy an additional $200 billion of American products in 2020 and 2021 compared with 2017, including agricultural goods, seafood and energy.
But the economic slowdown means it will take some time for demand to revive in China so that imports can rebound to the level before the pandemic, said Stephen Olson, analyst at Hinrich Foundation.
Derek Scissors, a resident scholar at the American Enterprise Institute, a Washington think tank, said China will have a hard time meeting the goal and suggested that the two countries negotiate for an extension.
In the first two months, China's exports dropped 15.9% from a year ago while imports declined 2.4%. Imports from the U.S. totaled 122.4 billion yuan, a 4.3% rise year on year.
The countries kept their commitments to roll back some tariffs in February despite the outbreak.
Zhang Wendong, an assistant professor at Iowa State University, said China is capable of fulfilling its import commitment, at least for 2020, because of high demand for meat products, ethanol and consumer goods from the U.S.
While the pandemic poses unprecedented challenges to global trade, it also demonstrates the costs of protectionism and trade barriers for people's earnings and lives, according to Chad Bown, a senior fellow and trade policy expert at the Peterson Institute for International Economics. Bown called on the Trump administration to remove all tariffs on medical supplies from China to assist the fight against Covid-19.
Global cooperation is the only way for countries to combat the pandemic, Bown said.
Contact reporter Han Wei (weihan@caixin.com) and editor Bob Simison (bobsimison@caixin.com)
Jia Tianqiong, He Shujing, Sun Liangzi, Peng Yanfeng and Di Ning contributed to this story.
You've accessed an article available only to subscribers
VIEW OPTIONS
Share this article
Open WeChat and scan the QR code

Caixin-Sinica Business Brief: Hong Kong to Allow Retail Investors to Trade Crypto