Chip Speculators Targeted by Probe on Cost of Scarce Auto Part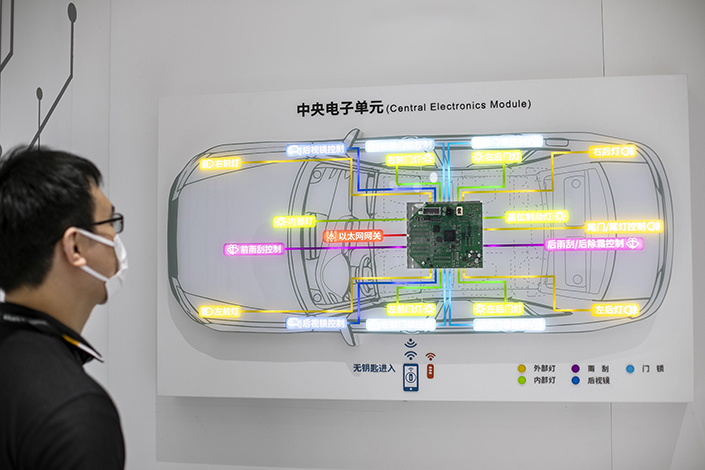 A visitor checks out a car chip at the Shanghai auto show on April 19. Photo: VCG
China has vowed to penalize anyone found hoarding, profiteering, driving up or fixing the price of microchips, a vital component in auto manufacturing, according to a statement issued by the national market regulator on Tuesday.
"Prominent issues such as speculation and high prices in the automotive chip market" have triggered the investigation, the State Administration for Market Regulation (SAMR) posted on its website.
The probe, prompted by inside tips and market monitoring, comes in response to concerns that distributors have gained from a pandemic-induced global semiconductor shortage which has squeezed production across a wide range of sectors.
Auto chips have been among the worst affected. But while price-gauging is a concern, with one car industry executive telling Caixin the price of the vital components was up as much as 10-fold, since chip costs account for a low proportion of entire car costs, most manufacturers can wear the increased costs. "With a 200,000 yuan car, the chip cost might only be a few hundred yuan," the person said.
Read more
Cover Story: How a Perfect Storm Created a Global Chip Shortage
The global semiconductor shortage stems from market failure. In February 2020 when China was at the height of its coronavirus epidemic, domestic car sales fell to 15-year lows, forcing firms to make conservative future sale estimates that reduced demand along a carefully calibrated supply chain all the way to chipmakers upstream.
But a stronger-than-expected auto market rebound in the second half of 2020 led to shortfalls that have seen vehicle manufacturers interrupt production and pivot to sourcing, as the existing chipmaking capacity was dedicated to the production of consumer electronics, which had remained in hot demand as people stayed home to escape the deadly virus.
In May, Yang Yuanqing, CEO of Lenovo Group Ltd., said he expects the world semiconductor shortage to persist until at least the end of next year.
Zhang Erchi contributed to this report.
Contact reporter Flynn Murphy (flynnmurphy@caixin.com) and editor Heather Mowbray (heathermowbray@caixin.com)
Download our app to receive breaking news alerts and read the news on the go.
Get our weekly free Must-Read newsletter.
You've accessed an article available only to subscribers
VIEW OPTIONS
Share this article
Open WeChat and scan the QR code