Exclusive: Alibaba's Philanthropic Head Talks 'Common Prosperity' Plans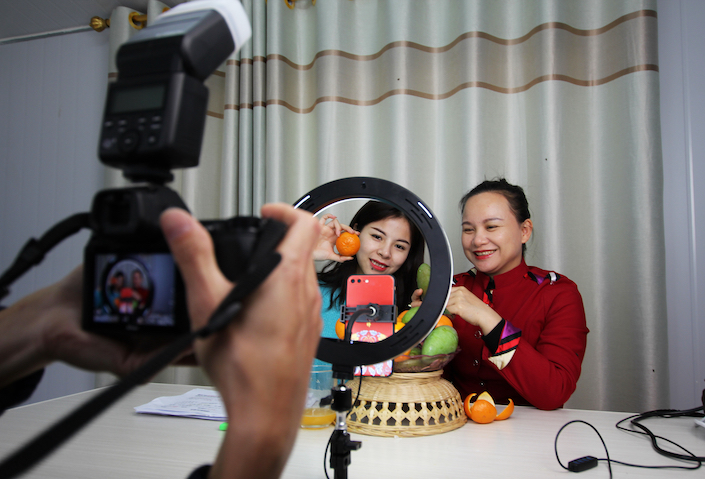 A livestreamer in Guangxi promotes local agricultural products.
President Xi Jinping's "common prosperity" push has become a hot investment for Chinese tech companies. Industry leaders including Tencent Holdings, Pinduoduo and Alibaba Group Holding Ltd. have pledged billions of dollars to support the campaign.
In an exclusive interview, Hu Xiaoming, an Alibaba partner and the head of its philanthropic work, explained in detail how Alibaba plans to spend 100 billion yuan ($15.5 billion) on the initiatives over five years.
Hu, 51, stepped down as chief executive officer of Ant Group in March to devote all his efforts to philanthropic work. He was named the deputy leader Friday of Alibaba's common prosperity work group.
At the work group's first meeting, Hu asked the heads of Alibaba's business lines to lay out specific action plans and phased goals. The philanthropic work is more about coordinating resources, Hu said.
"I worked at Alibaba and Ant with experience in tech and e-commerce, so I can push forward coordination of various business segments," Hu said.
Hu Xiaoming
The company's common prosperity plan is subject to approval by the board of directors and a meeting of shareholders. The preliminarily budget calls for spending 20 billion yuan on a common prosperity fund for eastern China's Zhejiang province and 80 billion yuan on industry action plans.
The 80 billion yuan for action initiatives will be spread across nine categories: increasing investment in science and technology and supporting digitization in underdeveloped areas; supporting growth of micro, small and medium-sized enterprises (SMEs); boosting agricultural industrialization; supporting SMEs' exports; supporting high-quality employment; helping to improve the welfare of flexible workers; promoting equal digital life in urban and rural areas; narrowing the digital gap and strengthening services for vulnerable groups; and supporting the improvement of primary medical capacity.
The 20 billion yuan common prosperity fund will initially be spent in 26 counties in rural areas of Zhejiang province, focusing on eliminating the urban-rural income gap. Alibaba will look for export opportunities and help to bring jobs to those counties, Hu said.
Zhejiang, where Alibaba is based, is one of China's most affluent provinces with the fourth-highest GDP behind Beijing, Shanghai and neighboring Jiangsu province. It was designated as a demonstration region with a goal of achieving common prosperity by 2035.
In July, Zhejiang issued a five-year phased implementation plan, setting 2025 targets of per capita disposable income of 75,000 yuan, 80% of households with annual disposable income of 100,000 yuan to 500,000 yuan, and a reduction in the urban-rural income gap to less than 1.9 times.
Alibaba's philanthropic work focuses on using its advantages in industries and leveraging Alibaba as an industry platform, such as the promotion of agricultural products on the Taobao Tmall platform, investment in rural medical care and upgrading the tourism industry through its travel services platform Fliggy, Hu said.
Even before the common prosperity campaign, Alibaba was engaged in rural revitalization across the country. It selected 21 of the 832 poorest counties across the country. The company sent work groups to villages to advance a series of public welfare projects related to e-commerce, including the promotion of agricultural goods, the relocation of call centers and the improvement of rural medical services, Hu said.
"Rural revitalization has two goals: how to bring goods out and bring people in," Hu said.
Alibaba is relocating jobs from first-tier and second-tier cities to county-level towns, the executive said. The company has provided more than 200 customer service positions in Julu, a poor county in Hebei province. The jobs can provide local young people with an average monthly income of 4,000 to 5,000 yuan, encouraging local workers to return to their hometowns to find jobs and take care of their families, Hu said.
Ali Health launched the first community medical platform in Tiantai, Zhejiang, he said. The data platform connects county hospitals, town health centers, village clinics and rural doctors to facilitate follow-up for routine chronic disease treatment for the elderly in rural areas. In Li County, Gansu Province, Ali Health cooperates with the local health commission to establish medical record database for elderly patients, Hu said.
The company also requires major livestreamers on its Taobao and Tmall platforms to contribute a certain proportion of their streaming time to promoting agricultural products free, Hu said. Alibaba will rank streamers based on their charitable contributions.
Alibaba has held many internal discussions on the proportion of the funds to be spent on philanthropic work and industries, Hu said. The company concluded that the common prosperity China seeks is high-quality development. It is a matter of making the pie bigger, and how to distribute it, Hu said.
"On making a bigger pie, as an industry platform and ecosystem, Alibaba should be able to make a difference," Hu said.
An earlier version of this story incorrectly paraphrased a quote by Hu Xiaoming. Hu said that Alibaba has concluded that the common prosperity China seeks is a matter of making the pie bigger, and how to distribute it.
Contact reporter Denise Jia (huijuanjia@caixin.com) and editor Bob Simison (bobsimison@caixin.com)
Download our app to receive breaking news alerts and read the news on the go.
Get our weekly free Must-Read newsletter.
You've accessed an article available only to subscribers
VIEW OPTIONS
Share this article
Open WeChat and scan the QR code