In Depth: How Evergrande Hid Its Debt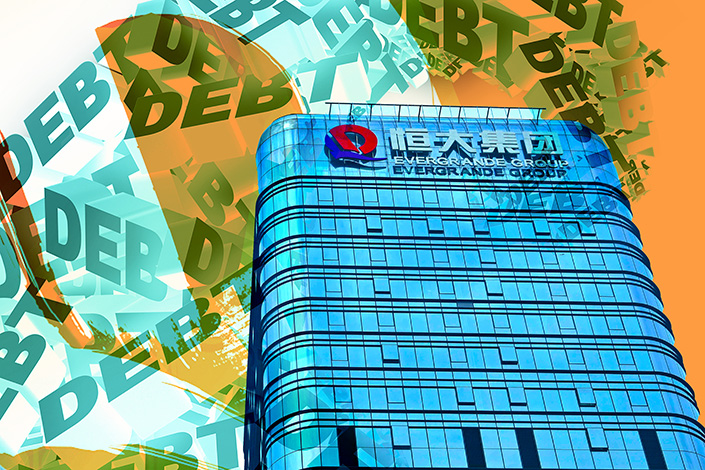 Evergrande has not been transparent about its off-balance-sheet liabilities.
Judging from its balance sheet, China Evergrande Group is a behemoth.
As of the end of the first half of 2021, Evergrande had total assets of 2.37 trillion yuan ($367.3 billion) and total liabilities of nearly 2 trillion yuan. It had 571.7 billion yuan interest-bearing liabilities, a figure that was actually down by about 145 billion yuan from the end of 2020.
Evergrande managed to lower this number mainly by deferring payments to its suppliers. But that just shifted the liabilities to another part of its balance sheet. Its trade and other payables increased by 122 billion yuan in the first half of 2021, compared with the end of 2020.
The company still has serious financial problems. It is no secret that real estate companies usually have large off-balance-sheet liabilities. Evergrande has shown itself to be a master at hiding its debts both on and off the balance sheet. It has employed a variety of methods, such as debt disguised as equity and acquisitions that have yet to be paid for. The group has not been transparent about its off-balance-sheet liabilities, making it difficult to assess the scale of the problem
Read more
Cover Story: How Evergrande Could Turn Into 'China's Lehman Brothers'
According to a real estate industry source, developers like Evergrande need to invest a lot of money in a project in its early stages, and consolidating balance sheets at this point will lead to an increase in their on-balance-sheet liabilities. Therefore, the companies have come up with a variety of methods to exclude under-construction projects from their balance sheets. Once a project opens for pre-sales or after its cash flow turns positive, the developer will move it back onto the balance sheet via an equity transfer.
Caixin's reporting about disputes over Evergrande's Chaoshoubao investment scheme, which was geared toward senior executives and employees, offers a glimpse into Evergrande's hefty off-balance-sheet liabilities. According to Evergrande's plan, the 40 billion yuan Chaoshoubao fund, which raised money by selling wealth management products, was funneled into several real estate projects through trust plans. The first batch of capital was put into two renovation projects in Shenzhen.
A close look at one of those projects showed how Evergrande managed to keep the money off its balance sheet. Evergrande provided Shenzhen Liang Yang Industrial Co. Ltd. with a sum of 10.7 billion yuan to acquire a 100% stake in Shenzhen Duoji Investment Co. Ltd., a wholly owned subsidiary of Chang'an International Trust Co. Ltd., in a deal that included taking over related liabilities. According to Evergrande's plan, the construction and management of this project were entrusted to Evergrande Real Estate Group (Shenzhen), meaning that Evergrande did not need to include the project on its balance sheet, as there was no nominal equity relationship between it and the project when the capital injection took place.
Caixin obtained documents of the seventh phase of Chaoshoubao, which showed that Evergrande leveraged capital to acquire the equity of 10 other project companies in a similar way. These projects were also temporarily excluded from Evergrande's balance sheets.
In addition, debt investments disguised as equity investments have also been a major source of Evergrande's implicit liabilities.
Since 2017, Evergrande has carried out three rounds of intensive capital and equity expansion, totaling 130 billion yuan. The goal of the fundraising was to repay 112.9 billion yuan in perpetual bonds that the company had been issuing since 2013. These perpetual bonds had facilitated Evergrande's strategic shift from focusing on third-and fourth-tier cities to first- and second-tier cities such as Beijing and Shanghai. In a few years, Evergrande increased the proportion of its projects in first- and second-tier cities to over 70% of the total. However, the perpetual bonds came with a hefty interest rate of 13%, a figure that had been rising year by year, resulting in a squeeze on Evergrande's profits. In 2016, Evergrande's net profit reached 17.62 billion yuan, of which as much as 10.6 billion yuan was attributable to perpetual bonds holders. The 130 billion yuan equity expansion was meant to solve this problem.
Evergrande was eager to relieve itself of the financial burden posed by the perpetual bonds. Of the 130 billion yuan of strategic investments in Evergrande, Shandong Hi-Speed Group Co. Ltd. (SDHS) contributed the largest portion — around 23 billion yuan. Several sources close to the matter said SDHS also offered other forms of loans to Evergrande amounting to about 60 billion yuan, with interest rates as high as 15%.
"It was rare for a state-owned company to provide such a large amount of lending to a single private enterprise, so the market was paying close attention to the deal," one source said. "As such, SDHS withdrew from Evergrande's investment plan in December 2020."
Market participants generally believe that the initial 130 billion yuan strategic investment was in fact a debt investment disguised as an equity investment.
Read more
Wang Tao: What's the End Game for Evergrande?
Evergrande's Fangchebao, a real estate agency and car dealership company, conducted similar practices.
In March 2021, Fangchebao brought in a number of strategic investors, who together acquired HK$16.35 billion worth of its equity. Furthermore, Fangchebao publicly promised that if it failed to go public within a year, the investors would have the right to demand that Evergrande buy back their shares at a 15% premium.
Evergrande's implicit liabilities also include payments owed to the original equity holders of the companies it has acquired.
A lawyer representing a local real estate company that has sued Evergrande told Caixin that Evergrande set numerous pre-conditions for making payments for equity transfers in M&A contracts.
"For example, if the acquired company could not get land certificates and planning approvals within the specified time, could not offer as much land as promised or could not keep demolition costs within an agreed-upon range, Evergrande would refuse to make payments on the grounds that the payment conditions were not met. Or it might refuse to pay the second and third installments after making the initial payment," the source said.
Read more
Caixin's coverage about Evergrande's debt crisis
According to Caixin's investigations and the search results on China Judgments Online, at least a few dozen small real estate companies have sued Evergrande, requesting that the court either nullify the equity transfer agreements they signed with Evergrande or order Evergrande to pay up. Many of them have won the first instance in court.
These lawsuits show that Evergrande usually pays for equity transfers in the form of "lump-sum fees," but it often refuses to pay subsequent installments after making a 30% down payment — even if corresponding real estate properties have already been sold off.
In addition, Evergrande owes money to several local governments for unpaid land acquisitions. In July, the Department of Natural Resources of the northwestern city of Lanzhou issued a notice requesting that 41 real estate companies pay outstanding land acquisition fees as soon as possible. Among the companies, 20 are affiliated with Evergrande, including 19 that are involved in the "Lanzhou Evergrande Cultural Tourism City" project.
A source familiar with the capital market in Hong Kong said that Evergrande had raised a lot of money overseas at interest rates higher than 15%, which one source found to be perplexingly high. "How could Evergrande make a profit borrowing at such high interest rates?" the source asked.
Zhang Yuzhe contributed to the article.
Contact editor Michael Bellart (michaelbellart@caixin.com)
Download our app to receive breaking news alerts and read the news on the go.
Get our weekly free Must-Read newsletter.
You've accessed an article available only to subscribers
VIEW OPTIONS
Share this article
Open WeChat and scan the QR code