Blinded By Hanergy's Light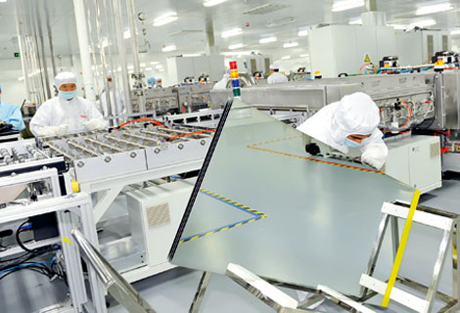 Hanergy's plant in Heyuan, Guangdong Province, which opened in November 2011
Visiting government officials from the sunshine-and-palm trees city of Haikou were taken aback by ostentatious luxury as they stepped inside the headquarters of solar equipment manufacturer Hanergy.
Jaws dropped as Li Hejun, Hanergy's founder and dealmaker-in-chief, welcomed the visitors from China's far south to the company's plush offices in Beijing.
After grabbing their attention, Li quickly sweetened the surprise with a stunning plan to expand his business in Haikou, promising to generate hundreds of jobs and steady tax revenues.
By building a new factory and research center, Li declared, "Hanergy will invest 17.5 billion yuan in Haikou over next 10 years," recalled one visitor, who asked not to be named.
Li even doubled his pledge on the spot after one official implied he would prefer a shorter time frame. "Then let's do it in five years!" Li snapped.
That meeting in early 2010, which ended with a major agreement between Hanergy and the city of Haikou, was just one of many orchestrated by Li in recent years as part of a nationwide campaign to build Hanergy and promote its key products – solar power panels equipped with a unique type of thin-film photovoltaic cell, and solar energy plants powered by these panels.
He's been hosting visitors at the Beijing headquarters and trotting across China since 2008 with a pitch that's won over investors, bankers, state-owned business leaders and nearly a dozen local governments.
Unfortunately for Li and Hanergy, however, neither the boss nor the company have lived up to all their promises. Factory projects are behind schedule or have been halted. Even Haikou government officials have questioned the wisdom of their agreement.
Indeed, enthusiasm for the company and its solar cells appears to have peaked. In recent months, the global economic slowdown, falling demand for solar panels in Europe, overseas trade barriers that target China's solar industry, and questions about Hanergy's business have been drowning out Li's upbeat message.
Several local governments that initially backed Hanergy projects with loans and land for factories have started cutting financial support. They are among the 11 cities across the country that forged alliances with Hanergy for manufacturing bases, power plants and other investments.
The Haikou city government is refusing to give Hanergy land for the second phase of its factory project. Heyuan officials are demanding financial details and production data about a Hanergy solar plant, while they also plan to delay action on company mining rights and land-use applications.
Hanergy expanded rapidly. The company set up nine subsidiaries and more than 10 power plants in just four years, and built a workforce that's now around 5,000.
You've accessed an article available only to subscribers
VIEW OPTIONS
Share this article
Open WeChat and scan the QR code

Caixin China Biz Roundup: What Does the U.S. CHIPS Bill Mean for China?