Book: The Forbidden Game: Golf and the Chinese Dream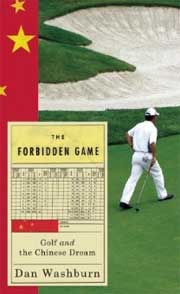 In 1937, Carl Crow, by then a 25-year veteran of Shanghai, published 400 Million Customers, a work that remains one of the most nuanced and perceptive looks at the Chinese consumer and business environment ever printed. In the middle of the last decade, Tom Doctoroff echoed Crow with his Billions (2005), and James McGregor did so more directly with One Billion Customers (2006). The more recent books align with the original not only in title – they also seek to illuminate the China business environment, to the benefit of foreigners seeking success, or trying to avoid failure, in the Middle Kingdom.
China has nowhere near 400 million golfers, but it has at least tens of millions, and the number is growing rapidly. But most play on courses that are technically illegal, because Beijing has had a general moratorium on golf course building for decades. And by definition China's golfers are among the wealthiest citizens of the PRC – a typical round of golf in one of the Shanghai suburbs costs nearly 1,000 yuan (US$ 160), about half the monthly minimum wage in the city.
So one might not immediately expect this story of golf in China to be anything more than a description of tawdry local corruption and the nouveau riche. (The Chinese term for these folks, 土豪, tuhao, literally "the brave of the dirt," carries all the negative connotation that the borrowed-from-French term does in English, and of the Japanese narikin (成金), "become money," closer to the European insult. There is no class of "old rich" in mainland China, as as the victorious Communist Party reduced all of those families to penury or worse starting in the 1940s.
But that expectation is wrong. Dan Washburn's The Forbidden Game pleasantly surprises on a few levels. First, he's crafted a tale not only of the development of golf in China, but of the development of post-Mao China overall, centered on three individuals: one of China's first professional golfers, Zhou Xunshu, originally from one of China's poorest provinces; Martin Moore, perhaps China's most famous builder of golf courses; and villager Wang, a peasant farmer whose life is completely transformed when his land is essentially stolen by corrupt local officials and leased to the mega-rich Chu family of Hong Kong for the creation of Mission Hills Hainan. (Hainan, an island just offshore from Guangdong Province, is often referred to, with more optimism than precision, as China's Hawaii.)
Second, the convoluted, legally-challenged and sometimes counter-intuitive development of golf in China proves an excellent window into China's overall development during the past three decades, precisely because China's overall development has been convoluted, legally murky and often counter-intuitive.
The Communist Party of China officially considers golf a bourgeois pastime – Washburn describes how government officials use false names when they play, and wear long-sleeve shirts so that they don't get the golfer's tan, from mid-bicep down. Washburn has said elsewhere that –
Golf is a symbol of corruption, rural land rights disputes, environmental neglect, the growing gap between rich and poor, and a shrinking supply of arable land. In many ways golf, and the complex world that surrounds it in China, is a microcosm of the contradictory country as a whole.
Author James Fallows, writing elsewhere, captured the point in fewer words, describing The Forbidden Game as "another valuable 'universal in the particular' story of China." So the book stands proudly on the shelf (or in the Kindle folder) next to Crow's 1937 work and others that foster greater understanding of China.
Mission Hills Hainan has become the second-largest golf course development in the world, behind Mission Hills Shenzhen, in China's southern Guangdong Province – both projects of the Chu family, whose members feature prominently in Washburn's work. Washburn's telling of the story abounds in bribery, collusion and other nefarious behavior. Washburn spent hundreds of hours bird-dogging Zhou through the latter's trials and tribulations as he became a fully professional golfer, and describes how Zhou taught himself to play, in the early days using broken clubs that he'd tape together. Washburn's evocation of his visits to Zhou's hometown, Qixin, are alone worth the price of his book. His obvious intimacy with the culture and language infuse and strengthen the work.
The Forbidden Game is a highly interesting tale, sometimes not so well told. The work reads like an assembly of previous articles and such, so is marred by repetition – the reader needs to be told once or twice, not a dozen times, that golf courses are technically illegal in China, that corrupt local officials make money by doing deals with developers at the expense of local residents, etc. These carpentry errors and some outright grammatical misses indicate the need for a better editor.
But those are construction problems; the foundation remains solid. The Forbidden Game is well worth reading.
John D. Van Fleet is Assistant Dean for the USC-SJTU Global Executive MBA in Shanghai. His book, Tales of Old Tokyo, a romp through the city's history from 1853 to 1964, will be published in late 2014.
Reprinted with permission from The Asian Review of Books
You've accessed an article available only to subscribers
VIEW OPTIONS
Share this article
Open WeChat and scan the QR code