How Disgraced Military Official Led Murky Property Development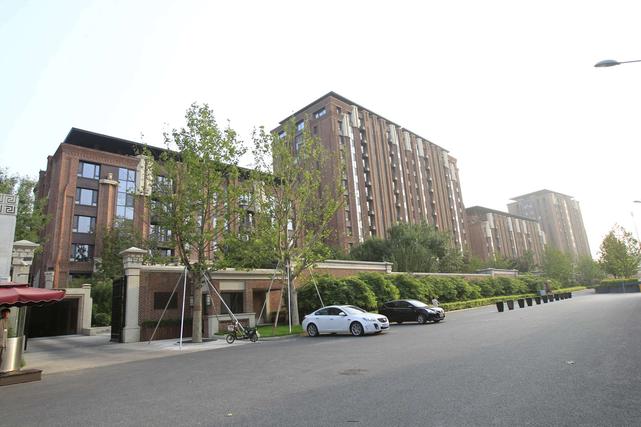 The Diaoyutai No. 7 residential development in Beijing's Haidian District on August 11
(Beijing) – The Diaoyutai No. 7 property development on the northern bank of picturesque Yuyuantan Lake in Beijing's northwestern district of Haidian became known as the most expensive residential areas in the capital after one home there reportedly sold for 300,000 yuan per square meter in 2011.
Even now properties in the development still sell for 150,000 yuan per square meter amid a slump in the property market.
Less well known is that the development and a cluster of heavily guarded villas next to it were built on a parcel of land that the People's Liberation Army (PLA) acquired for a state research and development facility several years ago under the watch of Gu Junshan, the disgraced former deputy head of the military's General Logistics Department.
Gu, 58, was given a suspended death sentence by the top military court on August 10 for serious embezzlement, bribery and abuse of power. Citing an unnamed official from the military court, the army-owned news portal 81.cn said on August 10 that Gu was given a lenient sentence, essentially life in prison if he behaves well for two years, because he came forward with information about wrongdoing by other people.
In 2013, investigators found piles of riches in one of Gu's homes in his hometown in the central province of Henan, including 20 crates of expensive liquor and a boat.
An earlier Caixin report found that Gu also owned more than 10 apartments in central Beijing. All of these properties were in developments on land that used to be owned by the military. Sources with knowledge of the matter said Gu kept the flats in case he needed to bribe someone.
Gu's detention in 2012 marked the start of the corruption crackdown in the military that has also brought down two former vice chairman of the Communist Party's Central Military Commission, Xu Caihou and Guo Boxiong.
Gu was a close ally of Xu, a vice-chairman of the CMC from October 2007 to November 2012 under former party leader Hu Jintao. Xu died of bladder cancer in March, but the inquiry into his activities is continuing, military prosecutors said.
Phoenix Weekly, a weekly magazine in Hong Kong, reported in March that PLA prosecutors uncovered a large haul of cash in the basement of Xu's 2,000 square meter home. The home referred in that report is one of the 11 villas in the area residents call No. 6 Garden, people close to the military said.
Gu joined military in 1971 and served in the air force and the military command in northeastern province of Jilin. He served as the deputy head and later the head of the infrastructure department of the PLA General Logistics Department from 2001 to 2003 when the military began a massive property development and construction drive.
The official Xinhua News Agency said that from 2003 to 2007, the CMC spent 2.5 billion yuan to build apartments for retired military officials. Also, from 2005 to 2007, the logistics department spent another 500 million yuan to renovate military accommodations.
Before Gu was promoted to a deputy chief of the PLA General Logistics Department in 2009, he oversaw the planning and development of Diaoyutai No. 7 and the villa project, though it is not clear whether he profited from it.
Caixin reporters have read a letter that the Haidian District government sent to housing and urban-rural development officials on March 25, 2005, stating that the General Office of the PLA's General Staff Department intended to acquire 8.3 hectares of land in a village named Dongdiaoyutai near Yuyuantan Lake and a factory after getting approval from the PLA General Logistics Department.
Seven months later, residents of Dongdiaoyutai Village were told about the planned demolition of their homes to make way for the development of "a state key multi-purpose R&D project" called "Army Shield One."
It is unclear how much the military paid for the plot, but the land was apparently never meant for a military R&D project. Instead, the military hired the then little-known Zhonghe Group in 2005 to develop half of the parcel into an up-market residential property with the other half was used for villas for top military officials.
Zhonghe paid the army 3,500 yuan per square meter to acquire half of the plot, but as a precondition it was required help build the 11 villa homes at a discount, according to a Zhonghe employee who asked not to be named.
A retired military official said that Gu once told him that the arrangement would help the military save 10 million yuan on each of the villas. Those homes, which are encircled by a 4 meter high wall, have never been put up for sale.
Little Say
Under the CMC's tight grip, government departments have little say in military affairs within their jurisdictions and local governments are eager to avoid upsetting military authorities.
A housing demolition regulation in place at the time said a developer needed to get six licenses to proceed with work, but with the backing of the military, Zhonghe needed just two. The developer did not obtain government permission for demolition until 2007, when work on Diaoyutai No. 7 and the villas was well underway.
Several villagers said local authorities did not hold a public hearing about the demolition of their homes and their relocation as required by the law.
Xian Wenxin, a vice director of the Ganjiakou Neighborhood Authority which used to administer the village, said he attended several meetings organized by the Haidian District government before the demolition. He said officials were told nothing about the redevelopment except it was a military project.
"They said it's a military project," he said. ""What else we can ask?"
Xian said officials had no choice but to help the developer with demolition work and the relocation of villagers.
To speed up the redevelopment, the then director of Haidian District government, Zhou Liangluo, personally took charge of demolition, including the forced destruction of two houses, said a villager named Tang Mingwang.
Zhou, the former head of Beijing's high-tech district, was given a suspended death sentence in March 2008 for taking bribes of more than 16 million yuan. Most of the bribes Zhou received during his tenure from November 2002 to April 2007 came from property developers in exchange for land grabs and project approvals.
Some villagers said they were told that they were entitled to government-subsidized affordable homes costing some 2,600 yuan per square meter, but only 34 of 1,024 households got one.
About 220 villagers filed a lawsuit in Haidian District People's Court in 2007 seeking to have their compensation agreements with the army-backed developer invalidated. The court did not offer an explanation when it refused to take the case.
Most of the villagers received about 10,000 yuan per square meter as compensation for their lost properties, far below the 20,000 yuan price in nearby areas. Some got as little as 260,000 yuan for a 100 square meter home as punishment for not cooperating with authorities.
Tang said some people went to the CMC's offices in 2009 to air their grievances over the low compensation, but were told the military had signed the agreement with the Haidian District government, so the latter was in charge of their relocation. Tang said that an official from the district government refused to discuss the matter in 2014, saying "it was a state secret."
(Rewritten by Li Rongde)
You've accessed an article available only to subscribers
VIEW OPTIONS
Share this article
Open WeChat and scan the QR code