Geely Says Costly Foreign Acquisitions Starting to Pay Off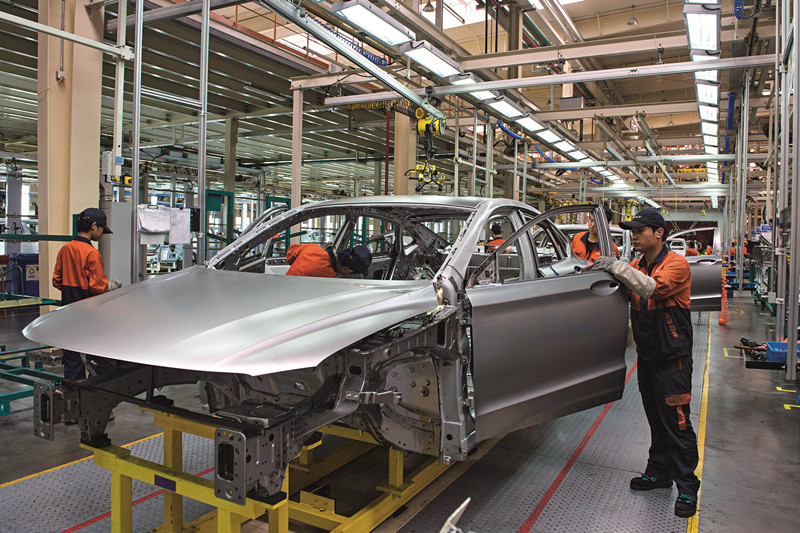 (Beijing) – The automaker Geely Automobile Holdings Ltd. says its string of acquisitions in the past five years, including for Sweden's Volvo Cars, is finally paying off with stronger sales, but analysts warn the aggressive expansion has left it straddled with a lot of debt.
The company's domestic sales grew to 510,000 units in 2015, up 22 percent from the previous year, racing ahead of the 4.7 average for the industry. Those figures made the company the tenth-largest auto firm in China in term of sales, analysts said. It also helped Geely claim something a U-turn after sales slumped 22 percent in 2014 from a year earlier amid a broader slide in market share for homegrown autos.
The company's "capital for technology" strategy, which prompted it to make a series of acquisitions that helped cut costs by sharing production platforms, technology and intellectual property, has fuelled this growth, Li Shufu, founder and chairman of Zhejiang Geely Holding Group Co., the parent company of Geely Automobile, said in an interview with Caixin.
When the private automaker set up shop in the eastern province of Zhejiang in 1998, it wanted to "produce the cheapest car in China," Li said. It has since transformed itself from a low cost manufacturer that rolled out imitation models to an owner of a series of world-class auto brands in the past 18 years.
Geely's US$ 1.5 billion acquisition of the Swedish luxury car brand Volvo from Ford Motor Co. in 2010 helped turn around its fortunes. Since then, Geely has snapped up other firms, like the Australian automatic transmission supplier Drivetrain Systems International and London black cab manufacturer Manganese Bronze Holdings.
Geely may not be done. "The period between 2016 and 2020 is very important," said Li. "Geely will continue to promote research in to cutting-edge technology and classic models to explore new markets and become more competitive in global markets."
The company has also invested heavily on research and development in the past few years, Li said. In 2015, research spending exceeded 6 billion yuan and the figure will reach 10 billion yuan in 2016, he added.
However, access to foreign technology has come at a cost. After the 2010 takeover of Volvo, the company's debt ballooned to 79 billion yuan, equal to more than 74 percent of its total assets, financial reports showed.
An auto industry analyst said that if sales weaken, Geely could be in trouble. "The rollout of new models in the next two years will be very important," the analyst said.
Slow Start
Geely's business started without much fanfare in 1998, when it launched its first imitation model of a popular low-end sedan Xiali made by Tianjin Xiali Automobile Co. Most dealers rejected this first batch of 100 cars, citing poor quality. Most of the autos were later dismantled.
An engineer at SAIC Volkswagen, a joint venture between Germany's Volkswagen Group and SAIC Motor Corp. Ltd. in Shanghai, recalled his first visit to a Geely plant in 2003. "The narrow plant was full of people and there was no modern automated equipment. You could hear people beating metal everywhere."
But the strategy helped Geely grab a share of the price-sensitive car market, and its sales revenue reached 100 million yuan in just two years.
From Chevrolet's Sail, a mini sedan, to the Supra, Toyota's sports car, it was easy to find a familiar-looking Geely model in China that was cheaper – and shabbier.
"It was easy to copy the appearance of popular overseas models," said a former Geely engineer, "but the improvement of technique requires an overall upgrade of equipment, people and management processes."
Geely started by imitating other models because it operated in a regulatory grey zone in the first three years before it obtained an auto production license, said Li, and the company couldn't get bank loans. Imitation is the cheapest way to make a vehicle, he said.
The fledgling manufacturer got an early break in 2003 when it partnered with the South Korean automaker Daewoo Motors to produce a new sedan called the Free Cruiser. The model was designed by Daewoo and manufactured by Geely. Free Cruiser hit the China market in 2005 and sold 100,000 units in the first year, good for about 40 percent of the company's total sales. As of 2015, a total of 660,000 Free Cruisers have been sold.
Li has since decided to switch Geely's strategy from imitation to R&D. In 2006, he set an ambitious goal to develop 15 new car models and expand sales to 1 million units by 2010.
However, by 2010 the company was selling only 415,000 units per year and was being squeezed out by competition from other domestic rivals, including BYD Auto Co. and Chery Automobile Co., two private budget automakers.
Hybrid Hopes
Geely started looking overseas to improve its designs and production capacity. In 2009, it acquired the world's second largest transmission maker, Drivetrain Systems International, and produced a new six-speed automatic transmission system. Then in 2013, it took over the British taxi maker Manganese Bronze, which Li said, helped introduce better financial and payroll management systems to Geely.
But the crucial deal was when Geely took over Volvo. The 2010 acquisition was valued at about 100 billion yuan, but Geely's annual revenue then was only 4.3 billion yuan. Production of the loss-making brand was moved to China, enabling it to turn a profit. Perhaps more importantly, Li said the deal gave Geely access to Volvo's technology.
In 2011, Volvo announced a new strategy, which included building production facilities in Chengdu, in the southwestern province of Sichuan, and in Daqing, in the northeastern province of Heilongjiang. In late 2013, the first China-made Volvo model, the S60L, left the plant in Chengdu. A second model was revealed in Daqing in 2014.
In late 2013, Geely partnered with Volvo to set up a research center in Sweden for new models. A new Geely model based on the cooperation is set to be launched by the end of the year.
Volvo saw its earnings triple to US$ 776.6 million in 2015 from 2014 due to strong demand from Europe and North America. Sales of Volvos in China, however, have been lukewarm. In 2015, Volvo sold 81,000 units in the country, far less than the 200,000 target it set in 2011. Li blamed the shortfall on a delay in getting approval for production from regulators.
In November, Geely said they will develop hybrid cars. Volvo and the British electric-vehicle startup, Emerald Automotive, which Geely acquired in 2014, will collaborate to develop technology to support this plan, Li said.
Debt Burden
The aggressive expansion has helped Geely improve its technological capacity quickly, but it has also left the company in debt. According to company reports, as of June 2015 its debt had risen to 100 billion yuan, from 8.6 billion yuan in 2008. The company's debt-to-asset ratio was 74 percent, higher than most domestic automakers.
Of this, 65 billion yuan is in the form of short-term loans that will mature in the next few years, financial data from the company show. Geely had cash assets of 23.5 billion yuan as of the end of 2014.
To finance the acquisitions, Geely sought government funding, while using its equity as collateral. The Daqing city government invested 3 billion yuan in the Volvo deal, and Jiading District in Shanghai put in 1 billion yuan. A source close to the company said these high-leverage financing arrangements led to higher costs.
(Rewritten by Han Wei)
You've accessed an article available only to subscribers
VIEW OPTIONS
Share this article
Open WeChat and scan the QR code

05:33 PM

02:05 PM

Mar 01 07:02 PM

Mar 01 07:00 PM

Mar 01 05:03 PM

Mar 01 01:08 PM

Feb 26 07:07 PM

Feb 26 06:51 PM

Feb 26 06:48 PM

Feb 25 05:43 PM

Feb 25 05:26 PM

Feb 25 01:02 PM

Feb 25 11:02 AM

Feb 25 09:06 AM

Feb 24 07:00 PM
GALLERY