Spent-Fuel Issues Cloud China's Nuclear Push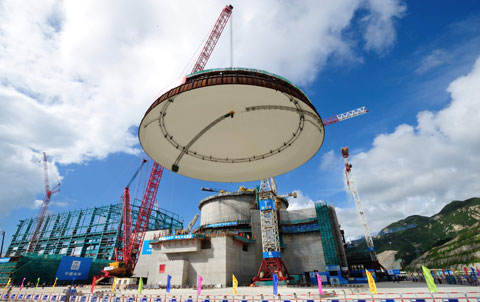 A containment structure dome is hoisted into place for one of two reactors at the Taishan Nuclear Power Plant in Guangdong province during its construction phase in 2012. Photo: IC
(Beijing) — A Chinese nuclear power plant construction program has been on a fast track ever since the government's four-year moratorium on building such facilities was lifted this year.
Now, five years after Japan's 2011 Fukushima disaster led to the moratorium, China is fully engaged in an expansion that's scheduled to add 24 new reactor units to the nation's existing 32.
Nuclear plants now meet 3 percent of the nation's demand for electricity. That percentage could hit 10 percent by 2030, according to Li Ganjie, director of the National Nuclear Safety Administration.
But nuclear plant construction projects have stirred controversy in China, particularly due to questions surrounding incomplete plans for handling a dangerous byproduct of nuclear energy — radioactive waste.
In August, hundreds of people took to the streets to protest a government plan to build a nuclear waste recycling facility in the Jiangsu province city of Lianyungang. The protest prompted local authorities to suspend work on a feasibility study that would have moved the project forward.
Indeed, public skepticism about nuclear power in China has persisted ever since an earthquake-induced tsunami destroyed the Fukushima plant.
Some analysts have linked that skepticism with a lack of transparency among government agencies that oversee nuclear power plants and the energy companies that build them. In the wake of the Lianyungang protests, for example, neither central nor local government authorities have said when work on the feasibility study might resume, nor whether officials might consider building the plant elsewhere.
The proposed Lianyungang recycling plant would be built by state-owned China National Nuclear Corp. and the French energy company Areva under an agreement they signed in 2013.
Other analysts have argued that the public's skepticism stems from a lack of education. Few people clearly understand nuclear energy issues such as waste handling, and this knowledge gap apparently contributed to the protests in Lianyungang, they say.
China plans to open a permanent storage facility for high-level radioactive waste, perhaps in the remote west, by 2020. Waste reprocessing and recycling, which has the potential for squeezing energy out of spent fuel, is also part of the equation.
Radioactive waste generated by reactors at existing nuclear plants across the country is currently being stored at each plant site.
Moreover, medium- and low-level wastes are currently stored at sites in Gansu province and Guangdong province. Plans call for opening five additional facilities for this kind of waste by 2020.
Medium- and low-level waste can be safely stored at near-ground-level storage facilities, according to Zhao Chengkun, a former director of the National Nuclear Safety Administration.
But waste levels are growing rapidly. The government-backed China Nuclear Energy Association said that by the end of 2020, the nation's nuclear plants will have to get rid of more than 1,000 tons of spent fuel each year.
China's nuclear build-out is at the heart of a government commitment to reduce greenhouse gas emissions.
In September, the National People's Congress ratified the Paris Agreement on Climate Change and pledged to fight air pollution by increasing the nonfossil-fuels share of the nation's energy mix to 20 percent from 2030, up from 15 percent today.
The controversial plan for a Lianyungang recycling center was drafted due to rising demand for a new place to put waste from the Tianwan nuclear complex near the city. The complex includes two operating reactors and two that are now under construction.
The Tianwan facility as well as the Daya Bay nuclear plant complex in the southern city of Shenzhen have nearly run out of room for on-site waste storage, said Chai Guohan, chief engineer at the Ministry of Environmental Protection's Nuclear and Radiation Safety Center.
The proposed Lianyungang facility, with a capacity for treating 800 tons of spent fuel every year, was originally slated to be up and running before 2030.
China has for years been looking at reprocessing spent fuel using a system commonly used in other countries called "plutonium uranium redox extraction" (PUREX). The Lianyungang plant would use this system.
Ma Yuefeng, a researcher from the China Institute for Radiation Protection, said that although PUREX can reduce the amount of nuclear waste on hand, public health can be threatened by chemical pollutants that are byproducts of the process.
Other experts, though, say the health threat can be minimized. Lei Yi, an associate professor at Peking University's School of Physics, said nuclear waste recycling facilities are highly automated and staffed by skilled workers.
China would be joining several countries such as France that already operate recycling facilities for nuclear waste. But France and other countries, including the United States are, like China, still looking for a way to permanently store high-level radioactive waste.
Meanwhile, ongoing research by Chinese scientists could lead to a new type of reactor that generates less waste than current designs.
One research target is the "sodium-cooled fast reactor" (SFR), which experts say could generate significantly less dangerous waste than current reactors.
"SFR can cut the amount of time required for radioactive materials in nuclear waste to decay from some 30,000 to 40,000 years down to roughly 300 to 400 years," said Xu Mi, chief scientist at state-owned China National Nuclear Corp.
Researchers tested a pilot SFR reactor in December by successfully operating it for 72 hours at full capacity, said Guo Qixun, vice dean at Xiamen University's College of Energy. He called the trial run a significant step in the quest for commercial use of SFR before 2030.
Contact reporter Li Rongde (rongdeli@caixin.com); editor Eric Johnson (ericjohnson@caixin.com)
You've accessed an article available only to subscribers
VIEW OPTIONS
Share this article
Open WeChat and scan the QR code

Aug 07 16:15

Aug 07 15:42

Aug 07 04:24

Aug 06 19:23

Aug 06 19:01

Aug 06 17:30

Aug 06 16:01

Aug 06 14:18

Aug 05 18:04

Aug 05 17:20

Aug 05 17:03

Aug 05 16:47

Aug 05 15:15

Aug 05 13:25

Aug 04 17:56
GALLERY