Venture Capital Dries Up as Economy, Stock Market Struggle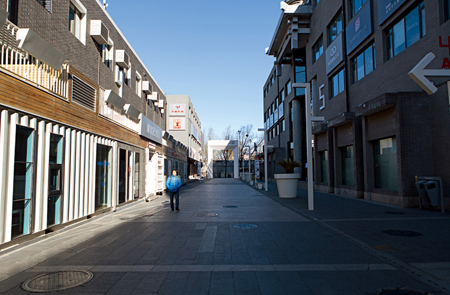 A nearly empty street called Inno Way in Beijing's Zhongguancun area, a place built to encourage entrepreneurship. Photo: Visual China
(Beijing) — Raising money from once-generous venture capitalists is becoming a more-challenging task for many startup founders in China, as the economy continues to slow and stock market volatility makes investors more cautious.
After pouring billions of dollars to fuel a startup boom over the past several years, mainly in internet-related business, venture capitalists are hitting the brakes on funding.
Venture capital firms made 698 investments in China in the third quarter this year, down 34% from the same period last year, according to Beijing-based Zero2IPO Research Center. The investment value of the 631 deals that released financial details totaled 21 billion yuan ($3.1 billion), a 12.5% drop from a year before.
"During my 21 years in investment, the first half of this year is the first time that I've felt the winter chill," said Xu Xin, founder and managing partner at Capital Today.
Research from financial consultancy Taihe Capital indicated a broad capital market chill. From January through August this year, Chinese companies raised a total of 35.3 billion yuan through initial public offerings (IPOs) at home and abroad, a drop of 86% from the same period last year. Fundraising from primary markets also declined 66% in the third quarter from the first quarter.
Venture capital funds have turned more cautious about making new investments. So far this year, major investors such as IDG Capital Partners, Matrix Partners, Sequoia Capital and Banyan Capital have invested in less than a third the number of projects they invested in at the same time last year, according to Song Jingliang, founder of Taihe Capital.
This means startup founders are facing tougher scrutiny and negotiations to secure funding. According to Taihe Capital, the average time spent to complete a fundraising round has expanded to 9.5 months from about four months before July 2015. Meanwhile, the rate of successful deals has declined 20%.
Startups have tried to adapt to the funding drought by cutting costs and adjusting business strategies. Over the past year, several companies have decided to merge with rivals in a bid to sustain their businesses and ward off competition. Among such businesses are group-buying sites Meituan.com and Dianping.com, classified-advertising sites 58.com and Ganji.com, and the car-hailing-app companies Didi Dache and Kuaidi Dache.
The latest slowdown underscored the new reality for China's venture capital market as the economic growth entered a slower track and the secondary market cooled, according to Taihe Capital.
Xu's Capital Today made the earliest investments into JD.com in two batches in 2007 and 2008 despite a global investment slowdown affected by the crisis. JD.com is now China's second-largest e-commerce company with a market capitalization of over $37 billion.
But the investment veteran recently warned a group of young entrepreneurs at a forum that this time, the capital market "is not just going through a winter period, but truly losing its steam."
Feeling the chill
Only a little more than a year ago, venture capitalists in China were in an investment frenzy partly fueled by the government's vow to support innovation and startups as well as by a stock market boom. New funds were set up to target early-stage investments in domestic startups, and an increasing number of wealthy retail investors flooded into the market for higher returns, usually through buying into investment options from financial intermediaries.
But the growing heated market raised concerns about distorted valuations on startups and the bursting of bubbles. Some U.S. funds started slowing their pace of investment in China early last year.
The "pause" button was pressed after the stock market crash in the summer of last year, which wiped nearly 30 trillion yuan in value from the two main exchanges and sent shock waves through other stock markets around the world.
This is the third downturn suffered by venture investors and startups in China over the past two decades, following previous short pauses after the 2000 tech bubble burst in the U.S. and the 2008-09 financial crisis, according to Zhang Suyang, a former managing partner of IDG.
IDG started the first venture capital investment institution in China in 1991, and Zhang worked there between 1993 and April 2016. But it wasn't until 1998 that "China's venture capital investment market officially took off, along with the rise of internet companies," Zhang said.
In 1999 and 2000, several of China's internet moguls, including search engine giant Baidu Inc. and online messaging company Tencent Holdings, got their earliest funding support from venture capital firms.
But the thriving market was soon interrupted by the dotcom bust in 2000, and a revival came only after three years, marked by U.S. e-commerce giant eBay's takeover of a Chinese rival, EachNet.com, Zhang said. In the following years, venture capital firms have gradually expanded their focus beyond tech firms to sectors such as hotel chain and logistics.
Investors and startups took more hits from the 2008 financial crisis and the subsequent government order to suspend IPOs, which was resumed in July 2009.
Unlike previous market downturns, when investments fell across the board, the venture capital market's performance is uneven this time, as some sectors slump dramatically while others remain fine, Zhang said.
Taihe Capital's research found that as venture investments slows, capital is increasingly flowing into fundraising projects of industry leaders as investors seek safer targets. For instance, China's biggest ride-hailing company, Didi Chuxing, has raised $7.5 billion this year, more than double what it raised last year. Ant Financial Services, Alibaba's financial arm, also has raised more than twice the amount it received last year.
Among the businesses losing favor among investors are those offering so-called O2O services. Until recently, enthusiastic investors lined up to support freshly launched online-to-offline companies, which uses discounts and coupons to channel online customers to brick-and-mortar businesses such as movie theaters and hair salons.
But the tide of O2O startups has passed as the market has been controlled by big players, and it will be difficult for new startups to crack, Xu said.
Many investment funds and startups will suffer or even fail during the market downturn, and only the good ones can make it through, Zhang said.
Playing with the rules
China's high-flying stock market since 2007 has offered a profitable exit for equity investors and spurred the growth of yuan-dominated equity investment funds.
But Xu has remained cautious about the flourishing yuan funds.
"I don't raise yuan funds now because (investors) tend to be short-term and look for quick gains. I think there is no quick money for venture capital investment," she said, adding that it takes time for the yuan-dominated equity investment market to get mature.
According to Zhang Zhen, founding partner of Banyan Capital, which operates both yuan and U.S.-dollar funds, some financial intermediaries have been partnering with venture capital firms to slice up investment projects into affordable pieces and sell to retail investors.
"Venture capital investments are typically risks with no guaranteed return. Only investors with certain capacity to undertake risks can enter the market," Zhang Zhen. Many retail investors lack professional investment knowledge and awareness of potential risks, he said.
But in practice, some funds have offered short-term investment options with a period as low as three years and a lowered investment threshold of only 100,000 yuan to attract investors, investment documents showed.
Many of these funds are trying to make profits from arbitraging prices between different markets or other advantages, but such investments are risky because they are easily affected by policy changes.
In the first half of 2015, there was a surge in the number of funds invested in companies preparing listings on the so-called New Third Board, a national over-the-counter market for smaller technology companies that are considered to be of higher risk than those on the Shanghai and Shenzhen exchanges, as well as in U.S.-listed Chinese companies planning to switch to a mainland exchange.
In March, the China Securities Regulatory Commission further clarified the entry barriers for investing on the New Third Board, raising the bar for retail investors to access the market.
And in May, the CSRC tightened scrutiny on overseas-listed firms returning to domestic markets through backdoor listings, in order to curb speculation related to the shell companies. Public company and fundraising documents showed that since May, at least six U.S.-listed Chinese companies have halted their privatization plans, including Nasdaq-listed online karaoke site YY Inc.
Some venture capital funds have raised money from retail investors to participate in these canceled privatization plans, documents obtained by Caixin showed.
Mao Chengyu, founding partner of Shanghai-based venture capital Yunqi Partners, said that compared with other asset investors, venture capitalists usually wait the longest before exiting a project so that they can earn higher returns, but the period spent invested in yuan funds is much shorter.
"But the market is getting mature, and venture capital firms should take efforts to educate the market," he said.
For venture capitalists to cope with the market downturn, maintaining investment discipline is most important, Zhang Suyang said. "It is like playing poker — one must follow the rules."
Contact Han Wei (weihan@caixin.com); editor Ken Howe (kennethhowe@caixin.com)
You've accessed an article available only to subscribers
VIEW OPTIONS
Share this article
Open WeChat and scan the QR code