Closer Look: Insurers Need to Invest, But Also Must Dial Down the Risk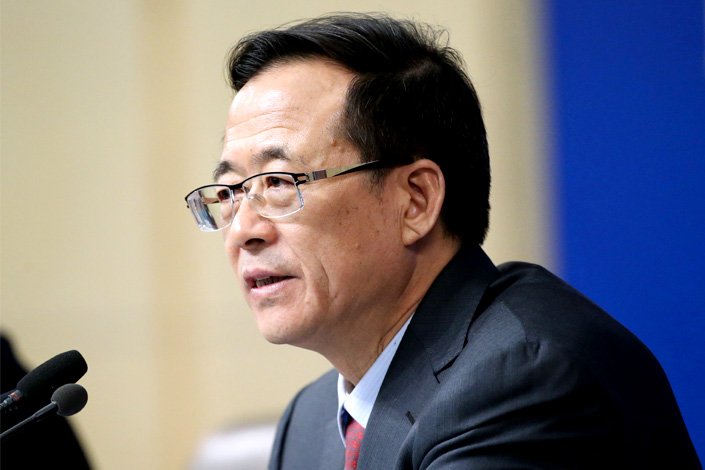 Liu Shiyu, chairman of the China Securities Regulatory Commission. Photo: IC
When the head of China's securities regulator blasted "bandit" firms for using improperly raised funds to make risky equity investments, he was essentially pointing an angry finger at some insurers that had lost sight of their essential mission and were endangering ordinary investors who bought their policies.
"Using improperly raised funds in leveraged buyouts turns a stranger into a 'barbarian at the gates' and then to a bandit of the industry," Liu Shiyu, chairman of the China Securities Regulatory Commission, said at a forum last week.
"This is pushing the limits of the country's financial law and regulations, and the limits of professional ethics. It reflects a degradation and decay of humanity and commercial ethics, and is, in no way, a financial innovation."
The remarks sent a sobering message across the industry about what the proper path of development is for insurance companies, even though there is an urgent need for them to diversify their portfolios and increase equity investments.
In many developed countries, insurance firms are important institutional investors in the stock market. In the United States, stock investment accounted for 31% to 32% of all insurance company investment over the past 15 years. The ratio for Chinese insurers, which held investments worth nearly 13 trillion yuan ($1.84 trillion) at the end of October, was 14.4%.
Judging by those figures alone, Chinese insurers should be allowed to increase equity investments in their respective portfolios.
Many insurers have also felt more pressure to do so this year, due to more competition and a low-interest-rate environment that made investing more difficult.
The result has been a surge of so-called universal insurance policies, which afford little insurance protection compared with traditional policies but appeal to investors as an investment tool. Some insurers have expanded quickly on the sales of such policies, which allow buyers to earn a bigger profit on the same investment than it would by depositing the money into a bank or buying a wealth management product.
But there is no way the insurers can keep up the high returns they promised without venturing all the more deeply into risky equity investment territories, acquiring public company shares in fields that are sometimes foreign to them.
Some have taken their foray into the stock market too far, seeking control rights in good public firms with the obvious intention of turning them into vehicles that can help them raise funds in the future. Whether the financial maneuvers they have in mind would benefit the listed firms they acquired, however, is a different matter and worth questioning.
The insurance regulator has taken measures this year to rein in short-term, high-yield policies to control risk. Chen Wenhui, vice chairman of the China Insurance Regulatory Commission, has reiterated the regulator's attitude recently that insurance fund investments should be "cautious and prudent."
He said the commission will definitely intervene regarding "certain institutions' aggressive behavior of equity investment," which has a negative impact on the industry.
Needless to say, insurance firms are important institutional investors in the capital market. But they are not cut out to make quick, in-and-out types of investments because of the nature of their business.
As Chen pointed out, the main purpose of insurance products should be providing clients with a risk-hedging tool and a long-term wealth management solution. Selling investment-type policies should be only a small part of their business. On the investing end, insurers should allocate most of their funds to fixed-income products or similar low-risk products. When they do need to buy stock, they should view themselves as long-term value investors and handle risk prudently.
In any case, using funds borrowed from the public for leveraged buyouts and other capital maneuvers that come with high risk violates the principle of prudent investment and jeopardizes the investors' money as well as the insurance firm itself. It's necessary for the regulators to step in and close loopholes that allowed for the practice to proliferate.
You've accessed an article available only to subscribers
VIEW OPTIONS
Share this article
Open WeChat and scan the QR code