Regulators Draft Tough New Rules to Tame Asset Management Risks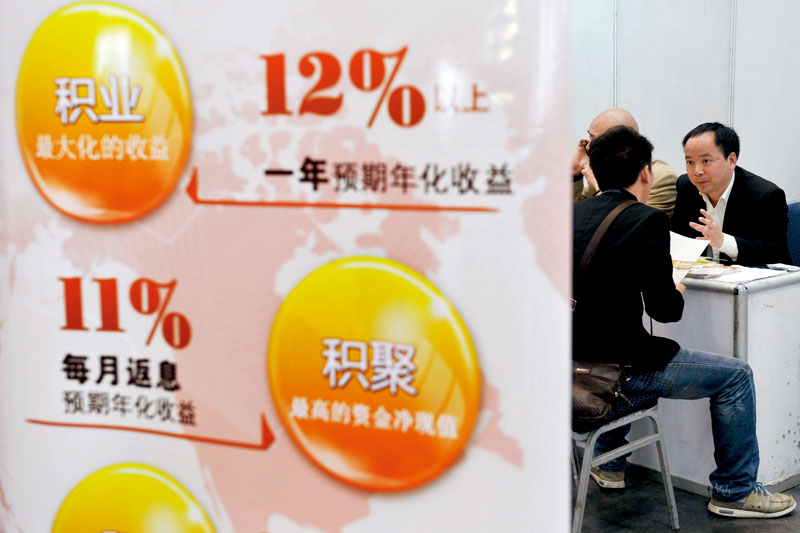 (Beijing) – China's financial regulators are developing a tough, new, unified regulatory framework aimed at taming risk in the country's booming, multi-trillion-dollar asset management industry.
The new rules are being drafted by the central bank, along with top regulatory bodies overseeing the banking, securities and insurance sectors. The rules will include a standard leverage ratio, a risk reserve fund, investment restrictions and other requirements for asset management products issued by all financial institutions, according to documents obtained by Caixin Tuesday.
The draft rules are tougher than the industry expected, said Guiyang-based Huachuang Securities in its daily bond market briefing Tuesday. The draft shows that regulators are determined to reduce risky financial leverage, according to the report. The move may lead to a major restructuring of the asset management industry, Huachuang Securities said in the report.
Officials at the regulatory bodies weren't immediately available for comment.
Chinese investors, mainly small retail customers, to pour trillions of yuan into lightly regulated asset management products and investment plans offered by banks, insurers, brokerages and other institutions, driven by high yields and Implicit government or bank guarantees. But the 2015 stock market turmoil and spreading fear of bond default since last year have exposed the sectors' risks.
Most of the funds generated by such products have been kept off banks' balance sheets and invested in stocks, bonds and other, riskier assets such as debt products. Meanwhile, financial institutions have increasingly invested in each other's products, increasing financial leverage while making it difficult for regulators to detect potential risks.
According to Li Chao, vice chairman of the China Securities Regulatory Commission, asset-management products in China totaled about 60 trillion yuan ($8.7 trillion) as of June 30, equivalent to 80% of China's gross domestic product last year.
Data from the central bank showed that at the end of December, off-balance-sheet wealth management products issued by banks amounted to 26 trillion yuan.
According to the draft rules, financial institutions would have to set aside 10% of their fees from managing clients' assets as a risk reserve. Under current regulations, there are different reserve requirements for various categories of investment set by separated regulatory agencies.
The draft also put ceilings on the leverage ratio for investment products. It would require publicly offered funds' total assets not to exceed 140% of the funds' net assets, while the ratio for privately offered funds would be 200%. For fixed-income or bond investment products, the leverage rate should be no higher than three times the principal, according to the document.
The rules would ban financial institutions from investing the proceeds of asset-management products in other institutions' asset management plans, or non-standard credit assets such as loans, trust loans or beneficiary rights linked to such assets.
The rules would be phased in after existing products mature, and would apply only to new issues, according to the draft.
Institutions would be barred from pooling clients' wealth management funds because doing so allows misalignment in loan maturity and interest payments and may increase default risk. They would also not be allowed to promise clients a minimum or fixed return, according to the documents.
Regulators have stepped up oversight on banks wealth management since last year. In December, the central bank said it would include the off-balance-sheet wealth management business in the Macro Prudential Assessment framework, a system to monitor commercial lenders' credit exposure.
But the shadow banking sector still is expanding. In January, China's total social financing (TSF) — which includes bond and equity issuance, trust loans and entrusted loans — grew to a record 3.74 trillion yuan, though new loans issued by banks totaled a lower-than-expected 2.03 trillion yuan, indicating an expanding shadow lending segment.
The draft rules mark a major push for coordination among China's financial supervisors as the segmented supervisory system has long been blamed for failure to detect risks involving cross-market investments and creating room for regulatory arbitrage.
It is unclear when will the new rules be issued, and details are still subject to changes, sources close to the matter said.
Contact reporter Han Wei (weihan@caixin.com)
You've accessed an article available only to subscribers
VIEW OPTIONS
Share this article
Open WeChat and scan the QR code