Capital Controls May Threaten Malaysian Housing Project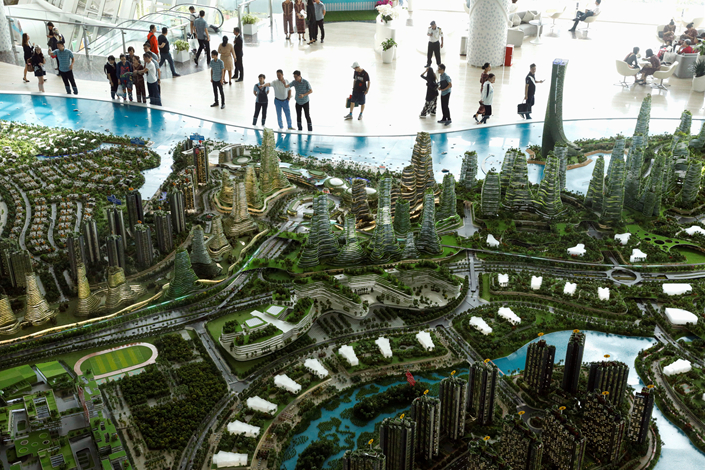 Prospective homebuyers examine a model of Country Garden Group's planned Forest City development in a showroom at Johor Bahru, Malaysia, on Feb. 21. Country Garden said China's restrictions on capital outflows had nothing to do with its decision to idle mainland sales centers for the development. Photo: Visual China
(Beijing) — Property developer Country Garden Group said China's restrictions on capital outflows had nothing to do with its decision to idle mainland sales centers for a Malaysian housing complex under construction near Singapore.
The sales offices in Shanghai and other cities serve Chinese home shoppers eyeing existing and future units in the 25 billion yuan ($3.6 billion) Forest City complex, which is slated to house up to 100,000 people after it is completed in the 2030s.
The complex is in the southern Malaysian city of Johor Bahru, on a causeway opposite Singapore. It's being touted as a modern, ecologically friendly complex for people living in the Singapore metropolis.
A company spokesman told Caixin that all sales center activities on the mainland had been suspended so that office renovations could be made, and that the move had nothing to do with Beijing's ongoing effort to slow an exodus of individual investor capital.
Nevertheless, a Malaysian government official has reportedly blamed China's capital outflow controls for at least indirectly influencing the Country Garden project. Malaysia Second Minister of Finance Johari Abdul Ghani told the Singapore media outlet Lianhe Zaobao on Sunday that Beijing's controls worry Malaysia because China is an important trading partner, accounting for 16% of his nation's foreign trade last year.
In addition, Wu Bijun, general manager of Country Garden's finance office, said the company's projects in Malaysia have been affected by the Chinese government's stricter capital outflow controls, the Hong Kong newspaper South China Morning Post reported in January.
Sources who asked not to be named told Caixin that mainland buyers of Forest City units have gotten around capital controls by buying Hong Kong insurance policies and using those policies to pay Country Garden.
About 70% of the buyers have been Chinese since the project got underway in March 2016, according to the Reuters news agency. Country Garden reportedly sold about 18 billion yuan worth of units last year.
The housing project targets members of China's emerging middle class seeking to invest in property overseas but who can't afford to buy in the United States and Europe, a Malaysia-based salesperson for Forest City told Caixin.
Country Garden's advertisements highlight the complex's favorable location and "freehold" ownership status, which is considered better than the 70-year limit on homeowner rights in China. Moreover, units in the Malaysian complex sell for about 20,000 yuan per square meter, about half the cost of apartments in Beijing and Shanghai.
In addition to Country Garden, Chinese real estate giants such as Dalian Wanda Group, China Vanke Co. and Greenland Group have in recent years acquired buildings and developed land overseas in order to sell property to mainlanders. Most targeted regions are areas of developed countries familiar with Chinese buyers rather than less-developed countries where foreign-investor risks can be great, an executive at a major developer told Caixin.
The executive said China's entire real estate industry is now closely watching Country Garden's Malaysia project to see whether the expanding overseas property business is sustainable.
After noting that "Chinese developers' overseas projects mainly target Chinese buyers," a domestic property developer executive told Caixin these projects have recently grown less attractive due to changing business conditions.
Reacting to a weakening yuan and shrinking foreign exchange reserves, the government in January strengthened scrutiny of Chinese nationals seeking foreign currency. As a result, anyone seeking to exchange yuan for foreign currency must first fill out an application form stating the purpose of the foreign money and when it will be spent. The form also includes the warning: "Do not use it to purchase property overseas."
The government also limits the amount of foreign capital each Chinese national can obtain to up to $50,000 a year.
Technically, the government has never allowed the use of foreign currency exchanged from yuan to buy property overseas. But until recently, this rule was loosely enforced as forex shoppers did not have to apply for permission to buy.
Moreover, property buyers circumvented rules by, for example, pooling money from multiple family members' $50,000 annual quotas and verbally promising at Chinese bank-teller windows that the purpose of the foreign currency was "traveling."
Buying U.S. dollar-denominated insurance policies in Hong Kong also turned popular for capital control circumvention. After the practice caught fire, Chinese authorities acted to stem the flow.
In October, for example, the government-backed bank card association firm China UnionPay forbade the use of its bankcards off the mainland for buying investment-linked insurance packages.
Contact reporter Coco Feng (renkefeng@caixin.com)
You've accessed an article available only to subscribers
VIEW OPTIONS
Share this article
Open WeChat and scan the QR code