Exclusive: Three Hepatitis C Drugs from Foreign Pharmaceuticals Close to Approval, Sources Say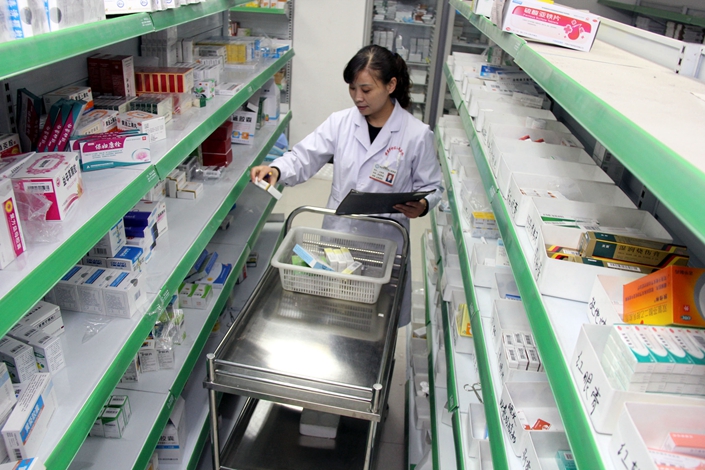 A hospital employee fetches medicine at a hospital pharmacy in Zaozhuang, Shandong province, on Oct. 26, 2012. Three hepatitis C drugs from the U.S. will be soon available to Chinese patients. Photo: IC
(Beijing) — Three hepatitis C drugs from American pharmaceutical giants Johnson & Johnson and Bristol-Myers Squibb (BMS) that could cut treatment time in half will soon be available to Chinese patients, sources from the country's food and drug authority said.
China Food and Drug Administration has already completed the technical evaluations and is reviewing data from clinic trials, after which the three drugs — simeprevir, asunaprevir and daclatasvir — will be allowed in the market, CFDA sources told Caixin.
The drug simeprevir is made by Johnson & Johnson, while the other two are supplied by BMS.
There are at least 130 million people globally who are suffering from chronic hepatitis C, according to the World Health Organization (WHO). In China, the figure is about 10 million, said Zhang Hong, director of the infectious-diseases department at Shaanxi Provincial People's Hospital, the Shaanxi-based newspaper Chinese Business View reported.
A significant number of those who are chronically infected will develop liver cirrhosis or liver cancer, according to WHO.
China still uses old-generation therapies based on two drugs, interferon and ribavirin, which require weekly injections for up to 48 weeks and cure approximately half of the treated patients. They are also known for harsh side effects such as headaches and hair loss.
Another safer and more-effective group of drugs, known as direct antiviral agents (DAAs), wasn't widely recognized until 2013 when the U.S. Food and Drug Administration approved sofosbuvir to be used in hepatitis C treatment. Simeprevir, asunaprevir and daclatasvir belong to this DAA category.
DAA drugs ensure that in over 90% of patients treated for serious chronic hepatitis C infections, the virus will not reappear for 12 weeks or more after completing the therapy, which signals complete recovery, according to CFDA sources. The drugs can also cut down treatment time by half, to 24 weeks.
Since 2013, DAAs have become very popular, and their global sales have jumped from $5 billion in 2013 to $24 billion in 2015, according to pharmaceutical and biotechnology research firm EvaluatePharma.
But China delayed adopting the latest treatments until 2015 when the State Council, China's cabinet, promised to accelerate the evaluation of certain medicines, including the three hepatitis C drugs mentioned above, as well as some other hepatitis C drugs produced by other foreign and Chinese firms.
As the drugs are slated to hit the market soon, their hefty prices have raised concerns among patient groups.
DAAs are costlier than the alternatives. In the U.S., it costs $70,000 to $140,000 for up to 48 weeks of treatment using this category of medicine. In Japan, the expense is about 3 million yen ($27,000) for a comparable course of drugs.
The pharmaceutical companies haven't yet revealed the prices of the drugs for the Chinese market.
Contact reporter Coco Feng (renkefeng@caixin.com)
You've accessed an article available only to subscribers
VIEW OPTIONS
Share this article
Open WeChat and scan the QR code

17:55

15:55

13:28

10:54

07:33

Feb 18 17:00

Feb 18 16:06

Feb 18 13:37

Feb 18 05:43

Feb 18 05:18

Feb 18 05:04

Feb 17 17:15

Feb 17 14:38

Feb 17 13:20

Feb 17 12:20
GALLERY