Peek Into Fallen Official's Ill-Gotten Gains Reveals Ming Antiques, Silk Scrolls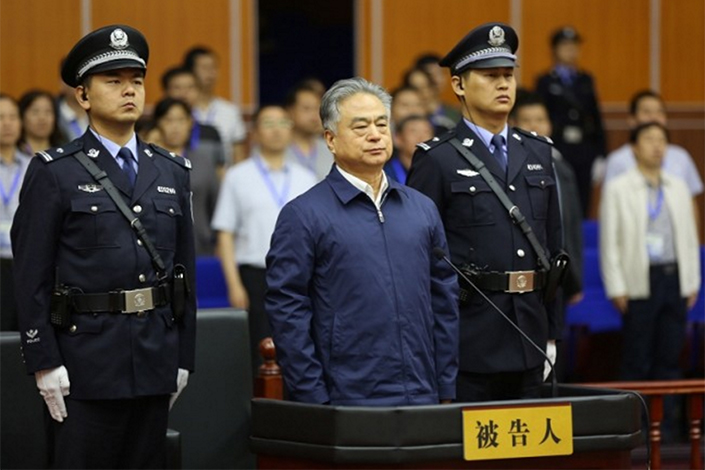 The Intermediate People's Court of Zhengzhou in central China's Henan province announces that Wu Changshun, a former senior political adviser and deputy head of the public security bureau of the northern city of Tianjin, was sentenced to death with a two-year reprieve for graft, on May 27.
(Beijing) — Qing and Ming dynasty ceramics, a diamond-encrusted watch with a white-crocodile skin strap, a jade bracelet worth 1.6 million yuan ($234,000) — these are just a few of the items found in former Tianjin police chief Wu Changshun's lavish collection of ill-gotten gains, according to documents viewed by Caixin.
The collection also included silk scrolls and paintings from some of China's best-selling contemporary artists.
On May 27 a provincial high court in Henan handed Wu a death sentence with a two-year reprieve, after he pleaded guilty to a slew of charges, including illicit possession of public property worth 342 million yuan and accepting bribes worth 84 million yuan. An earlier statement by the Communist Party's corruption watchdog said Wu and his relatives ran 70 private businesses and Wu had used his authority as director of Tianjin's Municipal Public Security Bureau to harass commercial rivals.
With illegal gains worth 426 million yuan in total, Wu is one of the fattest "tigers" to be caught in China's anti-graft net, cast by President Xi Jinping in 2012. Wu's suspended death penalty will turn to life imprisonment after the two years expire, the court said, but given the severity of his crimes, he will not be eligible for parole or a commutation of his sentence.
More than 1,000 artifacts confiscated from Wu's private collection — including five Patek Philippe timepieces and a work of calligraphy by Zhang Daqian, one of China's best-known 20th-century artists — were auctioned on Nov. 7, 2015 and Dec. 11, 2016.
Zhang (1899-1983) was China's bestselling traditional artist in 2016, according to Hurun Report Inc. A Christie's auction that opened Tuesday in Hong Kong valued one of his 1975 works, titled "Red Lotus," between $520,000 and $780,000. Haitian International Auction (Tianjin) Co., which put Wu's collection under the hammer, did not offer details about which of Zhang's works was sold or the final bidding price.
It was not made public where proceeds from the auctions would be directed, but funds from previous corruption-related auctions have gone to state coffers.
Auction catalogs published by Haitian show that Wu also owned 11 paintings by Fan Zeng, another big-selling master painter. One such work was a silk painting of Zhong Kui, a mythical figure known for dispelling evil spirits, which commanded an opening price of 3.5 million yuan, documents viewed by Caixin showed.
Among the paintings and works of calligraphy confiscated from Wu Changshun is "In Memory of Hong Kong," painted in 1991 by Wu Guanzhong, a founder of modern Chinese painting, who died in 2010.
The stash of artwork confiscated from the fallen Tianjin security chief also included an iconic piece from Wu Guanzhong (1919-2010), a pioneer of the modern art movement in China. The work, titled "In Memory of Hong Kong," was painted in 1991 and depicts the skyline of Hong Kong's central business district at Victoria Harbor. The auction booklet did not include a floor price for the piece, but in 2008, the painting fetched 2.6 million yuan at a public sale organized by Poly Auction, it said.
China overtook the United States to become the world's largest art market last year with $4.8 billion in sales, according to Hurun, and demand from officials looking for ways to launder illicit gains has been one factor driving up prices.
Wu's collection included a piece by famous figure painter He Jiaying, with a starting price of 2.6 million yuan, and four other works, each valued between 500,000 yuan to one million yuan, auction booklets showed. Hetian refused to disclose which items from Wu's collection have already been sold.
Wu also had a penchant for exquisite antiques. Graft-busters found a blue-and-white 15th-century porcelain vase from the Ming dynasty and expensive jade bracelets — one valued at 1.6 million yuan, and another at 80 million yuan — during a two-year investigation that began in July 2014. He also owned bronze figurines and a gold-plated copper Buddha statue from the Qing Dynasty, valued at 67,000 yuan.
The former police chief had at least 45 luxury watches, including brands such as Cartier, Rolex and Vacheron Constantin, the auction catalog revealed. One standout timepiece in Wu's collection was a Poetic Complications Collection Lady Arpels Pont des Amoureux watch, handcrafted by French jeweler Van Cleef & Arpels, inlaid with 55 diamonds and 34 rubies, encased in sapphire crystal glass and banded with a white-crocodile leather strap. The auction house has quoted an opening price of 386,000 yuan, but Xbiao.com, a luxury-watch industry observer, estimates that the vanity piece carries a market value of 880,000 yuan.
You've accessed an article available only to subscribers
VIEW OPTIONS
Share this article
Open WeChat and scan the QR code

Caixin Biz Roundup: China Bumps Up Support for Property Sector