Quick Take: China Gives Banks Extra Time on Risk Self-Checks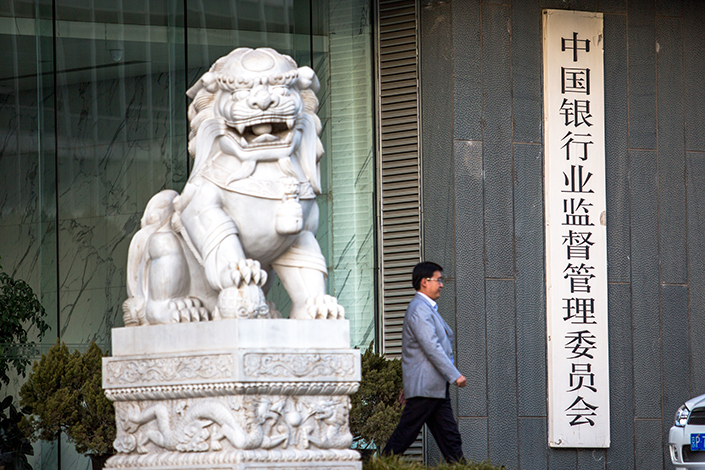 Photo: Visual China
Chinese banking regulators are giving banks up to two months of extra time to submit self-check reports of risky exposure, highlighting the challenge authorities face in stepping up efforts to deleverage the financial system without creating a credit crunch.
In late March, the China Banking Regulatory Commission (CBRC) asked commercial lenders to submit reports by June 12 on whether they have any violations or risk exposures in complex business operations that involve layers of investments among different financial institutions. Regulators see this behavior as excessive leverage.
The banking regulators are targeting excessive interbank lending and borrowing through the sale of negotiable certificates of deposits (NCD) that contributed to a build-up of risks in the financial system.
Authorities started curbing NCDs early this year following a bond-market rout in December that was blamed largely on banks borrowing excessively from each other and lending the money to external non-bank financial institutions in so-called "entrusted investments." A significant amount of the funds ended up in the bond market after passing through layers of intermediaries in a process that amplifies risk in the case of a liquidly shock.
Banks were concerned that meeting the original deadline might disrupt their normal operations.
Since the start of June, a number of banks have been told by local branches of the top banking regulatory authority that they can delay submitting their self-checks by one or two months, people close to the banking regulators told Caixin.
The CBRC did not immediately respond to a fax seeking comment.
Relying on entrusted investments is a practice that took off in 2015. Estimates of the amount of money parked in entrusted investments nationwide vary widely. Citic Securities' high-end estimate was more than 19 trillion yuan ($2.79 trillion) as of December.
Contact reporter Dong Tongjian (tongjiandong@caixin.com)
You've accessed an article available only to subscribers
VIEW OPTIONS
Share this article
Open WeChat and scan the QR code