Yu'e Bao Curbs Own Expansion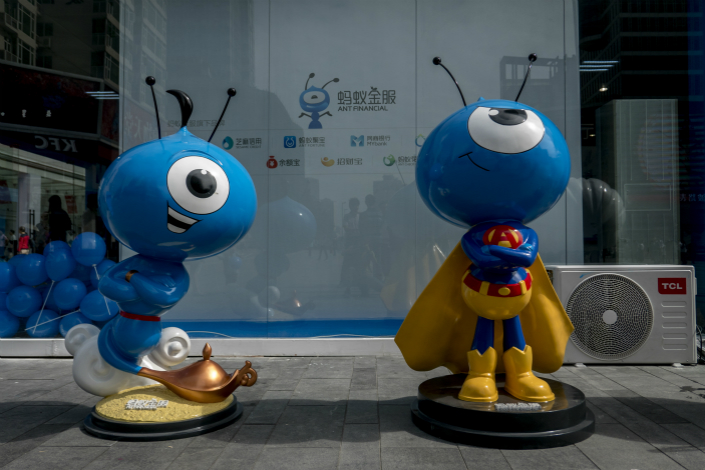 New users of Ant Financial Services Group's Yu'e Bao money market fund can now invest only up to 100,000 yuan ($15,000), down from 1 million yuan in May. Above, Ant Financial mascots are displayed in Chengdu, Suchuan province, in September 2015. Photo: Visual China
China's Yu'e Bao, the world's largest money market fund — built on spare change from online spending — has reined in its own growth again as the government continues curtailing risks in the financial system.
Those who signed up for Yu'e Bao as of Monday could no longer contribute more than 100,000 yuan ($15,000) to the $215-billion fund, which pays better than traditional banks, fund manager Tianhong Asset Management Co. said.
The limit was lowered from 250,000 yuan, which was cut from 1 million yuan in May. The cap will not apply to existing investors, Tianhong Asset added.
Because the maximum individual contribution has been reduced 90% in just three months, market watchers believe that the fund, owned by Ant Financial Services Group, is under pressure from the regulator to slim down.
Tianhong Asset, also majority-owned by Ant Financial, said in a statement the ceiling was lowered to "maintain the stable operation amid the fund's fast growth."
Founded in 2013, Yu'e Bao, which in Mandarin literally means "leftover treasure," has ballooned in size as millions of users migrate to its affiliated online-payment application, Alipay. Most Alipay users transfer payments and refunds from online transactions into Yu'e Bao to earn interests as high as 3.9% — much better than returns from bank deposits and many other investments.
But in March, the China Securities Regulatory Commission issued rules to curb risks of open-end securities products like Yu'e Bao. The regulator now requires all money market fund managers to set aside no less than 0.5% of its net assets as cash reserves to serve as a buffer against potential bad debts.
As the fund snowballs, the March rule means Yu'e Bao must take out about 7.15 billion yuan as its cash buffer. However, the management fees roughly stand at 0.03% of the fund's worth, or 4.29 billion yuan, leaving a shortfall of nearly 3 trillion yuan, which motivates Yu'e Bao to take in less cash.
Also, if Yu'e Bao fails to comply with the new buffer rule, the regulator could ban it from issuing new funds.
Yu'e Bao represents nearly 95% of assets managed by Tianhong Asset.
Over 82% of the funds in Yu'e Bao are in the form of bank deposits and reserves, with the rest in short-term investments, policy bank bonds, company bonds and interbank deposits, according to the second-quarter report on fund's operation by Tianhong.
People close to Yu'e Bao added that Ant Financial has also diversified its fund-management team to include others such Bosera Asset Management Co. and China Asset Management Co.
Contact reporter Leng Cheng (chengleng@caixin.com)
You've accessed an article available only to subscribers
VIEW OPTIONS
Share this article
Open WeChat and scan the QR code