Blaze Remakes Fabric of Migrant Beijing
A man stands on the debris from demolished buildings in Xinjian village in Beijing's southern district of Daxing on Dec 2. A large number of buildings deemed to be illegal used for residential or businesses purposes were razed top the ground this area after a deadly fire in November, which killed 19. Photo: Liang Yingfei/Caixin
Beijing's southern suburban Daxing district was once a center for clothing manufacturing. Now, in the wake of recent demolitions, swathes of the district are covered in rubble.
This is not a new phenomenon. Many residents of Daxing's Xihongmen neighborhood have suffered from dislocation in recent years. The city's plentiful and cheap migrant labor led to the construction of 27 industrial parks in the neighborhood since the turn of the millennium.
However, the area was stuck with a variety of "urban diseases," including poor land planning, inadequate infrastructure, subpar public services and illegal construction. The local government began to "clean up" the area after a deadly fire in 2011, a process with accelerated after a recent blaze.
On Nov. 18, a fire tore through an apartment complex in Xihongmen's Xinjian village, killing 19 people and leaving another eight injured. Three days later, many Xinjian residents were told they were being evicted from their homes by the government, which cited the need to prevent further accidents.
After they moved out, some of the businessmen who had run factories in the area moved to Anhui, Zhejiang and Guangdong provinces. Yan Shengli, who worked in a clothing factory, said his boss moved his business back to his hometown in Anhui. Another Xinjian resident told Caixin that his boss had packed up and moved back to Zhejiang. "The boss won't take us with him. He can find employees in his hometown," Hai said.
Buildings get demolished in Xinjian village in the town of Xihongmen. Photo: IC
On Nov. 24, Xihongmen's Shoubaozhuang village, 8 kilometers (5 miles) away from Xinjian was also facing demolition in the wake of the fire. Leng Ning, 46, shivered in her second-floor apartment as the government had turned off her heating. While she has an electric heater, she had used up all the electricity on her meter and didn't want to recharge it because she knew she'd be leaving soon. She and her husband Zhang Lixing, who hail from Hunan province, had lived in Shoubaozhuang for more than 10 years. After a decade as workers in a clothing factory, the couple opened a shoe store at the start of this year. Now, hundreds of shoeboxes are stacked in their small apartment until they can find a new home.
This process has been grinding forward for years. In April 2011, an electric tricycle broke down and started a fire in a building in Xihongmen's Jiugong village that had been built without government permission. That July, the government released a plan for the "rural-urban fringe zones" of Xihongmen. The plan said that land would be managed collectively and the industrial parks would be demolished. The plan was first piloted in Shoubaozhuang.
Xu Qinzheng, an official with Beijing's Urban Planning and Design Institute, investigated Xihongmen before 2011. He describes the area's industrial parks as a "failure" due to the low quality of the goods they produce and the poor environment they create. He explained that the government decided to demolish 9.52 square kilometers (3.68 square miles) of industrial parks in the district, redeveloping 20% and turning 80% into public green space. It also hoped 100,000 migrant workers would leave.
Shoubaozhuang's industrial park has been turned into a "financial center" by a real estate company and is now home to several companies working in the cultural sector.
Zhao Kaitong, a businessman from Zhejiang based in Shoubaozhuang, was told in October 2011 he would have to move. At the time — though the profits from his clothing factory had shrunk and his workforce had dwindled from 1,500 to 300 — he did not want to leave because the government compensation on offer was, in his estimation, too low. His factory was shut down in 2012.
Zhao remembers that Shoubaozhuang was developed by Zhejiang clothing merchants, starting in 2001. He himself invested 10 million yuan ($1.5 million) in land and built houses that he rented out. As the migrant worker population grew, schools for migrant children began to open in 2004. Yang Qiaoyan, the headmaster of Tuanhe Experimental School in Daxing district came to Xihongmen in 2003 and invested 300,000 yuan in school buildings for migrant children.
Residents walk down the street after local authorities started to close overcrowded rental housing following the deadly fire in Xinjian village. Photo: IC
Xihongmen's "little society" grew quickly without any public services or government planning. According to the local government, the migrant population grew to 120,000 in 2011, with 75,000 people working in factories. The 27 industrial parks covered 952 hectares (2,350 acres), but only 200 hectares of land were zoned for industrial use.
Since 2014, the Beijing government has set itself the mission of clearing "noncapital functions" from the city. The Xihongmen government began the large-scale demolition of industrial parks, and the government of nearby Dahongmen began shutting down wholesale markets. The remaining Xihongmen factories saw demand plummet after the markets vanished, accelerating the exodus of entrepreneurs.
This clearing away of migrant neighborhoods reached breakneck speed after the November fire, with many people finding themselves locked out of the Beijing rental market by high prices after their homes were demolished on short notice. Zhang Lixing, who ran the Shoubaozhuang shoe store, is looking for a new home but says that rents have gone from 500 yuan a month to 1,500 yuan. "I wished to stay here for a couple of years until my son graduated from college. Now it seems I have to leave soon," he said.
Zhao Kaitong moved his business to Henan province after his Xihongmen factory was demolished in 2012. He has tried to focus on small-scale clothing design, rather than the low-end manufacturing he did in Beijing.
Demolished buildings in Xinjian village on Dec. 2. Photo: Liang Yingfei/Caixin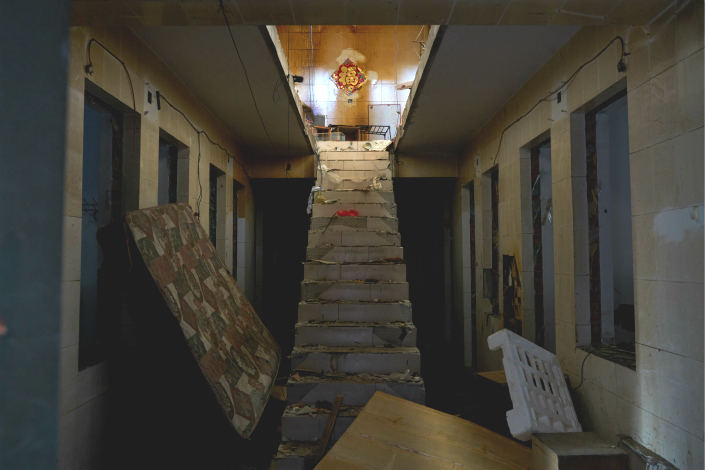 An apartment building earmarked for demolition in the south of Beijing. Photo: Liang Yingfei/Caixin
Locals walk amid debris from demolished buildings in Xinjian village of Daxing on Dec. 2. Photo: Liang Yingfei/Caixin
An apartment building that was partially torn down in Xibanbidian village in north Beijing's Changping district. Tenants in several apartment buildings in this village were ordered to evict following the fatal fire in Daxing in November. Photo: Liang Yingfei/Caixin
A restaurant in Xibanbidian village, in Changping district, that was deserted pending demolition. Photo: Liang Yingfei/Caixin
You've accessed an article available only to subscribers
VIEW OPTIONS
Share this article
Open WeChat and scan the QR code