Facing Danger for a Delicacy
In late December, a freezing cold front gripped the beaches of Guanglu Island, a rural part of the northeastern city of Dalian.
Ning Hai, a 44-year-old sea-cucumber harvester who is locally known as a "haimengzi," or sea diver, tossed what was left of his burning cigarette into the air, and slipped backward into the seawater from a small wooden boat.
Half an hour later, Ning emerged with a basket at his chest half filled with sea cucumbers. He splashed the water with his hand to signal to Cheng Li, the boat's owner and captain. Cheng reached out to grab Ning's oxygen tank, then the basket of sea cucumbers.
Face turning blue, Ning climbed up into the boat, unloading a 30-kilogram (66 pounds) weight belt hanging from his waist, and started to empty his bladder over the side. When he turned around, the crew burst into laughter — his lips has become swollen from staying underwater for a long time.
Sea cucumbers are highly sought-after in Chinese cuisine, as they are considered to be full of nutrition and even medicinal. It is also a luxury — a kilogram of dried sea cucumber can easily be sold for more than 4,000 yuan ($615).
This demand has prompted entrepreneurs to invest in coastal sea cucumber farms. This boom started two decades ago in Dalian, when the shoreline was split into patches of water and rented out under long-term contracts.
When harvest season came around, divers were chased after by farm owners. Working just four months a year could earn them more than 100,000 yuan in the mid-1990s, a huge sum of money compared with the couple of thousand yuan most urban workers made at that time. As a result, tens of thousands of people came to Changhai county in Dalian to learn the trade.
But harvesting sea cucumbers is not an easy trade. As autumn and winter are the best seasons for harvesting the creatures, diving is usually done in cold water. Even though the divers wear thick clothes inside their plastic and rubber diving suits, their bodies feel numb after a few minutes of being submerged.
If they are swimming with an oxygen tank, divers have to resurface every 30 minutes when their oxygen runs out. Each diver will typically dive three to five times for a day's work. Other divers swim with a long plastic tube in their mouths that leads back to the boat. As the air is continuously pumped into the tube, the divers can work for hours nonstop in the water.
Working up to 40 meters (131 feet) underwater is dangerous and can cause long-term harm to the divers' bodies.
Li Xuewen, a doctor specializing in diving injuries at a Dalian-based military hospital, said he has treated more than 1,000 patients who were working as divers.
He mainly sees two kinds of injuries. The first are lung injuries caused by compressed air expanding quickly as divers rise to the surface too fast, which can tear apart lung tissue. The other most common injury is bone damage caused by nitrogen blocking blood flow, according to Li.
"It's all because of the money," Li told Caixin. "These people are both pitiable and hopeless — some of them turn back to the water soon after they undergo emergency treatment."
Ning thinks he has been lucky in his 20 years as a diver. Many of his colleagues were not as lucky, though.
In 2006, a man from his village named Yang Hou could not wait to join this trade after finding out how much money his friends were making. After two months of training, the 21-year-old started diving for sea cucumbers. One day, when Yang was working 40 meters down, he noticed that his oxygen tank was about to run out and tried to surface. But his tank had gotten tangled up in ropes at sea bed. Panicking, he disconnected his tank, dropped the weight belt and ascended "like a rocket." He was unconscious and blood was spilling out of his mouth when he was taken to a hospital. He survived, but cannot walk without the help of crutches. Since 2016, he has made a living by driving tourists around Guanglu.
As a result of excessive harvesting, wild sea cucumbers have become hard to find near the shore. Divers have to go farther out and deeper down to make a catch, which adds to the difficulty and danger of their job.
Also, while the pay packets of workers in other industries have grown tremendously over the last two decades, divers have not seen their wages grow in recent years to keep pace with inflation.
Young people are no longer interested in this trade. Most of the haimengzi around Guanglu are in their 40s. Younger people, especially those in the 20s, are hard to find.
Ning also runs a small grocery store and a restaurant. He has made sure his son doesn't become a haimengzi, he said.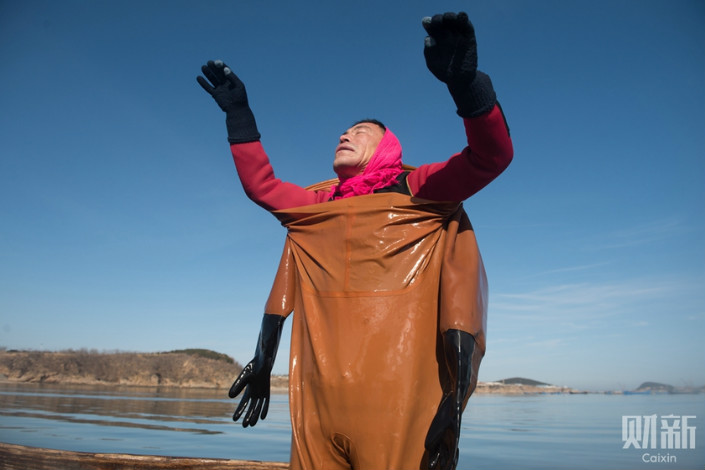 Ning Hai, 44, takes off his diving suit after harvesting sea cucumbers in the freezing water near Guanglu Island, Dalian, Northeast China's Liaoning province on Dec. 23. Photo: Chen Liang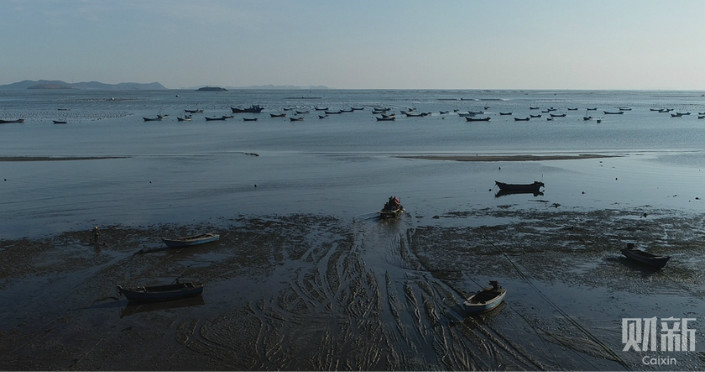 A tractor carries three sea divers, known locally as haimenzi, to a boat to start a day's work on Dec. 25 near Hailu Island. Photo: Chen Liang
A diver carrying an oxygen tank harvests sea cucumbers 10 meters (33 feet) under the water's surface. The creatures are becoming harder to find in the shallower waters, and the harvesters have had to move into deeper areas to get better catch. Photo: Chen Liang
Zhang Jian emerges after working 30 minutes under the winter water. He has already made about 100,000 yuan ($15,420) this season. Photo: Chen Liang
A diver known as Lao Wang eats a raw octopus tentacle just plucked from the sea on Dec. 23. Photo: Chen Liang
Yang Hou, a former diver who was crippled after surviving a potentially deadly rapid ascent from 40-meter-deep water 10 years ago, takes a walk on crutches on Dec. 26. He makes a living driving tourists around the island now. Photo: Chen Liang
A diver undergoes treatment for decompression sickness in a pressurized cabin in a local military hospital on Dec. 28. He suffered from dizziness and loss of mobility in his left arm. Photo: Chen Liang
Each barrel, which contains about 50 kilograms (110 pounds) of sea cucumbers, can sell for more than 10,000 yuan at a wholesale price. Photo: Chen Liang
Contact reporter Wu Gang (gangwu@caixin.com)
You've accessed an article available only to subscribers
VIEW OPTIONS
Share this article
Open WeChat and scan the QR code

Caixin China Biz Roundup: New 'Langya' Virus Detected in China