Trump's New Tariffs Will Not Save U.S. Industries, Chinese Official Says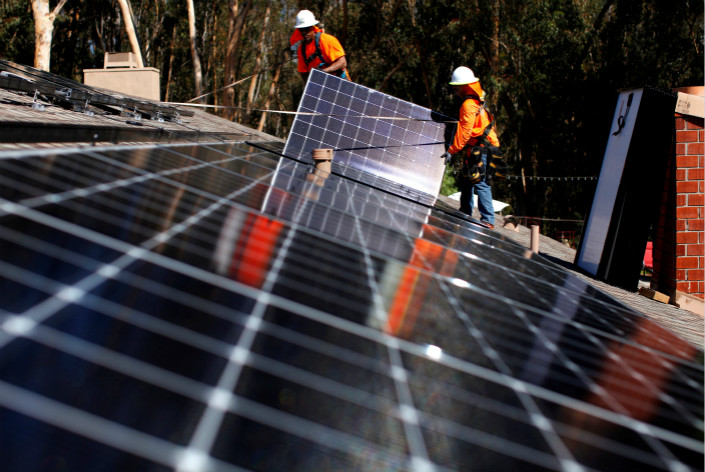 Workers install solar panels on the roof of a home in the U.S. in October 2016. A Chinese trade official said Wednesday that China is extremely dissatisfied with the U.S. decision to increase tariffs on products including solar panels. Photo: Visual China
The tariffs on solar panel and washing machine imports announced by the White House are excessively protectionist and will further disrupt global trade, a Chinese trade official said.
Wang Hejun, head of the Ministry of Commerce's Trade Remedy and Investigation Bureau, said Wednesday that China is extremely dissatisfied with the U.S. decision to increase tariffs, which has raised concerns among Washington's major trade partners such as South Korea and sparked a domestic backlash from U.S. states and enterprises.
Tensions between the world's largest two economies surged in 2017 after China's bilateral trade surplus with the U.S. rose to a record high of $275 billion last year, official Chinese data showed.
The new tariffs are not a new phenomenon, as the two countries have had spats over the trade of specific products in the past, Chief Asia Economist Mark Williams and Senior China Economist Julian Evans-Pritchard of research firm Capital Economics said in a note.
President Trump expressed his disappointment over this imbalance in a phone call with Chinese President Xi Jinping on Jan. 15, the White House said.
The economists predicted in the note that Trump will get tougher on trade with China in 2018, shedding the soft tone he has taken on this issue since the start of his presidency.
Wang said the "frail" global economic recovery still requires the efforts of all nations, adding China hopes the U.S. will exercise restraint in using restrictive trade measures and act in a way that supports global economic development.
"Excessive trade protectionism will not save the related industries, but prevent economic development from proceeding in a balanced manner," Wang said. China will take measures to firmly defend its interests, he added.
Trump decided to enact the tariffs on Tuesday after an investigation by the U.S. International Trade Commission found that domestic manufacturers suffered from these imported products. Solar panels will face a 30% levy in the first year, which will gradually drop to 15% over the following three years, while the first 1.2 million washing machines imported every year will face a 20% tariff, which will rise to 50% thereafter.
Contact reporter Pan Che (chepan@caixin.com)
You've accessed an article available only to subscribers
VIEW OPTIONS
Share this article
Open WeChat and scan the QR code