Li Ka-shing Retires, Ending an Era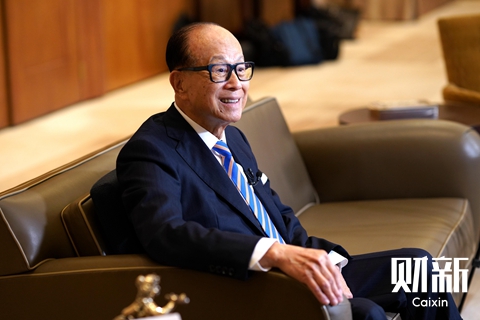 Li Ka-shing. Photo: Guo Xianzhong/Caixin
(Hong Kong) — Hong Kong's richest man, Li Ka-shing, has announced his retirement, marking the end of an era for the region's business community.
Li, whose massive conglomerates have dominated the Hong Kong economy for decades and have a presence in more than 50 countries, will be stepping down as chairman of CK Hutchison Holdings Ltd., he announced at his annual news conference on Friday.
Li's eldest son and CK Hutchison Holdings Deputy Chairman Victor Li, who was named the 89-year-old tycoon's successor in 2012, will take over his father's positions at businesses, which include retail, telecommunications and real estate.
In his retirement, Li will serve as a senior adviser to the company. He also plans to spend more time on his charitable organization, the Li Ka-shing Foundation, "especially in the areas of medical care and education," he told Caixin.
CK Hutchison Holdings, the largest nonfinancial Hong Kong company included in the benchmark Hang Seng index, reported on Friday a HK$35.1 billion ($4.48 billion) attributable profit for 2017.
20th-century 'superman'
Li, with a net worth of $35.4 billion as of Friday afternoon, was ranked No. 23 on Forbes magazine's 2018 list of the world's billionaires, and has been Hong Kong's richest man for 20 consecutive years.
Born in Chaozhou, Guangdong province, in 1928, Li fled to Hong Kong with his family during World War II. To make ends meet, Li began taking on odd jobs as a child, first as a waiter in a teahouse, and then as an apprentice to a watchmaker.
Then, at 17, he found work as a salesman, touting galvanized iron buckets. He did so well that he was soon poached by a plastics factory, where he became general manager within two years.
He eventually founded plastics manufacturer Cheung Kong Industries in 1950, just as Hong Kong's manufacturing boom took off. Cheung Kong's most important product at the time was plastic flowers.
But soon, Li began transforming Cheung Kong Industries into a major real estate investment company, buying up property during the 1960s, when political turmoil in the then-British colony caused property prices to plummet. Li's company listed on the Hong Kong stock exchange as Cheung Kong Holdings Ltd. in 1971.
The businessman, who has cultivated a reputation for frugality and philanthropy, then expanded his influence into other industries through acquisitions, including the purchase of colonial-era trading and real estate company Hutchison Whampoa in 1979.
Li's influence has spread across the globe, with Europe accounting for 49% of CK Hutchison Holdings' revenue in 2016.
Known locally as "Superman Li" for his business empire-building prowess, Li's reign as Hong Kong's top tycoon has not been without controversy.
In recent years, Communist Party of China publication the People's Daily has criticized Li as immoral and unpatriotic for his ongoing divestment from the mainland, which included a 20 billion yuan ($3.2 billion) sale of a Shanghai commercial complex to China Life Insurance in 2016.
Hong Kong's tycoons have also over the years been accused of maintaining a stranglehold on the city's economy, leaving little room for smaller players to thrive. In response, Li told Caixin in a 2014 interview that "ninety-nine point nine percent of our businesses are in highly competitive sectors."
End of the first tycoon era
"Li's retirement is not a surprise," professor Joseph Fan, co-director of the Institute of Economics and Finance at the Chinese University of Hong Kong, told Caixin. Li's announcement on Friday "indicates his confidence about business continuity," Fan said.
Li has been openly making preparations for his retirement since 2012, and has gradually transferred greater responsibilities to his eldest son over the past 20 years. "This way, there is more certainty, and there won't be a succession problem, giving shareholders and colleagues more confidence," Li told Caixin.
But ultimately, "no one can replace Li Ka-shing as the legendary founder of the largest conglomerate in Hong Kong," Fan said. "Li will never be fully retired. He will continue to lend his reputation to his successor and the family business group to the very last day. Given that transferring his intangible assets is difficult, it remains to be observed how his retirement will affect the productivity and value of the Li empire."
The leadership transition faced by the Li family is part of a wider trend among Hong Kong's business elite. "King of gambling" Stanley Ho, the 96-year-old founder of a casino and real estate empire in nearby Macau, stepped down as chairman in 2017, while Henderson Land Development Co. Ltd.'s Lee Shau-kee, 89, retired in 2014.
"Li's retirement symbolizes the end of the period of the first generation tycoons in Hong Kong," Fan said. "How their businesses will evolve, and how successful, is an important question not only relevant to the founding families but also Hong Kong society."
Contact reporter Teng Jing Xuan (jingxuanteng@caixin.com)
You've accessed an article available only to subscribers
VIEW OPTIONS
Share this article
Open WeChat and scan the QR code