Update: Xiaomi Files to Issue China Depositary Receipts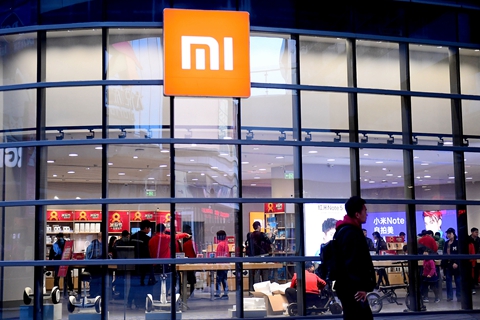 The initial pricing could value Xiaomi at $70 billion to $80 billion, source says. Photo: VCG
Chinese smartphone-maker Xiaomi Inc. became the first tech giant to apply to issue Chinese depositary receipts (CDRs) in a public listing that will complement its upcoming initial public offering (IPO) on the Hong Kong Stock Exchange.
The China Securities Regulatory Commission (CSRC) website indicated that it had accepted Xiaomi's application on Thursday, the same day it was filed. The online statement said Xiaomi's proposal is now under review and provided no further details on how much the mainland offering might raise.
Reports emerged the same day that the Hong Kong Stock Exchange had approved Xiaomi's planned blockbuster IPO, which may raise as much as $10 billion. The company filed its IPO prospectus last month.
The mainland regulator had issued detailed rules (link in Chinese) late on Wednesday for the CDR pilot program, paving the way for the long-anticipated system that is designed to lure more tech listings in China and invite overseas-listed companies to trade shares at home.
Citic Securities is leading Xiaomi's CDR issuer, according to people familiar with matter. Xiaomi did not immediately respond to a request for comment.
The CDR program allows Chinese companies listed abroad to bypass legal and technical barriers to A-share listing in the mainland, such as restrictions on weighted voting rights and mandatory requirements on profitability. This will make it possible for companies like Xiaomi to simultaneously proceed with dual listings in Hong Kong and on the mainland.
The company plans to sell as much as 30% of its IPO on the mainland through CDRs while offering the rest in Hong Kong, Reuters reported Monday, citing people with knowledge of the matter.
Caixin learned that Xiaomi will price its CDRs and Hong Kong offerings at the same price and around the same day at the end of June, but the offering of CDRs will be ahead of the Hong Kong market's opening bell.
The person close to the company's senior management told Caixin that Xiaomi's IPO valuation was calculated through a dynamic model based on the company's current operating earnings, expected future growth, and an estimated price-to-earnings ratio of 60 for internet companies.
The initial pricing could value Xiaomi at $70 billion to $80 billion, but the valuation is very likely to reach $100 billion on the debut day, said the person close to Xiaomi's senior management.
Such a lofty valuation would make Xiaomi the biggest global offering since Alibaba Group Holding Ltd.'s IPO in New York four years ago. But those estimates are already raising doubts among market participants.
Some institutional investors said the valuation exceeds the market's expectation, but others said it's an acceptable level for the 8-year-old company.
It's hard to predict the future performance of Xiaomi's CDRs and Hong Kong-listed shares, but it's widely expected the CDRs will rise higher than the Hong Kong-listed shares over time, according to the person close to the company's senior management.
According to Xiaomi's IPO prospectus, the company posted 114.6 billion yuan ($17.9 billion) in revenue last year, a 67% increase from 2016.
The company swung to a net loss of 43.9 billion yuan last year. Excluding one-time items, Xiaomi had an adjusted net profit of 5.36 billion yuan and a profit margin of 4.7% in 2017.
While 70% of revenue comes from selling smartphones, Xiaomi co-founder and Chairman Lei Jun insists that Xiaomi is an internet service company aiming to make more money from ads and online games.
Several tech titans, including Alibaba Group Holding Ltd., JD.com Inc., Baidu Inc. and game company NetEase Inc., are also preparing for CDR issuances as early as the end of June, Caixin has learned.
Contact reporter Ke Dawei (davidkirton@caixin.com)
You've accessed an article available only to subscribers
VIEW OPTIONS
Share this article
Open WeChat and scan the QR code