China's Teen-Idol Obsession
Production crew prepare aspiring "idol" Zhu Tiantian for an appearance on a TV program on June 11. Photo: Ding Gang and Zhang Boyuan
A new era is dawning in China — the age of the "idol."
Young, highly trained in singing and dancing, and immaculately groomed, these performers have become ubiquitous on reality television and in advertising campaigns across China, as well as at live concert venues packed with devoted fans.
The concept of an idol was borrowed by the Chinese entertainment industry from Japan and South Korea, where thousands of "trainees," usually in their midteens, go through years of preparation before a select few debut in "idol bands."
The popularity of recent Chinese reality shows "Idol Producer" and "Produce 101" — filmed and broadcast by online streaming platforms iQiyi and Tencent Video — has led some commentators in the country to dub 2018 "the first year of the idols' reign."
In both programs, a hundred or so contestants go through a process of training, performances, audience voting, and eliminations before a final few are selected to be part of an idol band.
The two programs were played a total of 8.07 billion times, and have spawned a number of online buzzwords, including "C-position," meaning the central, most important role of a performance or any other situation.
"In the past, China's idol market was like a desert, with the rare oasis here and there," according to Si Jie, entertainment industry veteran and founder of idol management company Super Jet Entertainment. But thanks to the growing influence of South Korea's pop culture in China, "the soil has become fertile here this year, and everyone has started planting crops," Si said, predicting that competition for technology and capital in the industry will soon heat up.
Dreams
Wang Jing, a 14-year-old girl attending a high school affiliated with the National Academy of Chinese Theater Arts in Beijing, is a diligent student. She studies Peking opera, a centuries-old art, and sometimes participates in school performances.
Wang also has more-modern musical pursuits. She is a member of idol girl group TGK101. According to the group's management company, T Trainee, TGK101's nine members have an average height of 168 centimeters (5 feet 6 inches), and their "face scores are all online" — Chinese internet slang meaning that all nine members are physically attractive.
Wang trains in music and dance at T Trainee's studio twice a week. "It looks like a lot of hard work for her, but as long as she likes it, we're willing to support her," Wang's mother said.
But Wang's mother recently found her support wavering when her daughter was faced with the choice of signing an eight-year contract with T Trainee. Most female idols make their industry debut between the ages of 16 and 22, so Wang will need to decide soon what she wants to do. Her mother would prefer that she go to college before pursuing an idol career. But Wang insisted that being an idol was what she really wanted, and her mother eventually gave in.
Zhu Tiantian, a 22-year-old woman from Beijing, got her first taste of idol stardom in 2016, when she took part in singing competition program "Super Girl." After she left the show, she played supporting roles on two online drama series. In one role she played the lead singer of a rock band. One scene that required her to sing on stage for an audience of hundreds of "fans" made her realize how much she wanted to have real fans of her own. So when "Produce 101" began seeking contestants earlier this year, Zhu signed up.
But on "Produce 101," Zhu faced as much criticism as she did adulation. She was mocked by online "haters" for her exaggerated emotions on screen, with one audience member asking her during the filming of her second public performance on the show if she was "crazy," according to local media reports.
Fans
Despite her rough journey on "Produce 101," Zhu, who was eventually eliminated from the competition midway through the series, has managed to attract a number of dedicated fans.
One of them, a 30-year-old man from Shanghai named Liu Chen, traveled to Beijing on July 12 just so he could meet Zhu at a fan event. Liu became one of Zhu's fans during a difficult period in his life, when his attempt to start a business failed, he said. He identified with how Zhu was "ignored" and "misunderstood" by audiences, and now considers her to be a source of happiness and emotional support.
Many fans in China support their idols with more than just attendance at events. According to Chinese entertainment columnist Mingxingzibenlun (link in Chinese), fans of the top 20 trainees on "Idol Producer" spent 13 million yuan ($1.88 million) on Idol platform Owhat, which allows fans to purchase idol-related products like meet-and-greet tickets, merchandise, and film screening tickets.
Fans of other performers, such as 18-year-old Wang Junkai from the band TFBoys, have been known to spend extravagant sums on displays of devotion including skywriting over Hollywood, and ads in New York's Times Square. The size of the "idol industry" could reach 100 billion yuan by 2020, according to a report by Zhongtai Securities (link in Chinese).
Becoming an idol
The production process of "Produce 101" and "Idol Producer" uncovered thousands of trainees across China, managed and trained by hundreds of agencies.
According to Super Jet Entertainment founder Si Jie, there are two main ways idols are trained. The first is a more "human" model that allows fans to watch the idol develop from a beginner to a successful star. The other is an "industrial" model, in which trainees must undergo intensive training in seclusion, learning dance, singing, comportment, and stage presence until they reach entertainment-industry standards. Then they make their debut as part of an idol group.
Most Chinese talent management companies used concepts copied from overseas, and haven't yet formed their own training systems, Si said.
Not every idol hopeful makes it to stardom. Song Huizi, an "Idol Producer" contestant known to fans as "Song Shuijiao," was forced to leave the program in December before it even began airing, after footage surfaced on the internet of him making misogynous comments. Now, he lives in Beijing producing music on his own, while struggling to make ends meet.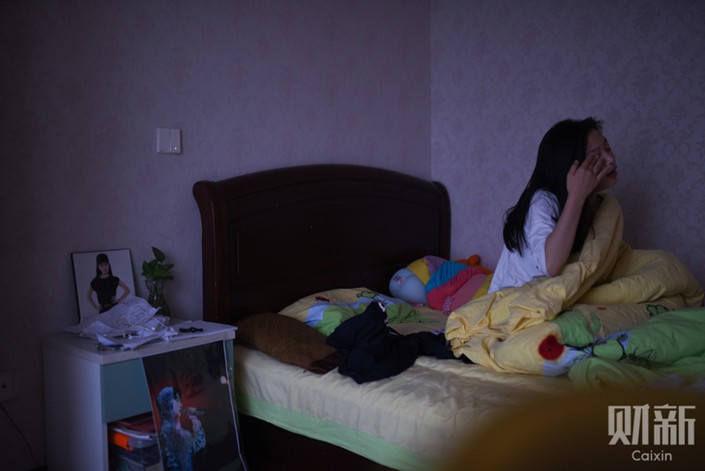 14-year-old Wang Jing wakes up at 7 a.m. every Saturday to attend rehearsals at her management company's offices in Beijing. Displayed on her bedside table are a photo of Wang and a poster of one of her favorite South Korean male idols. Photo: Ding Gang and Zhang Boyuan
Wang Jing and her fellow "trainees" at T Trainee are required to learn three different dance styles. Photo: Ding Gang and Zhang Boyuan
Ding Li and Xu Mingzheng, two members of male idol band "XII Constellations," pose for a photo while waiting for a table at a restaurant on May 19. The band regularly receives training in singing, dancing, and even physical fitness. Photo: Ding Gang and Zhang Boyuan
Zhu Tiantian hands out soft drinks to fans, thanking them, after an event in Beijing on July 12. Photo: Ding Gang and Zhang Boyuan
People walk past a billboard advertising "idol trainee" Wang Ziyi, one of the contestants on iQiyi's reality series "Idol Producer," in Beijing on May 25. Photo: Ding Gang and Zhang Boyuan
Contact reporter Teng Jing Xuan
(jingxuanteng@caixin.com)
You've accessed an article available only to subscribers
VIEW OPTIONS
Share this article
Open WeChat and scan the QR code

China Stories: What Li Yining Taught China About Economic Reform