CreditEase Wealth Management Announces the Establishment of Overseas Wealth Management Department
August 20, 2018, Beijing —— CreditEase Wealth Management announced today the establishment of the Overseas Wealth Management Department, which will provide wealth management services to high-net-worth Chinese abroad, and appointed Ms. Zhao Ruobing, senior vice president of CreditEase Wealth Management, as head of the department. Ms. Zhao has more than 20 years of experience in the wealth management industry. She joined CreditEase Wealth Management in 2008 and is a senior executive of the company.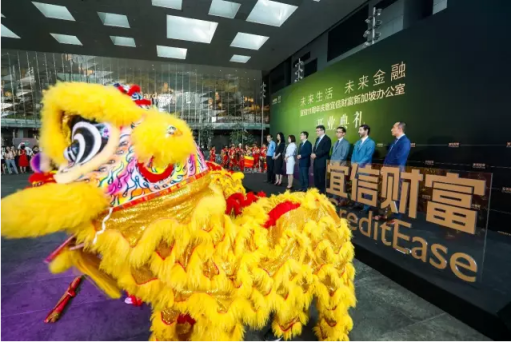 CreditEase Wealth Management announced the opening of its new Singapore office in the Asia Square Tower in 2017
In 2013, CreditEase Wealth Management established its first office for overseas business in Hong Kong, China. It established the Singapore branch in 2014, the Israel branch in 2015, the New York office in 2016, and the Silicon Valley branch in San Francisco in 2017. In 2018, CreditEase Wealth Management expanded the European market and branches, and obtained corresponding licenses in the local markets.
Currently, the company manages over 100 billion yuan in assets for hundreds of thousands of high-net-worth clients in China.
Tang Ning, CreditEase founder and CEO, said that "growing into the preferred wealth management brand for high-net-worth Chinese in the world is a five-year goal of CreditEase Wealth Management, which is also the next point for organizational remodeling in the next five years. After years of accumulation in capacity, CreditEase Wealth Management is fully prepared in terms of global investment capacity, scientific and technological capacity and service capacity for the international market. We are confident that, with the continuous consolidation of global product investment capacity, CreditEase Wealth Management's global service capacity will also be further expanded and consolidated. Each colleague and elite of the wealth management industry in China will enjoy a broader development space and growth opportunities on an even broader world stage. As China's wealth management market has matured over the past few years, we have ushered in an era of wealth management in China with asset allocation at its core. In the new decade, I wish and firmly believe that, with the joint efforts of all, CreditEase Wealth Management will grow even more prosperous in the global market and continue to lead the development of the industry."
CreditEase Wealth Management has always been committed to helping clients provide investment, products and opportunities for major asset categories, including a wide range of overseas living services, such as overseas study tours, overseas education consultations, investment and immigration, overseas property, tax planning, legal service referral, insurance, family trusts, high-end institutional internships, and so on. It is worth mentioning that just recently, CB Insights, a world-renowned market research organization, released the annual list of the world's most-active financial technology investment institutions as of the first quarter of 2018, and the CreditEase FinTech Investment Fund (CEFIF) from CreditEase was once again on the list, rising from seventh place in December 2017 to third place in 2018, once again demonstrating CreditEase Wealth Management's overseas investment ability.
—End—
About CreditEase Wealth Management
CreditEase Wealth Management, the wealth management arm of CreditEase, focuses on comprehensive global asset allocation services for high-net-worth individuals and affluent Chinese investors. It also offers a wide range of services that include investment, immigration and international education advice, as well as products across different asset classes, including fixed income, private equity, capital markets, real estate and insurance. CreditEase Wealth Management is committed to providing high-quality products and services in line with customer needs and expectations, as well as helping formulate comprehensive plans for wealth preservation and growth. CreditEase Wealth Management was named the Best Non-Bank Private Wealth Product in Asian Banker's "China Private Banking and Wealth Management Awards 2016," and was recognized as the Best Non-Bank Private Wealth Management Organization in China in 2017. The same year, CreditEase Wealth Management won the Best Wealth Management Firm of the Year in AsiaMoney's "China's Outstanding Independent Wealth Management Organization Awards," and won this special honor again in 2018. CreditEase Wealth Management also won the Best Wealth Manager for Fund of Fund Award in 2018.
Share this article
Open WeChat and scan the QR code