Q&A: South Africa's President Dismisses Accusations Against Beijing of New Colonialism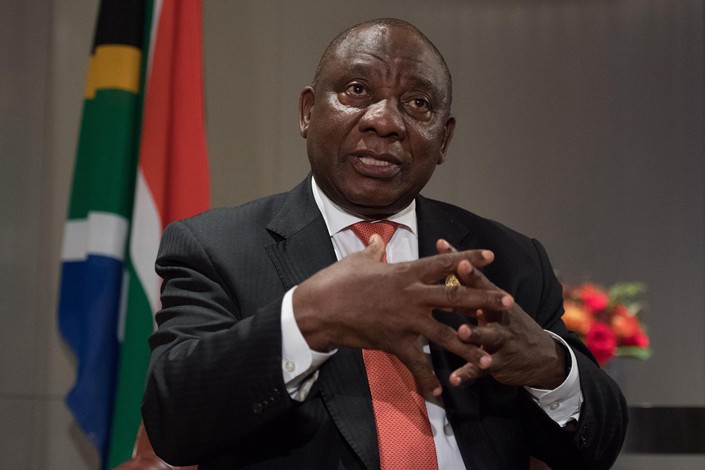 South African President Cyril Ramaphosa talks to reporters in Beijing on Tuesday. Photo: VCG
China's relationship with Africa "has now entered a golden age," South African President Cyril Ramaphosa told reporters after the closing of the Forum of China-Africa Cooperation (FOCAC) summit in Beijing on Tuesday.
Ramaphosa made his comments after China pledged an additional $60 billion worth of loans, aid, and investment in Africa. This follows an initial $60 billion promised at the previous FOCAC summit in Johannesburg three years ago.
Africa has lately begun pivoting toward China and away from its historic main trading partners — Europe and the United States. The value of trade between China and Africa rose from $10 billion in 2000 to $169.7 billion in 2017. Meanwhile, trade between Africa and the EU, which remains the continent's largest trading partner, has fallen.
But China's growing relationship with Africa has come under fire, with critics saying that China's loans to the continent are miring already poor countries in "debt traps," and are essentially a form of modern-day colonialism.
"There's no new colonialism," Ramaphosa told reporters on Tuesday, echoing Chinese President Xi Jinping, who said on the first day of the summit on Monday that China's investment in Africa came with no political strings attached.
"We were all engaged in struggle against the colonialists from the Northern Hemisphere," he said, referring to the long-standing relationship between South Africa's ruling African National Congress party and the Communist Party of China.
In an interview with Caixin and other media outlets after the summit, Ramaphosa talked about South Africa's historical ties with China, and China's changing policy toward Africa.
Caixin: What do you think about recent criticisms of China's loans to African countries? A number of people have accused China of making politically motivated investments on the continent.
Ramaphosa: The $60 billion that was announced in 2015 went to investments and infrastructure. Many countries have taken that up. They are now improving their infrastructures, improving a whole lot of areas that impact their own economies. So, even if it is debt-based, you are able to invest in your economy and generate sufficient funding to be able to pay back whatever loans they have.
And this time round, President Xi announced that China is going to be putting out another $60 billion, which will be composed of categories of funding. Some of it will be grant funding, some of it will be assistance programs, and some of it will be debt. It will be loans that will be given out. It depends on various countries, on the strength of their own economies, and their own capability to pay back the debt.
Now, in some cases, these are going to be investments, investments in a number of projects. So the categorizations should be left to the countries themselves.
I would say that rather than stand on the rooftop of some tall building somewhere in the world and criticize, it should be left to those respective countries themselves how they want to participate in this funding that has been made available. Because some of it could be investments, Chinese companies could be investing in a number of projects. It could be loans. It could be grants. It could also be assistance. So, I say to those who are critical of this, they should first look at precisely how the categorization is going to work.
Yes, many countries have debt. Even the very rich countries are also debt-laden. It depends on how you manage your debt.
What President Xi also announced is that there are certain countries that are not able to keep up with their debt. They are poor, and those countries will have their debt forgiven. So I think we're facing a situation that is quite progressive, in which a number of countries will be able to choose.
This year marks the 20th anniversary since China and South Africa established diplomatic relations. Can you comment on the two countries' relationship so far?
The 20 years of diplomatic relations between China and South Africa have been really positive. There have been years of great partnerships being formed between South Africa, as a democratic state, and the People's Republic of China.
You must remember that the governing party of South Africa had long-term relations with the Communist Party of China over many years. So the bonds of friendship were formed in struggle, where the Communist Party of China supported the ANC in its struggle.
So, once South Africa became a free and democratic country, it was easy to have that transition of beginning diplomatic relations. And that has been based on South Africa having a "One China" principle, recognizing the People's Republic of China as the government of China.
Recently, the People's Republic of China supported us to be a member of the UN Security Council, a non-permanent member. And we've agreed that we are going to work together because our political orientation and perspective is very similar on a number of issues. We both come from a revolutionary type of approach. The way we look at the world is very, very similar.
What do you think will be the most important driver for China's relationship with South Africa over the next five years, especially in the context of the Belt and Road Initiative and South-South cooperation?
We have a good partnership with China now because China has become our biggest trading partner outside of the continent. The trade between China and South Africa is booming and rising, but at the moment, it is skewed in favor of China. We have a deficit, and we've discussed this.
What is pleasing with the People's Republic of China, and President Xi himself, is that we want to ensure that the trade between our two countries develops in a way in which we will have market access and be able to bring in value-added products into China. Because that will help us to balance our trade so that we no longer are a country that is just exporting raw materials or resources to China.
They want a win-win outcome. And that is what is most pleasing with us dealing with a trusted friend like the People's Republic of China.
Can you comment on President Xi's statement that China does not intend to interfere in local politics through its Africa investments?
The notion that was put forward by President Xi about non-interference is an important one. It's the same political perspective that we have. It is born out of a revolutionary approach to development, to relations with other countries.
No interference is an important consideration in our case, and we discuss things on a mature basis, where advice is sought, it is given, but there is just no interference. Because there is no need for any country to interfere in the affairs of any other country. Because the minute you want to interfere, it means that you are being patronizing. You are paternalistic. You look down on others. The relationship that we've always had with China, right from our own struggle days, when we were struggling against apartheid, was based on no interference.
How do you think China's strategy in Africa has changed in recent years? It appears to have shifted from mostly trade and economic cooperation toward security and military cooperation.
I don't really see China really changing policy. It's beginning to address issues that are important, like security and peace. China is big in peace-monitoring and all that on the African continent. And so peace and security is very important on the African continent, and we welcome the fact that China wants to play a role, and continues to play a role in that.
But China goes beyond that. It goes into areas that I call solidarity. Solidarity, for instance, when many other countries were running away from outbreaks of diseases like Ebola, China was sending people into Africa. And why were they doing it? They were doing it for solidarity.
It debunks this notion that some people have, that China's looking at Africa as a place where it just gets resources and it just wants to make money. But China is rolling out a number of assistance programs — solidarity, health, security, and many others.
You've accessed an article available only to subscribers
VIEW OPTIONS
Share this article
Open WeChat and scan the QR code