Q&A: Veteran Photo Editor's Colorful Tales of Black-and-White Era
A groom prepares to receive his bride on their wedding day in Xi'an, Shaanxi province, in April 1985. He carries a colorful quilt, which along with vacuum flasks, washbasins, sewing machines and bicycles, were once popular bridal gifts. These items were considered a household's most valuable possessions. Photo: Hu Wugong
Four young Chinese women in pastel-colored jackets sit under a precarious-looking tangle of wires, their hair tightly clamped into electric curlers. A girl blinks back tears as a train pulls out of a station. A mother yawns, a spool of yarn at her feet, as she watches her son complete his homework.
These scenes, captured on film, aren't just moments from ordinary people's lives — they're records of a historic transformation, according to Chen Xiaobo, a senior photo editor at the state-run Xinhua News Agency.
After decades as an isolated, planned economy, China began opening up and introducing market reforms 40 years ago, ushering in an age of unprecedented economic growth and a new culture of consumerism, while also creating massive inequality and erasing many old ways of life.
Chen was the executive organizer of "China: 40 Years Through the Lens," a recent photography exhibition at the National Museum in Beijing that showcased hundreds of pictures taken between 1978 and 2018. "I hoped to take visitors on walk through the deepest parts of history," Chen said.
The following excerpts are taken from an interview with Chen, who spoke to Caixin about his long career at Xinhua, and how China's photography scene has developed since the 1980s.
People crowd around their village's first TV set in Shangzhangjiafen village, Shanxi province, in February 1980. Just seven years later, China would surpass Japan as the world's largest manufacturer of TVs. In 2016, 423 million households in China owned TVs. Photo: Wang Yue
Caixin: What has changed in the 30 years since "Focusing on the Age of Reform," your first-ever exhibition?
Chen Xiaobo: During Beijing International Photography Week in 1988, I organized "Focusing on the Age of Reform," my first-ever exhibition, at what was then the history museum — today's National Museum. There was a lot going on during that year's Photography Week. Famous Western photographers were holding workshops, and they were exhibiting 280 World Press Photo images in China for the first time ever. The photos were exhibited on easels, and I had been tasked by Mr. Yang Zhaoming, the chairman of the Contemporary Photography Association at the time, with propping up the easels, which were repeatedly knocked over by the crowds of visitors. This was the first time Chinese people got to see how the world really was. I've never seen another photo exhibition that caused such a sensation.
One of the galleries at the Museum of Chinese History happened to become available right before Photography Week, so Mr. Yang decided to also hold an exhibition for Chinese photographers. He picked Jin Chong, Peng Zhenge, Qiu Weijun and Qian Han, four photographers who were very active at the time, and said, "Chen Xiaobo will be in charge of planning this exhibition." At the time, no one had any idea what an "exhibition planner" was supposed to do. The group of us rode our bicycles to Tiananmen every day, taking our Beibingyang sodas (an old-fashioned orange soda that has been bottled in Beijing since the 1930s) into the history museum. We had no understanding of space and material, and didn't know how to set up the lighting. But everyone put in their best effort, and we eventually created this very rudimentary exhibition.
Local peddlers use bamboo poles to raise their goods up toward train windows for passengers to view at a stop on the Beijing-Qinhuangdao railway route, on May 10, 1996. Photo: Zhou Chaorong
That was my first exhibition, which happened in my 20s. I didn't expect that, 30 years later, I would be back here in the same space organizing another exhibition, and that I would be asked to comb through 40 years of Chinese photography. I would describe the recent exhibition as a particularly complicated one in terms of structure and layout. We had two art directors and two writers on our team. The design team was also outstanding.
Looking back, what I went through, along with the photos, photographers, and exhibitions, was also part of the massive change and development happening in the country.
Four rural women get their hair permed for the first time in Dali, Yunnan province, in March 1985. The 1980s were a period of experimentation for ordinary Chinese people, after years of plain, uniform hairstyles. Photo: Liu Jianhua
What was the process of putting together this exhibition?
As an editor with millions of photos in my mind, I knew that in the past 40 years, there had been no shortage of Chinese photographers. I knew even more where I could find the good photos. I began a "wipe-out" style search. For the 400 photographs, I sent WeChat messages to each photographer. All I did each day, aside from eating and sleeping, was sending WeChat messages. Luckily, my strongest personality trait is patience.
I have always had three criteria for selecting photos: one, it must bear the traces of history; two, it must be poetic; and three, it must be emotionally powerful. As for other criteria, I hoped that this time there would be some images with true meaning, as well as some that were strange or unfamiliar. I wanted to choose genuine moments from the lives of Chinese people, which could also clearly show the bigger picture of the country's transformation.
At a train station in Hangzhou, East China's Zhejiang province, 10-year-old Fu Xiangjun cries as a train takes her away from her parents and home to Southwest China's Chongqing in 2006. Fu's parents left their hometown to find work in Hangzhou and could afford to spend time with her only during her summer vacations. Their daughter was one of China's millions of "left-behind children." Photo: Fu Yongjun
In China, many photography exhibitions provide only the location and date photographs were taken. This time, I invited documentary director Hao Fangjia and her team to rewrite the photo captions.
For example, there was one photo by photographer Deng Wei that initially only had the caption, "Taking pears to the market, Baode county, Shanxi province." But the team eventually found the following information: "The people of Baode used to leave their homes through the Western Pass to escape from famine and beg for food. After the start of reforms, life began to get better, and they began to travel into town to sell fruits instead." They discovered this very typical story of reform and opening-up. For captions like this, they frequently had to look through material tens of thousands of characters long, including databases, photographer interviews and websites.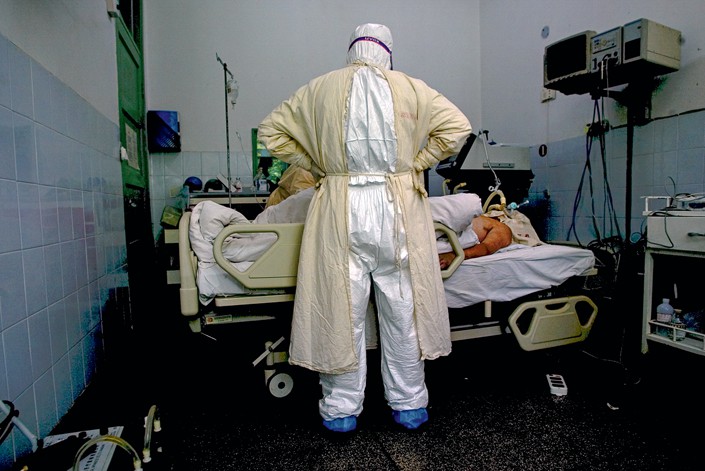 A doctor pauses by the body of a patient who died from severe acute respiratory syndrome (SARS) on April 30, 2003. SARS first appeared in China in late 2002, and quickly became a deadly global epidemic. Photo: He Yanguang
You've been a photo editor at Xinhua for over 30 years. Why have you stayed at this job for so long?
The biggest reward for me of working as a photo editor for so many years is that China's best photographers are now like brothers and sisters to me. I've worked so much with them on publications and exhibitions, and I've brought their works out of the country, so they all have a lot of trust in me.
After graduating from college, I was assigned a job at Xinhua's photography department. At the time, there was an upward trend in Chinese photography, so they made me a photo editor. At the time there were very few professional editors, so I didn't know what exactly a photo editor was. I was puzzled. I was a literature major, so why had I been sent to the photography department? But two months into the job, I had begun to cheerfully accept that this was my fate. I arrived at the office excited to get to work every day. I never got tired of it.
Middle school student Li Yang holds an IV bag for his classmate Liao Bo, who is trapped under rubble from the previous day's earthquake, in Wenchuan, Sichuan province, on May 13, 2008. Liao was rescued later that day. The deaths of many students in the earthquake prompted angry parents to call for investigations into shoddily constructed school buildings and corrupt local officials. Photo: Chen Xie
Contact reporter Teng Jing Xuan (jingxuanteng@caixin.com)
You've accessed an article available only to subscribers
VIEW OPTIONS
Share this article
Open WeChat and scan the QR code