Update: Missing Interpol Chief Being Probed in China for Corruption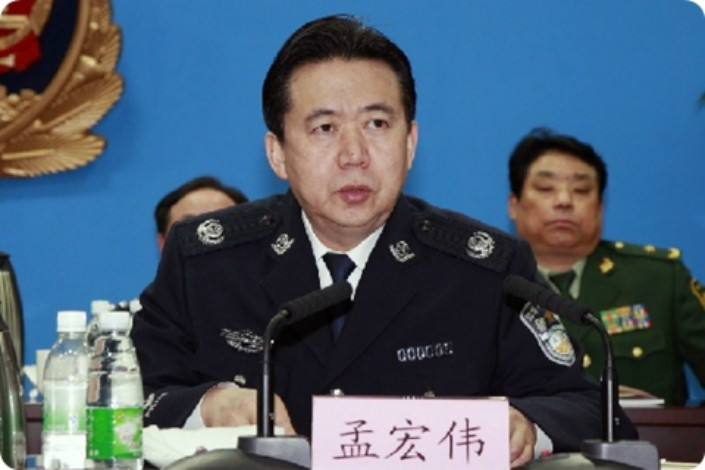 File photo of Meng Hongwei
Meng Hongwei, the Chinese official who was serving as chief of global law enforcement organization Interpol, is under investigation by a domestic anti-graft body on suspicion of taking bribes, Chinese authorities said on Monday.
Meng, 65, is a vice minister of China's Public Security Ministry and had been chief of Interpol since late 2016. He is now being probed for allegedly accepting bribes, the Chinese Ministry of Public Security said in a statement on Monday, without providing any further details.
The statement added Meng "only had himself to blame" for the investigation. It called for the "conscientious use of the legal system to regulate and restrict power," and said lawbreakers must face "severe punishment."
The National Supervision Commission, an official disciplinary organ, initially announced the investigation in a brief statement on Sunday, but declined to elaborate on its nature. Shortly after that first announcement, Interpol said that it had received Meng's resignation "with immediate effect." Interpol didn't elaborate on the reasons for Meng's departure.
Meng is being investigated by the National Supervision Commission, according to the original statement. The commission was set up in March 2018 as the top organ handling corruption cases involving public servants. It shares personnel and duties with the Communist Party's Central Commission for Discipline Inspection.
Meng is the latest high-profile official to fall from grace in China's sweeping campaign to clean up corruption in government and at state-owned enterprises. Former national security czar Zhou Yongkang has been one of the highest-ranking officials toppled by the campaign, which dates back around five years.
Speculation surrounding Meng has swirled since he was reported missing after a late September trip back to China from Lyon, France, where Interpol is based. In April, Meng was removed from the Party's leadership at the public security ministry.
Meng has spent over 40 years in China's public security system. He was named vice minister of public security in 2004 and became the head of Interpol's China branch the same year. In November 2016, he was appointed president of Interpol, the first Chinese head of the global law enforcement agency. He was scheduled to serve until 2020.
Interpol co-ordinates governments of its member countries in searching for missing people and wanted fugitives. However, it has no enforcement power to carry out detentions.
Interpol said it has appointed Senior Vice-President Kim Jong-yang of South Korea as its acting president. A new president will be elected for the remaining two years of Meng's term at the general assembly in Dubai next month, said the agency.
Contact reporter Han Wei (weihan@caixin.com)
This story has been corrected to accurately describe the Chinese organizations which issued statements on Monday.
You've accessed an article available only to subscribers
VIEW OPTIONS
Share this article
Open WeChat and scan the QR code