Chart of the Day: 'Made in China 2025' Dropped From List of Local Government Priorities
China's central government has updated its list of priorities for local governments to focus on — and the controversial "Made in China 2025" industrial strategy is off the list.
Made in China 2025, cutting overcapacity in the steel and coal sectors, and promotion of public-private partnerships were on the 2016 list but not the latest version published on Monday (link in Chinese).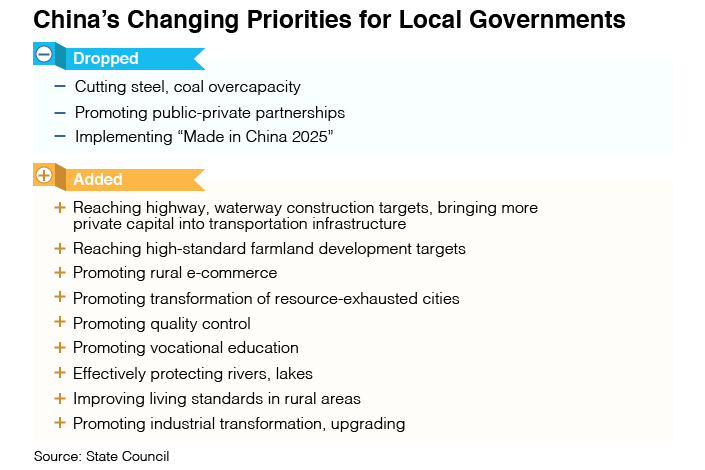 Graphic: Gao Baiyu/Caixin
The State Council said it had retained 21 policy priorities set in 2016 and added nine more due to the "new situation, new tasks and new requirements." Three of the new priorities are related to rural areas, and the others involve highway and waterway infrastructure, river and lake protections, industrial transformation and vocational training.
The central government has been trying to incentivize local governments at all levels to work on the policy priorities on the list since the first version was issued in November 2016 (link in Chinese). The State Council names local governments that have made progress on each policy priority from time to time and describes their rewards, which can include policy or fiscal support.
The top three policy priorities on the list are all about improving the business environment, from lowering companies' transaction costs to supporting corporate financing. One notable change from the 2016 list is the government's greater emphasis on "promoting steady growth of foreign trade and foreign investment," as China faces headwinds from trade tensions with the U.S.
Made in China 2025, an ambitious 10-year plan to transform China into a global high-tech manufacturing powerhouse, has become a target of criticism, as some say it unfairly uses subsidies to bolster development.
Though Made in China 2025 was left out, the list included policies that support independent innovation, high-technology industries and industrial transformation.
Growing fixed asset investment and improving fiscal management — including "improving quality of income" — are also high up on the list.
Contact reporter Charlotte Yang (yutingyang@caixin.com)
You've accessed an article available only to subscribers
VIEW OPTIONS
Share this article
Open WeChat and scan the QR code