Taiwan Model Draws Customers to Mainland Bookstores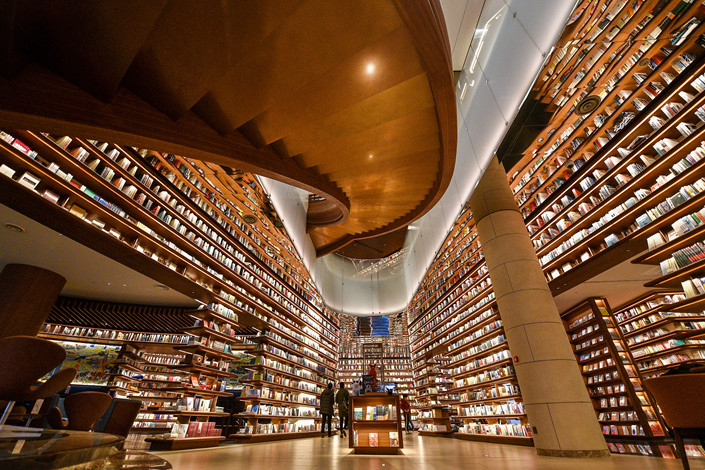 A bookstore at Maike Center in Xi'an, in Northwest China's Shaanxi province, on Dec. 19, 2018. Photo: VCG
Huang Jinqi, an engineer based in Silicon Valley, is in Beijing to celebrate the Chinese New Year with his family. He chanced upon a bookstore in the trendy shopping district of Sanlitun — one he said be a rare find in the U.S.
"In the U.S., you don't see many bookstores where you can sit, flip through books and drink coffee. It's indeed nice to see that in Beijing," the 29-year-old told Caixin, while sipping a hot latte at the bookstore's coffee bar with the Chinese version of Dan Brown's Origin in his hand.
The outlet Huang spent the afternoon in was called Sanlian Taofen, a subsidiary of SDX Joint Publishing Co. Founded in 2014, Sanlian touts itself as the first outlet in the Chinese capital to operate around the clock.
Sanlian is one of 62 book chain operators surveyed by the Beijing-based industry tracker Bookdao New Publishing Institute, which released a report in early January that said half of respondents believed food and beverages had contributed 10% or more to their total revenue in 2018.
In addition, Over 65% said cultural and creative products — such as stationery, coffee mugs and laptop bags — had accounted for at least 10% of total sales.
The three largest chains by revenue for the first 10 months of 2018, according to the report, were Chongqing-based Sisyphe, which raked in 770 million yuan ($113.5 million). Chengdu-based YanJiYou was in second place with 500 million yuan, followed by Beijing-based Citic Bookstore with 306 million yuan.
Xi'an-based FanDeng Bookstore emerged as a strong contender, having expanded at an exponential pace last year. Founded in November 2016, it had opened 203 stores in 93 cities across the country by the end of October, the report said.
A Sisyphe branch at a shopping mall in Beijing's east. Photo: Wu Gang/Caixin
Government push
Market leader Sisyphe told Caixin that it aims to open 100 more bookstores this year, from a total of 194 stores as at the end of 2018. A spokesperson said non-books revenue has been stable over the past two years and had been predicted to make up around one-fifth of total sales, but declined to provide concrete figures.
The boom in bricks-and-mortar stores, which bucks the trend of Chinese people shopping online, is partly fueled by government handouts.
The central government in 2016 released a guideline (link in Chinese) calling for more bookstores to serve the public. The Beijing local government later granted a subsidy of 50 million yuan to more than 150 local bookstores, including private-owned bookstores such as YanJiYou and Sanlian Taofen.
The Ministry of Finance and the State Administration of Taxation in 2013 introduced a policy to exempt wholesale and retail sales of books from value-added taxes, an equivalent of 13% of book-selling profits for bookstore operators, according to state-affiliated Beijing Times. The authorities announced last year (link in Chinese) a continuation of the policy by the end of 2020.
While official policies play a key role, market watchers have also observed a change in consumer behavior that made people want to spend more time in a bookstore.
Bookstore chains have begun to adopt a so-called "lifestyle" business model, they sell not just books but a variety of cultural and creative peripherals, according to Xu Zhiming, an analyst from Bookdao who wrote up the January survey.
This comes as book chains attempt to diversify their revenue sources, and cater to a rising number of readers who would like to enjoy a cozy ambience at their establishment.
The Eslite Model
Taiwan-based Eslite, run by Eslite Spectrum Corp., is arguably the most well-known book chain in the Chinese speaking world. It has long been touted as a model operator that has found a way to thrive, despite more people shunning paper books for digital downloads.
Eslite, which made U.S. news network CNN's list of the world's best bookstores in 2015, opened its first branch in Taipei in 1989. Now, it has expanded to 42 stores in Taiwan, three in Hong Kong, one in Jiangsu, and in December 2018, a new one in Shenzhen, Guangdong.
The bookstore is planning to open its first store in Tokyo, Japan this year by teaming up with local bookstore and publishing company, Yurindo, and developer Mitsui Fudosan Realty.
Over the years, Eslite Spectrum has evolved into a retail group that includes books, wine wholesalers, department stores, as well as movie theaters, hotels and residential developments.
Despite that, its book branch on Dunhua South Road in downtown Taipei — operating 24 hours a day since 1999 — has continuously welcomed night-owls and became a must-visit for Chinese-speaking tourists.
Chinese consumers look forward to such developments on the Chinese mainland. As Si Jiajie, a 23-year-old employee at an e-commerce company, puts it: "I feel more focused on reading in a bookstore."
Si visited Sanlian Taofen for five consecutive weekends, ordering drinks and reading a history book.
Contact reporter Tang Ziyi (ziyitang@caixin.com)
You've accessed an article available only to subscribers
VIEW OPTIONS
Share this article
Open WeChat and scan the QR code