Photo Essay: Life and Death in a Southern Boomtown
On April 26, 2011, a man named Deng found an empty coffin on his front doorstep in Shenzhen's Longgang district. He suspected that property developers had placed it there as a threat because his family was a "nail household" — the term given to occupants who refuse to vacate their homes even after all surrounding homes have been sold for redevelopment. Deng reported the threat to the police, and his wife later jumped into the coffin to protect the evidence when people tried to remove it. Photo: Xu Wenge
The chief photo editor at Guangzhou-based tabloid Southern Metropolis Daily moved to Shenzhen in 2001. In Xu's 18 years at the Shenzhen bureau, the city's population has nearly doubled as migrants from all over China flocked to its factories.
Shenzhen's explosive expansion began when China's first special economic zone was established in the city in 1980, giving local manufacturers better access to export markets at a time when the country was still emerging from decades of isolation.
Shenzhen's gross domestic product (GDP) grew to 2.42 trillion yuan ($363.6 billion) last year, surpassing its southern neighbor Hong Kong for the first time.
Xu's photos document the everyday dramas of the changing city, where demolitions and death threats, torrential downpours and knife attacks coexist with middle-class aspirations of owning an apartment in a good school district.
In January, Xu was diagnosed with a rare brain stem infection that has left him dependent on a ventilator.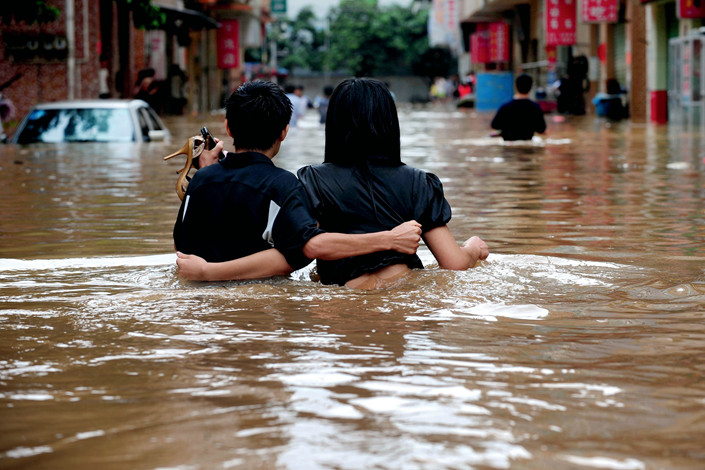 Two people wade through floodwaters in 2008 after the largest rainstorm to hit the area in a century. Photo: Xu Wenge
Suspects are lined up in Shenzhen's Futian district during a police raid on sex workers in 2009. Photo: Xu Wenge
An elderly scrap collector passes two real estate agents promoting an apartment worth 1.65 million yuan on a Shenzhen street corner in 2009. Photo: Xu Wenge
A heavily pregnant woman laid down in the middle of downtown traffic in 2006, a move she said was aimed at pressuring authorities to issue a statement about a violent attack that left her husband injured. Photo: Xu Wenge
Men suspected of illegal gambling await arrest after a raid on a teahouse near Bagua Road in central Shenzhen in 2009. Because there were more than 20 suspects, the men were made to hold playing cards in their mouths to prevent them from talking to each other and colluding to deceive the police. Photo: Xu Wenge
People put out a fire at a warehouse in Luohu district in 2002. Photo: Xu Wenge
Security guards apprehend a naked man who had tried to enter a residential compound in Luohu in 2009. Photo: Xu Wenge
Onlookers watch as a man wrestles his friend off a building ledge and toward safety in 2007. The friend had taken his shirt off and threatened to jump. Photo: Xu Wenge
A female sperm whale that had been stranded in Shenzhen's Daya Bay for days died on March 15. Researchers later found a fetus in the whale's body. Photo: Xu Wenge
Contact reporter Teng Jing Xuan (jingxuanteng@caixin.com)
You've accessed an article available only to subscribers
VIEW OPTIONS
Share this article
Open WeChat and scan the QR code

12:22

May 29 18:23

May 29 18:04

May 29 12:40

May 28 16:02

May 28 12:52

May 28 09:10

May 27 16:43

May 27 13:27

May 27 12:54

May 26 17:38

May 26 17:03

May 26 12:26

May 26 10:44

May 26 03:26
GALLERY