'Star Student' Accused of Killing Mother Arrested After Evading Police for Years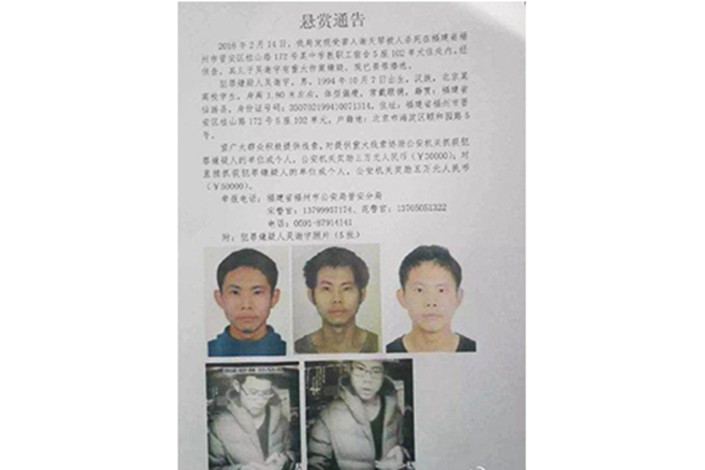 A police notice issued in 2016 looking for Wu Xieyu, the suspect in the killing of his mother, Xie Tianqin. Photo: Fuzhou Police
Whoever killed Xie Tianqin went to a lot of trouble to make sure nobody found her body. For seven months they succeeded.
Inside her apartment, the slain 49-year-old woman was wrapped in layer after layer of plastic, with activated charcoal placed inside to absorb the smell.
Surveillance cameras and infrared alarms were set all around, rigged to be remotely monitored and controlled with a smartphone.
Neighbors in southeastern China's Fuzhou, Fujian province, didn't sense anything wrong — or at least none reported anything. Xie's body was finally discovered around seven months later on Feb. 14, 2016, after relatives reported her missing. Police broke into her home and found the ghastly scene.
The victim was identified as Xie Tianqin, a local high school history teacher.
Her son, Wu Xieyu, was only 21 years old when the police issued an arrest notice for him on March 3, 2016, citing a "strong suspicion" he was the killer. Wu had gone missing shortly after her death, which was around July 2015.
The case shocked the nation and prompted soul-searching about the pressure on young people and intergenerational relations. Wu had been studying at Peking University, one of China's most prestigious tertiary institutions, and had been described by his classmates and friends as nice, friendly, and successful in school.
It took the authorities three years to catch up with him.
Now 24, Wu was arrested on Sunday at an airport in southwestern China's Chongqing, the Beijing News reported on Thursday night.
A local government news portal in Chongqing, cqnews.net, confirmed the arrest, saying the suspect Wu has been transferred to Fuzhou police. Police in Fujian declined to comment on the case late Thursday, telling Caixin that their investigation was ongoing.
When he was arrested, Wu was carrying more than 30 ID cards he had bought online, the Beijing News reported, adding that he had been moving around within China for the past three years.
Caixin reported in March 2016 that Wu had borrowed 1.44 million yuan ($213,700) from his mother's relatives and friends, in the name of his mother, saying he was going to study at the Massachusetts Institute of Technology, and that his mother had moved to the United States to live with him.
"Wu has lied to his relatives that he and his mother were living in the United States. He used his mother's phone and messenger account to contact their relatives to borrow money," a source close to the investigation told Caixin.
The source further alleged that in August 2015, Wu photocopied pages from his mother's diary and cut out words to piece together a letter of resignation, which he sent to her school, the No.2 Affiliated Middle School of Fuzhou Education College.
They say in early 2016, Wu told relatives that he and his mother were coming home for the Lunar New Year. When the relatives went to pick them up at the station and were unable to find them, they contacted police, triggering the investigation.
Caixin understands the surveillance cameras and charcoal found in Xie's apartment were purchased online. Purchase records, logistic tracking information from the parcels, and fingerprints found at the crime scene are all part of the body of evidence that led police to Wu.
Wu's online purchase records show that in late June 2016 his account bought knives, waterproof clothes, plastic sheets, protective suits and doctor's coats, sources told Caixin. The knives included a kitchen knife, scalpels, carving knives and saws. The same account spent nearly 10,000 yuan on 10 purchases that included activated charcoal, plastic wrap, wallpaper and vacuum storage bags.
No motive for the killing is yet clear.
Former classmates at Fuzhou No. 1 High School described Wu as an outstanding student. He was admitted to Peking University's School of Economics in 2012 — an impressive feat — a few years after his father passed away.
It is believed Wu spent time in Central China's Henan province in 2016. But he has evaded police until this week.
Contact reporter Wu Gang (gangwu@caixin.com)
You've accessed an article available only to subscribers
VIEW OPTIONS
Share this article
Open WeChat and scan the QR code