Opinion: Australian Prime Minister Steps Out on China, Carefully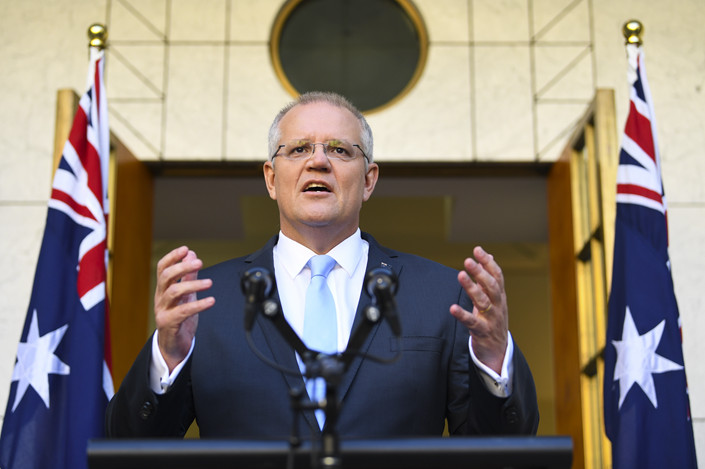 The Morrison government is prepared to argue that some U.S. grievances about China's behavior and the operations of the World Trade Organization are quite legitimate. Photo: IC Photo
(AFR) — The U.S.-China trade war means the Australian government now has little choice but to try to define the national interest more clearly. It's a risky path to negotiate publicly, but the risks to Australia of ignoring gathering storm clouds are also becoming much greater.
The agenda of the Australia China Business Council networking day in Canberra helps explain why. Australian businesses spent much of last year increasingly anxious about the badly frayed diplomatic relationship between China and Australia, hoping for a smoother environment after then-Prime Minister Malcolm Turnbull's "reset speech" of last August. Turnbull's demise immediately afterwards put this on hold until after the election amid expectations, including in China, of a new Labor government.
China is now assessing the implications of the return of the Morrison government in a political atmosphere only becoming more strained due to growing friction between our most important security partner and most important trading partner.
With two-way trade in excess of $200 billion last year, and heavily weighted in Australia's favor, that's a big potential problem for the Morrison government — and Australian businesses.
China will obviously be highly alert to any suggestion Australia is backing the U.S. in this confrontation. But even if China won't see it that way, the Morrison government is still prepared to argue that some U.S. grievances about China's behavior and the operations of the World Trade Organization are quite legitimate.
The uncertainty is whether Beijing will want to up its aggravation with a key U.S. ally or prefer to concentrate its efforts on trying to isolate the U.S., including at the G-20 meeting in Japan this week.
China's ambassador to Australia, Cheng Jingye, repeated the official line Wednesday that China doesn't want a trade war and is open to negotiations but "will also fight to the end, if needed."
Scott Morrison will be as anxious as host Shinzo Abe that the meeting between Xi Jinping and Donald Trump on the sidelines of the G-20 meeting in Osaka results in at least a temporary truce. The Australian government appreciates that this trade dispute has become much broader, extending into the whole area of technological competition between the U.S. and China. And that's going to be far more difficult to resolve without considerably more collateral damage.
"There are also pressures to decouple the Chinese and American economic systems, whether this be in technology, payments systems, financial services or other areas," the Prime Minister told an Asialink event in Sydney on Wednesday. "But these are not insurmountable obstacles. To think they are not does not amount to some modern form of appeasement. This is a straw man argument."
Gathering regional allies
So ahead of his trip to Japan, Morrison has been particularly keen to emphasize common ground with other countries in the region in maintaining a rules-based international order which has provided relative stability and economic success over decades.
"It is in no-one's interest in the Indo-Pacific to see an inevitably more competitive U.S.-China relationship become adversarial in character," he said. "All nations in our region, not just Australia, are having to adjust to this period of great-power competition."
He particularly praised Australia's "special, strategic relationship" with Japan based on shared values and beliefs, along with Prime Minister Abe's vision to strengthen the international order which will be on show at the G-20. He described Abe as a great friend of Australia and one of the region's most respected statesmen, citing their joint determination to keep the TPP trade deal alive after the Trump administration pulled out.
There are few indications, however, that the U.S. is too interested in the views of even its closest regional allies — nor that China has any intention of accepting U.S. complaints or altering its behavior.
China 'rebuke'
Morrison's response is to frame the notion of China's "welcome" success in becoming such a significant power also creating additional responsibilities — like those affecting the U.S. — in the exercise of that power.
"It is therefore important that U.S.-China trade tensions are resolved in the broader context of their special power responsibilities, in a way that is WTO-consistent and does not undermine the interests of other parties, including Australia," he said.
But according to the Prime Minister, that also means China acknowledging and addressing the accumulation of issues that have led to these tensions in a system in "urgent need of repair."
"Forced technology transfer is unfair. Intellectual property theft cannot be justified. Industrial subsidies are promoting over-production," he said.
He pointed out China had reached a threshold level of economic maturity, even if large parts of China are still to realize the prosperity of its major economic centers.
"It is also true that its most economically successful provinces, some of which are larger than many developed nations, including Australia, have reached and sometimes exceed the economic sophistication of its global competitors. Yet, at the same time, these economies get to compete with concessions, whether they be on trade, environmental obligations or other terms, not available to other developed economies."
That sort of reform won't come quickly enough for a much faster-moving game of power brinkmanship.
The Trump administration's version of U.S. great-power responsibility is hardly reliable. But Morrison is also alert to the changing mood of Australians, as reflected in the latest annual Lowy poll. This showed the number of Australians who trust China to act responsibly in the world has dropped by 20 points to 32%, while 77% believe Australia should do more to resist China's military activities in the region.
The choices facing Canberra are only going to become sharper. Little wonder Morrison wants to put them in a broader regional context of cooperation with like-minded (alarmed) countries.
This story was originally published in The Australian Financial Review
Contact editor Yang Ge (geyang@caixin.com)
You've accessed an article available only to subscribers
VIEW OPTIONS
Share this article
Open WeChat and scan the QR code

05:33 PM

02:05 PM

Mar 01 07:02 PM

Mar 01 07:00 PM

Mar 01 05:03 PM

Mar 01 01:08 PM

Feb 26 07:07 PM

Feb 26 06:51 PM

Feb 26 06:48 PM

Feb 25 05:43 PM

Feb 25 05:26 PM

Feb 25 01:02 PM

Feb 25 11:02 AM

Feb 25 09:06 AM

Feb 24 07:00 PM
GALLERY