Update:Alibaba President Among Those Charged in Malaysia's 1MDB Scandal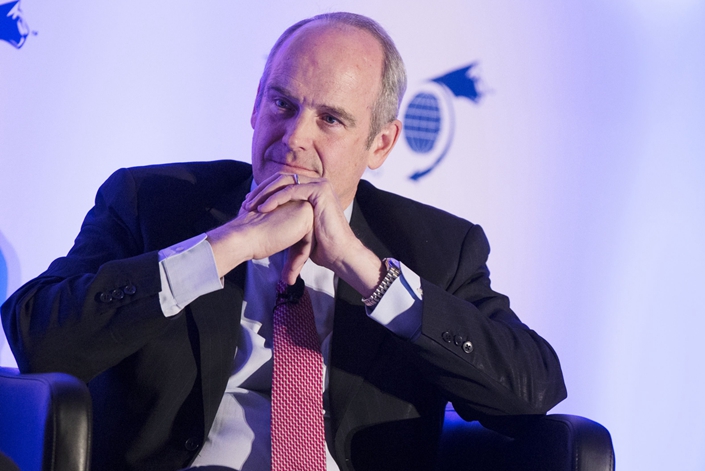 Alibaba Group President Michael Evans speaks during the International Economic Forum Of The Americas (IEFA) in Montreal, Quebec, Canada, on Tuesday, June 12, 2018. Photo: Bloomberg
(Bloomberg) — Alibaba Group Holding Ltd. President Michael Evans is among 17 current and former Goldman Sachs directors facing criminal charges over their alleged role in $6.5 billion of bond sales by 1MDB.
Evans, the international face of China's e-commerce leader, was among a group of individuals who served as directors at three Goldman units Malaysia accused of misleading investors when arranging deals for 1MDB. The Alibaba honcho is a familiar face to the Chinese internet titan's investors and a fixture in the media as well as international conference circuit, and is charged with helping helm Alibaba's global expansion.
Evans, who joined Alibaba in 2015 as one of its highest-profile recent hires, has a mandate to help realize billionaire co-founder Jack Ma's ambition to get half its revenue from outside of China. The president was instrumental in orchestrating the Chinese giant's push into Southeast Asia through the acquisition of a stake in Lazada, establishing its largest overseas beachhead. The company is expanding into Malaysia and counts the country in particular as a key partner for its so-called E-WTP or electronic world trading initiative. Evans is also overseeing Alibaba.com's expansion in the U.S. and Ma's promise to President Donald Trump to create a million jobs.
"Mike Evans was a member of senior management at Goldman Sachs prior to joining Alibaba Group in 2015," the Chinese company said in a texted statement. "We are aware of the news and will continue to monitor the situation."
In addition to Evans, 16 other current and former employees now face custodial sentences and criminal fines in the case. They include Richard Gnodde, chief executive officer of London-based Goldman Sachs International, and his former co-head Michael Sherwood, as well as Robin Vince, now Goldman Sachs's chief risk officer. The executives were charged under Malaysian law that company directors and officers can be held accountable for crimes that occurred under their watch, Attorney General Tommy Thomas said Friday. Malaysian authorities in December announced charges against the three Goldman Sachs entities — Goldman Sachs International, Goldman Sachs Asia and Goldman Sachs Singapore.
According to the latest verdict, Goldman Sachs misled investors while helping 1MDB raise $6.5 billion in three bond issues between March 2012 and November 2013, which were then allegedly embezzled. The Wall Street bank earned nearly $600 million in fees for the bond sales.
The charges mark an escalation of Malaysia's campaign to recoup funds it says were embezzled from 1MDB. Law-enforcement agencies in the U.S. and Singapore are also investigating the case.
Supposed to promote development, Malaysian state-owned investment fund 1MDB was established in 2009 and wholly controlled by the state. But the fund has spurred criminal and regulatory investigations around the world since 2015 that cast an unflattering spotlight on deal-making, election spending and political patronage under former Malaysian Prime Minister Najib Razak. Of $8 billion that 1MDB raised via bond sales, the U.S. alleges more than half was siphoned off.
According to documents released by the U.S. Department of Justice, between 2009 and 2014, 1MDB executives embezzled $4.5 billion from the company in collusion with others including businessman Jho Low. The people used the global financial system to launder the money and invested in property, jewelry, artwork and Hollywood filmmaking. Low, who is still at large, is believed to be the mastermind behind the case, although he has maintained his innocence.
In August 2018, Malaysian police filed criminal charges against fugitive Low and his father on alleged money-laundering. Arrest warrants were issued for both. In December, a U.S. court also filed cases against Low along with two Goldman Sachs executives.
Malaysia will seek custodial sentences and criminal fines against the individuals, Thomas said Friday in a statement. The penalties sought reflect "the severity of the scheme to defraud and fraudulent misappropriation of billions in bond proceeds, the lengthy period over which the offenses were planned and executed," as well as the breadth of Goldman units and officers involved in arranging the 1MDB bonds.
"We believe the charges announced today, along with those against three Goldman Sachs entities announced in December last year, are misdirected and will be vigorously defended," a Goldman Sachs spokesman said by email.
The story was updated with details of the case
Contact editor Yang Ge (geyang@caixin.com)
You've accessed an article available only to subscribers
VIEW OPTIONS
Share this article
Open WeChat and scan the QR code

May 26 17:38

May 26 17:03

May 26 12:26

May 26 10:44

May 26 03:26

May 25 17:58

May 25 16:46

May 25 12:39

May 23 06:20

May 21 17:58

May 21 13:02

May 21 11:15

May 20 21:56

May 20 16:24

May 20 12:59
GALLERY