Opinion: U.S.-China Relations Need Constant Communication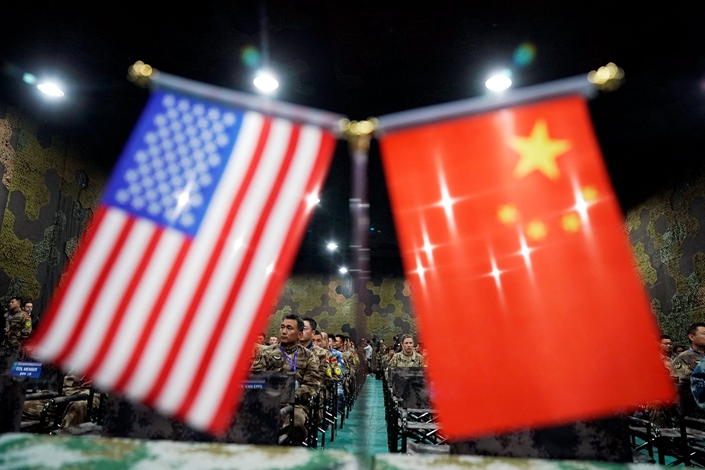 Photo: VCG
The United States and China, the world's two biggest economies, have a lot of problems with each other, and we must be in constant communication to solve them.
At the end of the Obama administration, we were working on a bilateral investment treaty with China. A lot of progress had been made on the treaty, which would have provided U.S. companies with a lot of access to the China market, but it didn't get finished.
When President Donald Trump came in, he had another idea about how to approach these problems. Communication wasn't smooth, and in the transition, we lost a lot of time. It's good news that Beijing and Washington want to renew trade negotiations. There are a lot of opportunities on the table if they can get a deal, which would benefit businesses in both China and certainly in the United States. Most U.S. businesspeople wish that the deal will get done so that they can get on with their business.
I don't think of any other U.S. leader beside President Trump would have handled relations with China in the same way. In that sense, we have to say mainly the situation has a lot to do with President Trump himself.
He has proclaimed that he likes tariffs, and that trade wars are good and easy to win. He seems to prefer this method despite advice from some of his own advisers and from many of his comrades in the business community. So he seems very determined to see it through in one way or another. President Trump does want a deal. Maybe they can find a way to get closure on what's on the table now.
Will the U.S. presidential election in 2020 change the outlook for the trade war? It depends on what happens in the election. But I think certainly next year, the heat of the presidential campaign will also affect how the trade war goes if it's not resolved by then. I believe that it probably will not be resolved by then.
Certainly from the perspective of a longtime practitioner of foreign policy and someone who's not political but cares about the U.S.' role in the world, I think that we could be doing a much better job pursing U.S. interests in the world than we are through these kinds of chaotic, uncoordinated policies that we have now. So I hope for a better policy process and a more coordinated and disciplined team, no matter who wins in the 2020 election.
If a Democrat wins, you will have a more disciplined process and team. And that will make it a little bit easier to understand what's happening and to address it in negotiations.
However, it's not just the U.S., but the whole world that is nervous about China because it is huge. And we are talking about all of the ways that China is transforming its economy: It's converting from a manufacturing economy to a services economy; from low value-added to a high value-added production; from an export-driven economy to one based on domestic consumer spending.
That all sounds great, but it also makes people on the outside wonder what the role is going to be for the rest of the global economy once China makes these transitions. And even now, people can see the size of China's manufacturing capability and its capacity to overwhelm industries in other countries.
But the issue also goes beyond China. It's about general anxiety about technological change and the future of work — what humans are going to be doing in the future. A lot of young people are having a hard time understanding what kind of career they're going to have in the future. We have artificial intelligence coming online, robots and all of these other things that are going to displace a lot of jobs and work.
China tries to keep a lot of flexibility around its pronouncements about its strategy. It's like what Deng Xiaoping said: "We are going to cross the river by feeling the stones." In other words, we're going to be flexible. We're going to change course if we have to, and we're going to experiment a lot. So that sometimes makes it hard for people to understand what China is doing. Language and communication often get in the way. Most people from the outside who aren't China experts have a hard time understanding what China's vision is and what it ultimately wants in the world. When they see the amount of money that's going into high-tech production and into the military and into some of these other sectors, they're suspicious that there's something else going on.
It worries me a great deal to see what I believe is China turning away from opening-up. There's a lot of suspicion about whether foreign companies are really going to have a place in the Chinese market in the future. That's a valid concern. Because I know China well, and I come here a lot, it's right for businesses to be worried about that.
When you look at policies that are being undertaken in China in the absence of some of the reforms that people thought were coming, it's a well-founded concern.
But the U.S. needs to stick to its principles — the system and the open society that it has built. And it has built-in protections to prevent the abuse of that system. But it doesn't mean you need to throw out the baby with the bath water. So both governments need to make some corrections.
After all, an open, well-regulated international system with a well-functioning market economy that can implement and enforce rules that are fair for everyone is the only way forward for both the United States and China.
Susan Thornton is senior fellow at the Yale Law School's Paul Tsai China Center and former acting assistant secretary of state for East Asian and Pacific affairs at the U.S. State Department. The article was adapted from her interview with the Beijing-based think tank, the China Development Research Foundation.
If you want to submit an opinion piece to Caixin Global, please contact editor Lu Zhenhua (zhenhualu@caixin.com)
You've accessed an article available only to subscribers
VIEW OPTIONS
Share this article
Open WeChat and scan the QR code

Caixin China Biz Roundup: What Does the U.S. CHIPS Bill Mean for China?