Building a Global Safety Net Against Covid-19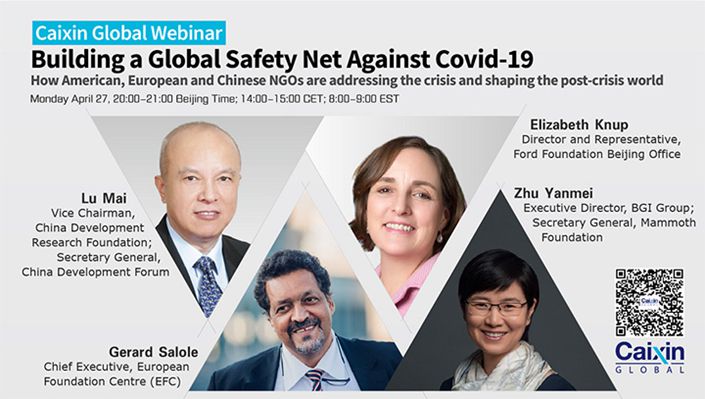 Monday April 27, 20:00-21:15, Beijing Time

Key points by Lu Mai, Vice Chairman, China Development Research Foundation; Secretary General, China Development Forum
CDRF's mission is to advise the good governance and public policy to promote economic development and social progress in China. CDRF has taken prompt actions in response to Covid-19:
In China's rural area
• Launched aid program targeting the rural and poverty-stricken areas without essential protection equipment.
• Supported by long-time partners, including multinational corporations and domestic firms including many SOEs.
• Sent 600,000 pieces of protective supplies including surgical masks and goggles to 29 counties, by the end of March.
• Received RMB 1 million yuan donation on Alipay crowd-funding platform from almost 50,000 people, within 3 days.
International community
• Replied by former Italian Prime Minister Romano Prodi concerning the shortage of protective supplies and possible assistance from China.
• Co-launched a project to assist Italy's fight against Covid-19 with China Global Philanthropy Institute and TOChina Hub.
• Donated four batches of protective supplies to Italy, Brazil and Venezuela.
Exchange of knowledge and ideas
• Hosted CDF Briefing by inviting Chinese public health, disease control and economics experts, briefing first-hand information in China to foreign business community, international organizations and academia.
• Created CDF Webinar by inviting renowned scholars from both China and abroad focusing on global economic impact and possible policy methods.
• Jointly held a seminar on China-US relations and inviting over 20 experts from both sides, with some common understandings and a clear "what-to-do" list reached.
Children development
• Continued early child development programs, including One Village One Preschool program and its online training sessions.
• Conducted China REACH home visiting programs and national School Meal program.
Support for migrant workers
• Asking migrant workers to go back home is not the right solution. They should have equal rights and settle down in the large cities where they work.
• Urbanization is the new engine for post-pandemic growth, and CDRF is helping government to make right policies on urbanization and implementation.
• CDRF gave advice by calculating the amount of government expenditure on urbanization and assessing the proportion between central government, local government and private sectors.
Public participation
• CDRF tried to work with many partners together, especially on rural issue and migrant workers issue.
• CDRF hope to have some best university graduates who would like to have volunteer experience in the poor area for one or two years.
• CDRF is approached actively by government departments on different programs, which is a good sign. We hope is a public private partnership can expand.
* * * * * * * * * * * * * * * * * * * * * *
Key points by Elizabeth Knup, Director and Representative, Ford Foundation Beijing Office
Ford Foundation's approach
• The foundation is most concerned about the impact on society and the impact on people and particularly vulnerable people.
• We deploy our resources through other organizations by giving grants that then allow those organizations to do their own work with Covered-19.
Role of philanthropy
• Philanthropy allows people to "look around the corner" by funding people to think about the future.
• The Ford foundation also funds other NGOs, which are under economic stress. We believe NGOs are necessary in society to deliver services and to support vulnerable communities.
On collaboration
• No single foundation could address the scale of the challenges that are presented by Covid-19 by itself. Therefore it is crucial for organizations to leverage resources from across society, from the private sector and from other foundations to address the issue.
• Ford foundation is working with 16 other foundations in the U.S. to address the Covid-19 issue.
Philanthropy/NGOs and government
• Philanthropy/NGOs should avoid "merging" with the government. It's very important that civil society remains separate from the government, because the two play very important and different roles.
• Civil society, the private sector and the government need to be all equally healthy and all equally moving forward and not merged into one gigantic entity.
• Civil society can often be more agile and easier to participate in.
* * * * * * * * * * * * * * * * * * * * * *
Key points by Gerard Salole, Chief Executive, European Foundation Centre (EFC)
European Foundations' response
• People are doing an inordinate amount of work, and a lot is happening, but it's not as coordinated as it could be.
• Essentially, each ecosystem is responding to the needs it perceives around it.
• This is both a problem, and a great strength of the philanthropic sector, because it's able to respond to different things in different places and at different times.
• In a crisis, people expend a lot of energy and they make some mistakes, but they usually invent new ways of doing things as well.
Lessons learned
• European philanthropies are still in crisis response mode, but it will be very important as a global community to look back and learn from both our mistakes and innovations.
• We need to work quicker and better next time, and avoid forgetting how to respond properly to crises.
• There will be profound changes in our societies that will require us to rethink, and to reimagine what our relationships are.
• I'm hopeful that this will teach us all humility about what we can do and how assured we are that we have all the answers, and may it will teach us all some serious respect for science.
Looking ahead
• We don't know how deep the crisis will be. But we do know that the most vulnerable people will be on the receiving end of this crisis, and we really need to begin to think about how to support the society that's going to emerge.
• I'm hoping for a brave new world where we can discuss differences of approach, and attempt to use philanthropy for the strength it has of being able to take some risks and do things in the long-term interests of people.
• Foundations can act counter-cyclically, and there is a good debate now about whether or not to go past the 5% rule of thumb for giving out grants, especially as there has been such an outpouring of public support and foundations have been able to raise in a matter of days what they might have spent years trying to accumulate before.
* * * * * * * * * * * * * * * * * * * * * *
Key points by Zhu Yanmei, Executive Director, BGI Group; Secretary General, Mammoth Foundation
Early efforts
• At the beginning, Mammoth was focused on enhancing the testing capabilities of schools and universities based on its backer BGI's technical capability.
• Mammoth found 16 hospitals in Wuhan that needed help to enhance their daily testing capacity and donated RMB 8 million yuan to bring their daily testing ability to an average of 200 per day.
• Mammoth Foundation Chairman Wang Shi met with the Chinese ambassador to Japan Mr. Kong Xuanyou to organize a donation of 12,500 test kits by the Mammoth Foundation and BGI for passengers on the Diamond Princess cruise.
• After that, many countries contacted Mammoth seeking help; Mammoth has now donated more than 20,000 test kits in 30 countries, especially in Africa.
Building capacity
• The next step was to set up a lab. The first lab, built in Serbia, is now finished and can process over a thousand samples per day.
• Development of more so-called "Fire Eye" labs is now underway in 10 countries.
• Mammoth is also collaborating with other organizations like the One Foundation and Tencent, as it is still quite young with only five employees.
• While Mammoth is very new, it has not yet encountered any issues getting caught up in political rhetoric over its work, perhaps since they are focused on life-saving technology.
• Mammoth's goal is to provide a total solution to any university or hospital that needs it, based on the BGI technology platform.
* * * * * * * * * * * * * * * * * * * * * *
Key points by the commentator Wang Zhenyao, Dean, China Philanthropy Research Institute
• China Global Philanthropy Institute has long-term cooperation with CDRF, EFC and Ford Foundation. We worked together for a long time and cooperation programs have good results.
• During the battle against Covid-19, students in the program are deeply involved in China, and across the world, by donating and doing social works as volunteers.
• The civil society in China is becoming more developed and playing a more important role. More cooperation, exchanged of ideas and learning from each other are anticipated in the future.
Share this article
Open WeChat and scan the QR code

Apr 20 07:03 PM

Apr 20 05:20 PM

Apr 20 01:14 PM

Apr 19 05:13 PM

Apr 19 05:08 PM

Apr 19 12:45 PM

Apr 16 11:48 PM

Apr 16 08:51 PM

Apr 16 06:48 PM

Apr 16 12:30 PM

Apr 15 07:22 PM

Apr 15 06:56 PM

Apr 15 06:49 PM

Apr 15 03:43 PM

Apr 14 07:38 PM
GALLERY