China Making Headway on Its First Long-Haul Jetliner: Reports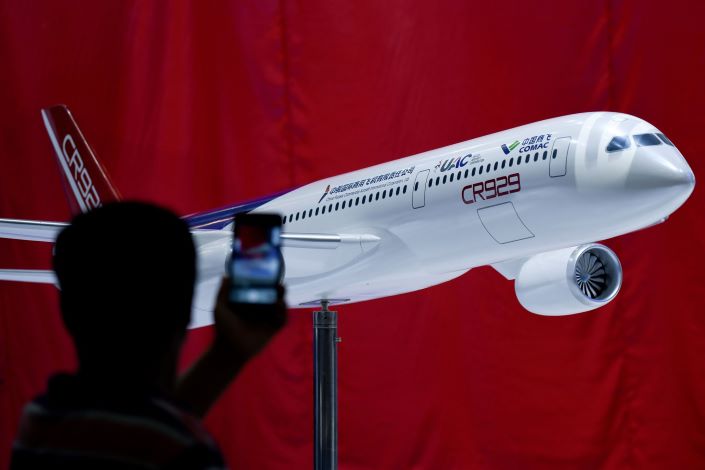 Photo: VCG
China has reportedly crafted a general technical plan for the country's first long-haul, wide-body jetliner, a key aircraft designer said Tuesday, as Beijing steps up its efforts to challenge the duopoly of Airbus and Boeing.
Wu Guanghui, who helped design China's first homegrown airliner, the C919, told state-owned newspaper the Beijing Youth Daily that the new plane, known as the CR929, will be able to carry 280 passengers on journeys of up to 12,000 kilometers and is expected to start commercial flights sometime between 2025 and 2028.
The CR929 is co-developed by the state-owned aircraft-maker Commercial Aircraft Corporation of China (COMAC) and Russian aerospace conglomerate United Aircraft Corp., the report said.
Wu, who made the remarks Tuesday on the sidelines of the ongoing annual session of the National People's Congress (NPC), China's top legislature, added that the CR929 aircraft's development is still in the preliminary design phase and gave no further details.
He also shared further details of the development of China's first homegrown single-aisle aircraft, the C919, saying that the program's six prototype airplanes have conducted test flights needed for obtaining related flight certificates in four Chinese cities last year.
The C919 is a narrow-body airliner launched by COMAC in 2008. The organization has so far received 815 orders for the C919 from 28 domestic and foreign customers, the Beijing Youth Daily reported Wu as saying.
Contact reporter Ding Yi (yiding@caixin.com)
Related: China's Homegrown Jetliner Completes New Test Flight