Trending in China: Be Careful What You Eat—State TV Exposes Burger King for Stale Bread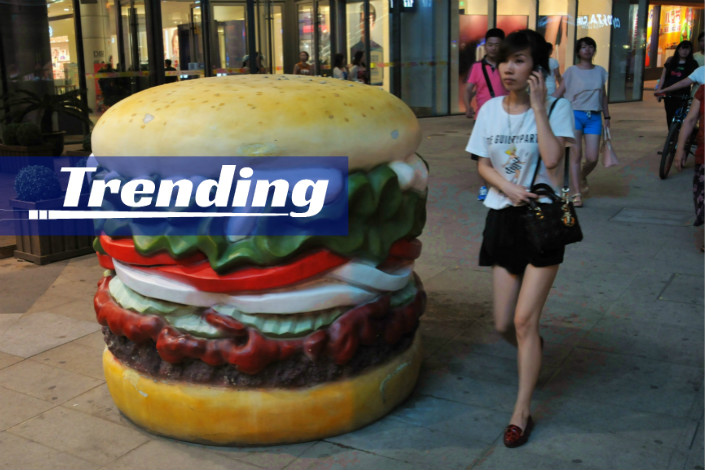 What's trending?
Fast-food chain Burger King has been exposed by state broadcaster CCTV for using expired ingredients to make burgers in China's Jiangxi province. Undercover journalists visited several Burger King stores in the city of Nanchang and discovered a host of food safety and operation problems. Video footage from the investigation was aired on CCTV's annual consumer rights show on Thursday, making stomachs turn.
What's the story?
Several Burger Kings in Nanchang repeatedly replaced the expiration labels on stale buns and later sold the old bread to customers, the show revealed. Even as several store managers and employees admitted that "the bread can become moldy and customers might get diarrhea," the practice continues into the summer, when food spoils more easily due to the heat. One unsuspecting manager told journalists that Burger King executives in China also started their careers from entry-level jobs. "So headquarters knows about this," he said.
Bread is not the only subject of tricks to extend the shelf life of ingredients. When the warm food cabinet's alarm lights turn from green to red after half an hour, unsold items are supposed to be discarded. However, employees frequently press a button to revert to green, restarting the clock. When questioned by a journalist, an employee said, "Well, the light is green, so that means the food is fresh."
The footage also revealed that Burger King stores in Nanchang consistently failed to follow the company's prescribed standards, with cheese and tomato slices missing from burgers. Journalists discovered that staff knew the standards by heart, but deliberately cut down on ingredients because "the boss is stingy."
In response to CCTV's exposé, Burger King China apologized on Weibo and said a working group has been assembled to investigate the stores involved, whose business has already been suspended. Shanghai authorities have sprung into action, inspecting all Burger King stores in the city overnight.
What are people saying online?
The show has sparked widespread concern on social media over food safety. Many people doubt the sincerity of Burger King China's statement, referencing the store manager's claim that upper-level executives are well aware of such deception. One comment said, "Why is Burger King only investigating stores in Nanchang? I believe this is a common problem in many cities."
Other pessimistic netizens worry that the stores will resume normal operations as people soon forget about the scandal. One user wrote, "I really hope consumers boycott such deceitful companies at least for a while." Another said, "Exactly. If Burger King doesn't suffer the consequences, how do we set an example for other fast food chains?"
Contact editor Marcus Ryder (marcusryder@caixin.com)