Shanghai-Listed Foxconn Internet's Cloud Service Sales Up 4% in First Half of 2020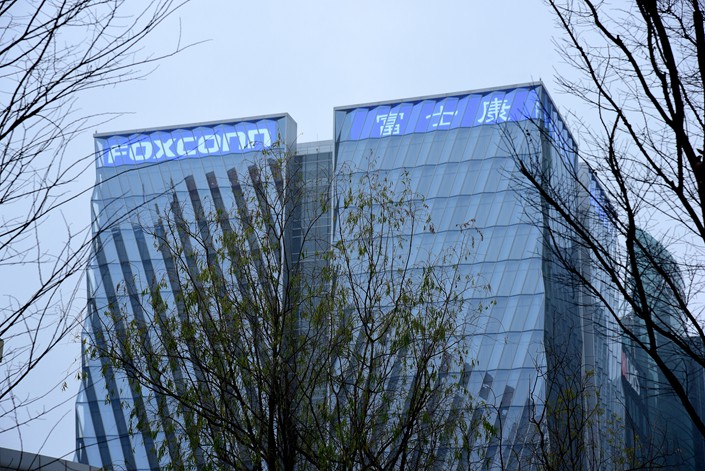 Photo: VCG
Foxconn Industrial Internet Co. Ltd. recorded sales of 79.5 billion yuan ($11.5 billion) in the first half of the year for its cloud-related business, up 4% from the same period in 2019, benefiting from soaring demand for cloud services as people shift online for work during the Covid-19 pandemic.
The 79.5 billion yuan of sales for the cloud-related business made up 45% of the company's total revenues of 176.6 billion yuan for the six-month period, the Shanghai-listed firm announced in a statement (link in Chinese) on Tuesday. The company's net profits however dropped 7.98% to 5 billion yuan, according to the statement.
Shenzhen-based Foxconn Industrial was set up in 2015 by Hon Hai Precision Industry Co. Ltd. as part of the Taiwanese group's efforts to transform itself into an artificial-intelligence and big-data-driven internet company amid sluggishness growth of the latter's manufacturing business.
Still, Foxconn Industrial's market share is negligible in the global cloud services business which is dominated by internet giants like Amazon, Microsoft and Alibaba. The cloud sales touted by Foxconn Industrial largely comprise orders from other cloud services providers that outsource their hardware manufacturing business, said a source familiar with Foxconn Industrial.
Currently, Foxconn Industrial counts Alibaba and another Chinese internet giant Tencent as its clients, and is in talks with Facebook and Alphabet about business cooperation, Caixin has learned.
Contact reporter Mo Yelin (yelinmo@caixin.com)
Related: Foxconn Parent Applies for Shanghai Listing of Internet Unit