Trending in China: Mission Impossible? Young Environmental Hero Tries To Clean Up Tibet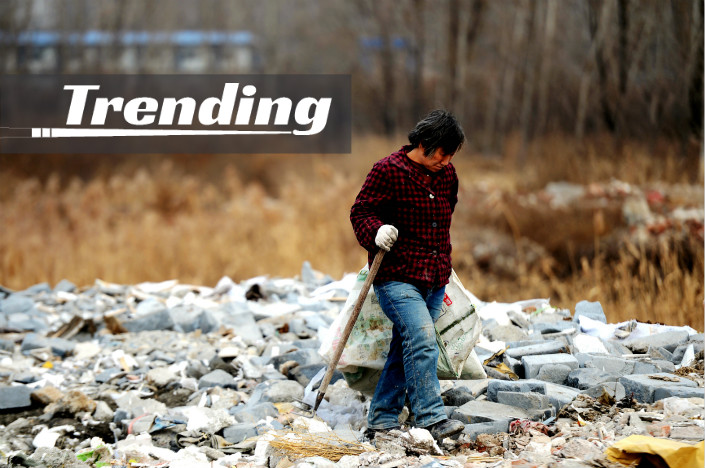 What's trending?
A millenial man has won over the Chinese internet with his singlehanded effort to pick up rubbish in Hoh Xil, Tibet, a popular tourist destination.
What's the story?
The increasing number of visitors to Tibet has led to an even larger increase in the amount of trash they generate. In 2019, about 40 million tourists arrived in Tibet and produced 134 million kilograms of garbage, including more than 2 billion plastic bottles. Without recycling facilities in the autonomous region, more than 80% of the bottles were buried in local landfill sites.
Wu Xianghong, a young man, felt "unhappy" when he saw the large amount of rubbish while on the Qinghai-Tibet railway. In July, he quit his job, borrowed 12,000 yuan through P2P lending, and went to Hoh Xil with his dog to pick up rubbish.
Since July, Wu has collected nearly a ton of garbage. He slept in a tricycle at night, ate two meals a day, and even encountered wolves and bears during his journey. Unfortunately, he has had to continue the cleanup operation alone since his dog died in a car accident.
According to Wu, his parents did not know of his decision, as he thought they might not understand or approve of him picking up trash. However, after his story was made into a documentary not only do his parents probably know about it but so does most of China. He plans to return to his hometown one day, find a job, and repay the loans he secured to make his trash picking mission possible.
What are people saying online?
Wu's initiative has made people across China aware of the very serious problem of the waste on the world's highest plateau. A host of commentators expressed their respect for him. "He is very rich in spirit, and he has done a meaningful thing. It is amazing. I pay tribute" read one comment.
Another post read, "For us, if we can't pick up trash, at least we can avoid throwing it away!"
While most comments praised the idea of addressing Tibet's waste issue, some were critical of certain aspects of how Wu has gone about it; "You are 28, but you don't even have a deposit of 12,000 yuan, and have to borrow online. You quit your job and go to Tibet to pick up trash for two months without informing your parents. If I were your parents, I'd be very sad. People must be responsible for themselves and their families first, and only then can they can do this kind of public welfare."