U.S. Appeals Court Gives Skeptical Review to Trump Attempted WeChat Ban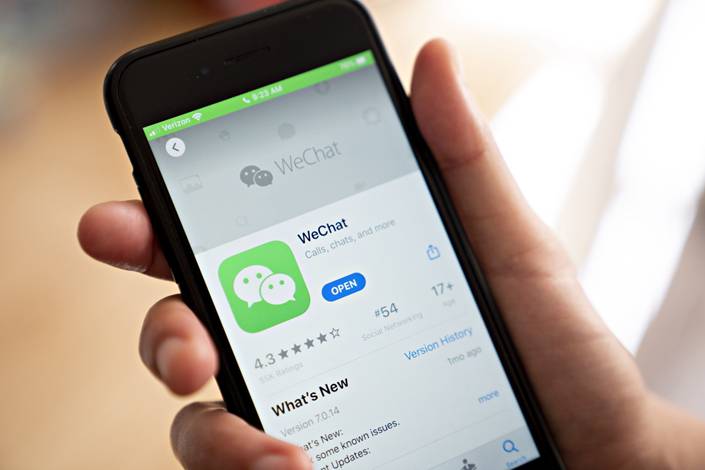 A federal judge expressed concern that the proposed restrictions on Tencent's WeChat app are intended to make the app disappear completely in the U.S., providing no good alternative for millions of Chinese-Americans who use it. Photo: Bloomberg
(Bloomberg) — The Trump administration's attempt to reinstate U.S. restrictions on the Chinese-owned WeChat app was met with skepticism by a judicial panel.
The U.S. Court of Appeals in San Francisco signaled Thursday it was largely skeptical of efforts to overturn the decision of a federal magistrate judge, who last year granted a preliminary injunction to WeChat users in the U.S. who said the government restrictions amounted to an outright ban in violation of their right of free speech.
Circuit Judge Ryan D. Nelson, a Trump appointee, expressed concern that the restrictions are intended to make the app disappear completely in the U.S., providing no good alternative for millions of Chinese-Americans who communicate with friends, family and business partners in China. The U.S. says the social-media platform, owned by Tencent Holdings Ltd., poses a national security risk.
"If the government's goal was to shut down WeChat completely, what other alternatives are there?" Nelson asked the administration's attorney. "WeChat is so popular in China because there are no other alternatives."
Circuit Judge Jay Bybee, a George W. Bush appointee, asked whether, in addition to free-speech concerns, the court shouldn't also determine if the administration overstepped its authority under emergency-powers law it invoked. A federal judge in Washington last year blocked the administration's similar ban on TikTok, another Chinese-owned social-media app, on those grounds.
The judges took the government's appeal under submission without indicating how they would rule.
Contact editor Yang Ge (geyang@caixin.com)
Support quality journalism in China. Subscribe to Caixin Global starting at $0.99.
You've accessed an article available only to subscribers
VIEW OPTIONS
Share this article
Open WeChat and scan the QR code